37 ONGC Personnel And 56 Afcons Personnel Still Missing After Cyclone Tauktae Hits Maharashtra Coast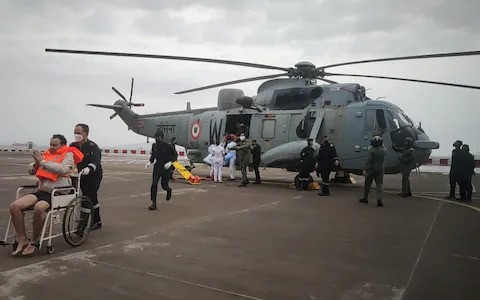 At least 93 personnel (37 from ONGC and 56 from Afcons) of the total 599 personnel manning the oil rig and barges in the high sea off the Mumbai coast were still reported missing a day after Cyclone Tauktae swept past the Maharashtra coast. The Indian Navy and Coast Guard have launched massive rescue operations to save 180 peersonnel.
Three barges deployed by engineering firm Afcons for its contract with ONGC had 599 workers on board when the cyclone hit, sources said. Indian Naval Ships Beas, Betwa, and Teg joined INS Kochi and Kolkata in search and rescue (SAR) operations for Barge 'Papaa-305', which sank 35 nautical miles off Mumbai yesterday. The operations have been augmented with P8I and naval helicopters.
Efforts are being made on war footing to trace and rescue those still missing. Cyclone Tauktae made landfall on Monday night on the Gujarat coast, which is a hub of with oil and gas installations.