42 Girls Embark On Transformative Journey With NTPC Koldam
Colourful performances by the dance school "Feet of Fire" made the launch cheerful and lively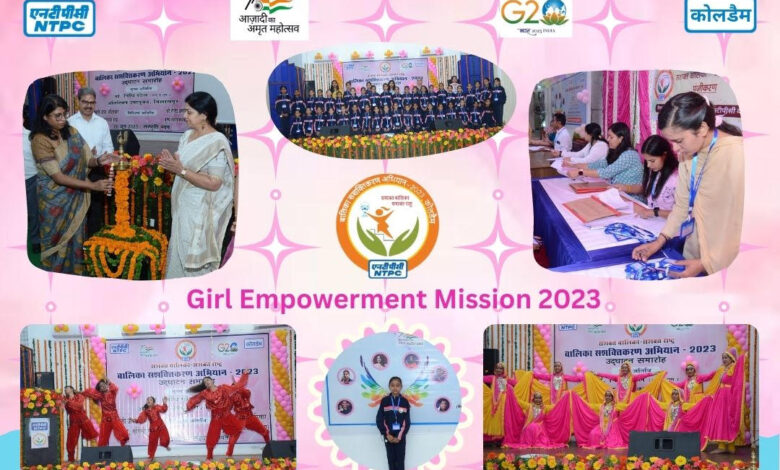 Under the Corporate Social Responsibility activities of Maharatna PSU – NTPC Limited, Girl Empowerment Mission is being run in NTPC stations spread across the country.
In this series, a four-week Girl Empowerment Mission is being launched at NTPC Koldam Hydro Power Station from 26th June 2023 to 24th July 2023.
Dr. Nidhi Patel, Additional Deputy Commissioner, Bilaspur lighted the lamp and formally inaugurated the program. Additional Deputy Commissioner Dr. Patel appreciated NTPC's serious efforts to work for the local community. In the program, Rajendra Prasad Ahirwar, Chief General Manager elaborated on the objective of the Girl Empowerment Mission. He said that it is collaborative effort to enhance the hidden talents of the girls.
In the program, Mrs. Usha Ahirwar, President Sangini Sangh, Mr. Lav Tandon, General Manager (Operation & Maintenance), Mrs. Abha Tandon, Vice President Sangini Sangh, Mr. Madhukar Agarwal, General Manager (Hydro Engineering), Mr. D.P. Singh, General Manager (Human Resource), Dr. Anjula Agarwal, Senior Manager (CSR) and other officers and employees of NTPC were present.
Colourful performances by the dance school "Feet of Fire" made the launch cheerful and lively. For the successful conduction of the 4-week residential program, NTPC Koldam team has collaborated with Non-Government Organization E-Solutions. The faculty from the organisation would organize various activities ranging from life-skills development, self-defence training, yoga sessions, computer classes, dance classes among others.