A.P. Legislative Assembly Passes Resolution To Oppose Disinvestment Of RINL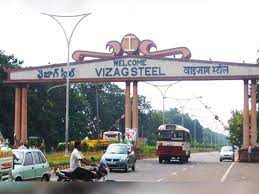 The Andhra Pradesh Government has acknowledged the need for supporting the cause of protecting Rashtrioya Ispat Nigam Limited (RINL), popularly known as Vizag Steel Plant (VSP) or the Pride of Andhra Pradesh, from disinvestment. The Steel Plant stands as a testimony to the will of Telugu people and lives as an icon of Telugu achievement in our collective psyche. The government of the Andhra Pradesh is strongly against the privatization of RINL and is ready to support the government of India, and ministry of steel to protect the jewel of the state. Considering the above circumstances, the Legislative Assembly unanimously made the following resolution "To
oppose the decision of Cabinet Committee on Economic Affairs (CCEA) for 100% strategic disinvestment of Government of India's shareholding in Rashtriya Ispat Nigam Ltd., Visakhapatnam, along with management control by way of privatization and also resolved to seek the support of GoI as suggested above, to make RINL profitable and remain the pride of "Telugu People" and the State of Andhra Pradesh. The copy of the resolution is given below for the benefit of viewers of www.indianpsu.com –
1. The attention of the House is to be drawn to the in-principle approval of the Cabinet Committee on Economic Affairs (CCEA), GoI for 100% strategic disinvestment of Government of India's shareholding in Rashtriya Ispat Nigam Ltd.,Visakhapatnam, along with management control by way of  privatization.
2. Considering the sensitivity of the issue and widespread agitation by the trade unions and common public against the said proposal., the Government of AP has acknowledged the need for supporting the cause of protecting RINL from disinvestment. Accordingly, Shri Y.S. Jagan Mohan Reddy, the Hon'ble Chief Minister of AP, has addressed a detailed letter dated 06.02.2021 to the Hon'ble Prime Minister of India with a request to reconsider the proposal of disinvestment and also suggested alternative solutions that may be helpful to address the issue of huge losses incurred by RINL. Hon'ble CM has also reiterated the stand of the Govt of Andhra Pradesh during his interaction with the trade unions at Visakhapatnam on 17 Feb 2021.
3. The Cabinet has deliberated on the issue during the council meeting on 23 February 2021 and discussed the unrest among the trade unions and the general public of Visakhapatnam. In this regard, the members of the cabinet have proposed to place the matter before the Legislature and make a resolution. The members unanimously supported the proposal and have agreed to place the matter before the Legislature for a detailed discussion and a resolution.
4. Accordingly, the following facts about the Visakhapatnam steel plant (RINL), which is a symbol of "Telugu Pride" is placed before the House.
5. The British American steel works for India Consortium (BASIC) has recommended setting up of 5th steel plant at Vizag and it had been released to the public in September 1965. There was a tough competition among southern states for the 5th steel plant.
6. Amid this backdrop, igniting a spark of unprecedented agitation across the state, T Amrutarao of Gandhi Mission from Guntur sat on fast unto death for the steel plant on October 5, 1966.
7. The people of the state rallied for the Visakhapatnam Steel Plant cause in which 32 people have laid down their lives culminating in the announcement by the PM in 1970.
8. Finally, on 17th April 1970, the then Hon'ble Prime Minister of India Smt. Indira Gandhi announced the decision to build Visakhapatnam steel plant. In 1971: foundation stone was laid for Visakhapatnam Steel Plant ('Vizag Steel').
9. After continuous struggle for funds from GoI, plant was commissioned and started production in the year 1989-90. Around 16,000 were employed as permanent and around 15,000 were employed as contact workers in phase 1 of 3 million tonnes, thus creating huge employment for the people of Andhra Pradesh. Also another 70,000 people were employed indirectly in various ancillary units. According to a report of Ministry of Steel, GoI, RINL has excellent layout, infrastructure including land and large skilled workforce making it suitable to expand capacity up to 20 million tonnes of liquid
steel per annum.
10. The company incurred losses of Rs.4,982 Cr up to 2001-02. Capital Restructuring was done by GOI in 1993 and 1998 converting GoI loans of Rs.1,384 Cr as Equity and Rs.2,937 Cr as Preference Share Capital.
11. Exceeded rated capacity in 2001-02 and achieved Turnaround in 2002-03. Peak capacity utilisation of 120% was achieved in 2005-06 and peak Profit After Tax of Rs.2,008 Cr was achieved in 2004-05. Earned continuous profits for 13 years up to 2014-15 aggregating to Rs.12,958 Cr. Received PM's Trophy for Best Integrated Steel Plant in the country for 2002-03 and 2005-06 and Steel Minister's Trophy in 2006-07 and 2009-10. Received National Energy Conservation Award from Ministry of Power – 7 times and National Award for Excellence in Energy Management from CII – 9 times.
12. Obtained approval of GoI for Expansion to 6.3 Mtpa in Oct'05 and completed the same in 2014-15 with investment of Rs.12,291 Cr. 13. As the major 3 Mtpa facilities had completed more than 2 decades of operation, their modernisation became technological necessity. As modernisation of Blast Furnaces-1&2 increases their capacity by 1 Mtpa, enhancement of liquid steel capacity, from 6.3 Mtpa to 7.3 Mtpa was also planned. The Modernisation and Upgradation was completed during the period Oct'13-Jul'17. The investment in modernisation and other major projects was about Rs.10,000 Cr.
14. The following alternative solutions are suggested to address the issue of huge losses incurred by RINL.
(1) Continuing Operations to achieve turn around  As with all the sectors of economy, the steel sector is also seeing a V-Shaped recovery. RINL has achieved highest ever capacity utilization of 6.3 MTPA against the installed capacity of 7.3 MTPA from Dec 2020 and started making a monthly profit of close to INR 200 crores. Continuing this performance for a further period of two years will help the financial situation immensely.
(2) Captive Iron Ores mine to Reduce Input Costs Currently, RINL is purchasing iron ore from NMDC Bailadila mines at market price. This has put the RINL at a cost disadvantage of around INR 5,260 per MT of steel (at ore level). Many of its competitors have captive mines for more than 60% their requirement and buy only the rest from NMDC. Even SAIL has own captive mines with reserves of iron ore sufficient for 200 years. This excess cost of iron ore has cost implications of more than Rs. 3,472 crores for RINL. It is essential to create a level playing field for all the players and hence allotment of captive mines for RINL will help tide over this cost disadvantage. Orissa is blessed with huge deposit of iron ore and allotting a captive mine in Orissa State to RINL will go a long way in reviving the plant.
(3) Financial Restructuring – Short term loans along with long term loans could be converted into equity taking off repayment pressures and interest burden. The high cost debt which is actually Rs. 22,000 Cr is being serviced at interest rates as high as 14% Conversion of these loans into equity by the banks so as to remove the interest burden totally and listing the entity (RINL, Vizag) on the stock exchange giving the banks exit option through the stock exchange route through general public may also be explored. These measures could ease the burden of debt servicing and improve the financial sustainability.
15. SUPPLY OF LIQUID MEDICAL OXYGEN
VSP has been at the forefront of our nation's fight against COVID-19. VSP has already supplied more than 9000 Metric tonnes of Liquid Medical Oxygen (LMO) since the onset of pandemic. Further, RINL has also risen to the challenge of supplying LMO even to the state of Maharashtra by augmenting infrastructure in a short time and facilitate the transportation through Indian Railways. VSP has truly come to the nation's rescue by supplying the
much needed LMO at a very competitive price thereby stabilizing the market prices of Liquid Oxygen itself.
16. CONCLUSION
The Steel Plant stands as a testimony to the will of Telugu people and lives as an icon of Telugu achievement in our collective psyche. The government of the Andhra Pradesh is strongly against the privatization of RINL and is ready to support the government of India, and ministry of steel to protect the jewel of the state. Considering the above circumstances, the Legislative Assembly unanimously made the following resolution "To
oppose the decision of Cabinet Committee on Economic Affairs (CCEA) for 100% strategic disinvestment of Government of India's shareholding in Rashtriya Ispat Nigam Ltd., Visakhapatnam, along with management control by way of privatization and also resolved to seek the support of GoI as suggested above, to make RINL profitable and remain the pride of "Telugu People" and the State of Andhra Pradesh.