Accelerating Onshore Wind Capacity Addition In India To Achieve 2030 Target
With around 41 GW installed onshore wind capacity, India globally ranks fourth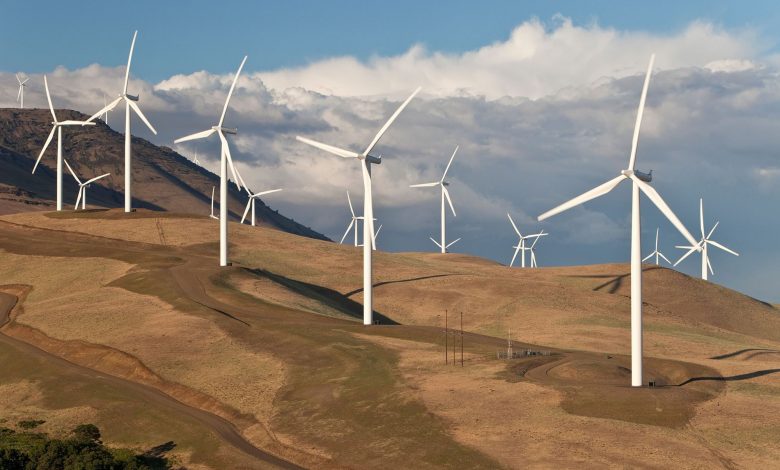 Prime Minister Modi told the world at COP 26 that India will reach 500 gigawatts (GW) of its non-fossil power capacity by 2030 and half of this target will be achieved from renewable energy. At the same time, Modi ji has also announced a reduction of one billion tonnes in emissions and a reduction in the emission intensity of GDP by 45% by 2030.
In line with this announcement, the Global Wind Energy Council released its document titled 'Accelerating on Shore Wind Capacity Addition in India to Achieve 2030 Target' has been issued. It highlights India's e-reverse auction system for the wind power sector. Numerous scientific studies emphasize the stimulating role of wind energy for clean energy transition, energy security, and climate action. As per estimates, India has an onshore wind generation capacity of almost 695 GW at 120 m hub height. With around 41 GW installed onshore wind capacity, India globally ranks fourth.
The GWEC India is releasing its publication entitled "Accelerating onshore wind capacity addition in India to achieve 2030 target" which delves into India's e-reverse auction regime for the wind sector.
With an installed capacity of nearly 41 GW of wind energy and 49.3 GW of solar energy, India's Central Electricity Authority reported a generation of 58.13 thousand MU ( Million unit wind) and 51.25 thousand MU (solar) between April and December 2021 (CEA2022). As per the GoI's estimates, 2.2 MU of electricity is generated annually per MW of installed wind power, and 2 MU per MW of solar power (MNRE 2021).
As per IRENA and ILO, the Indian wind industry is home to at least 50,000 direct jobs, where nearly 10% of the worldwide factories producing wind turbine components (nacelles, blades, towers, generators, gearboxes and bearings) are based in India.
As per GWEC early 2022 estimates, on average 33.7 FTE jobs (defined as a full-time job for one person for one calendar year) are generated per MW of wind energy installed in India, throughout the 25- year operating lifetime of a project.
As per GWEC early 2022 estimates, under business-as-usual scenario with 19.4 GW of onshore wind installed from 2022-2026, around US$10 billion in direct and indirect gross value added (GVA) to the national economy over the 25-year lifetime of the wind farms. Wind turbine capacities have grown by multiples— kW-size turbines in the early 1990s to modern and highly efficient 3 MW-plus turbines now commercially available in India.
According to Ben Backwell, CEO, GWEC- "The Indian wind sector is facing a series of legacy challenges that have led to a drasticslowdown in the pace of annual capacity additions. Meanwhile, the reverse auction regime has fostered a market with "race to the bottom" characteristics, which has seen inadequate volumes awarded, unsustainable bids and high levels of non-fulfilment and attrition, and inadequate focus on project quality and supply chain health. The central government's announcement of several corrective policy measures in recent months has renewed optimism. However, accelerating investments in the wind manufacturing sector and scaling up annual capacity addition requires consistent demand creation. It is essential for the wind industry to have a clear manufacturing investment case based on
an expanding Indian market, while building and enhancing partnerships with government agencies, communities, and commercial & industrial consumers to achieve this goal.
In addition, taking measures to ensure the financial health of project developers and manufacturers, who are facing the double impact of stalling capacity additions as compared to annual targets and price surges across the value chain, is necessary to ensure that the wind industry can play its role in helping India achieve its sustainability and growth ambitions."
According to Sumant Sinha, Chairperson, GWEC India and Founder, Chairman and CEO of ReNew Power -"India has been a leader in the global energy transition, which has come as a result of unprecedented coordination between all stakeholders, especially on the growth of wind assets. As India gears up in its fight against climate change and meeting its 2030 and 2070 targets amid an uncertain macro-economic environment, wind power remains a critical enabler. These efforts will require increased and more coordinated cooperation between corporates, international bodies, policymakers, lenders, investors, NGOs, academic institutions, research labs, and innovators, as well as impacted communities.
Everyone has to lean in hard to make this historic energy transition a success—and success can be the only outcome, as the consequence of a sub-par result in our battle against climate change can be catastrophic."
India transitioned from the feed-in-tariff (FiT) regime to an e-reverse auction system, leading to cost-effectiveness (or discovery of lower tariffs). However, the transition failed to bring any stark change in terms of effectiveness or annual capacity
addition.
In the past, the tariff of wind power has been observed to be lesser than the APPC for non-renewable power in non-windy states. Hence, such states have a strong business case to prioritize the purchase of wind power.
As the share of renewable energy in the electricity mix increases, wind power capacity addition is important to ensure long term grid stability. It is also important to be able to provide 24×7 reliable green power supply to boost decarbonization of manufacturing and services sectors. Meeting power supply for green hydrogen production requires fast paced renewable energy capacity additions in the country.
Leveraging the full potential of wind resources and adding around 100 GW of new wind energy capacity in India by 2030, demands an urgent overhaul. The world's fourth largest onshore wind market, India, must revisit its existing onshore wind reverse auction mechanism that is unlikely to provide the necessary drive for the timely achievement of the 2030 target. Additionally, legacy operational challenges must be addressed and adequate support mechanisms to deal with shocks arising from force majeure events, that have evidently hampered tendered capacities, must be explored.
Based on extensive industry consultation, the publication suggests several institutional, financial, and operational measures. This includes the possibility of introducing a robust indexation mechanism to protect project developers against price shocks in events of force majeure, including natural calamities, wars, and other such unexpected events that might hamper the financial viability of projects that are
already under construction.
It recommends strengthening the utility-scale project monitoring framework while also suggesting the introduction of and ease of utility-scale renewable capacity index to identify state-level best practices and to be able to provide necessary handholding to states where utility-scale projects are unable to gain pace.
The Ministry of New and Renewable Energy (MNRE) has undertaken several facilitative measures including the introduction of wind-specific RPO and ISTS Waiver of Inter-State Transmission System (ISTS) charges for inter-state sale of solar and wind power for projects to be commissioned by 30 th June 2025. These are helpful. Going forward, a comprehensive approach toward resilience building, demand creation, and ecosystem strengthening shall be vital to boosting India's continued strides toward harnessing the onshore wind.
The publication recommends a shift from the e-reverse auction regime and a robust tender mechanism to curtail unhealthy bid participation with mere volume seeking tendencies.
The writer of this article is Dr. Seema Javed, a known Environmentalist, Journalist and Communications Expert