AIDEF Knocks Door Of Raksha Mantri For Bulk Production Clearance Of P-7 Heavy Drop Parachute System By OFB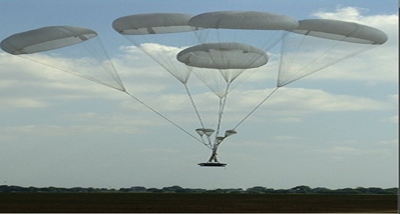 The 219 years old Ordnance Factories are already struggling on two counts. One is to get sufficient workload for 41 Factories since 275 of their products are declared "Non Core" and outsourced to private sectors. Ordnance Factories have to now compete with the private sector for getting workload. Another is the Government's
decision to corporatize the Ordnance Factories and then to make it indirectly sick and thereafter to privatize. The struggle against Corporatization by the employees and their Unions are going on inspite of the COVID-19 pandemic. Many Factories are coming out with new products even in this pandemic period. The OCF Avadi of their own have designed and developed Bullet resistant Vest and Bullet resistant Jacket, which they are now supplying to the State Police Forces. However, the Army has not yet placed any Order for these items. Some of the Ordnance Factories have already starter manufacturing Oxygen Plants. The Ordnance Parachute Factory, Kanpur has designed and developed P-7 Heavy Drop Parachute System for dropping payload upto 7 tonnes jointly with DRDO. All the user trial are successful. Now only the Army has to give Bulk Production Clearance (BPC). However, it is now understood that some sources in the Army is putting hindrances for giving BPC to OPF, Kanpur for manufacturing this newly developed products.
C.Srikumar, General Secretary of All India Defence Employees' Federation has written a Letter to Rajnath Singh, Defence Minister requesting for his intervention for giving BPC to OPF Kanpur for manufacturing this item. www.indianpsu.com has accessed a copy of the Letter written by C.Srikumar to Rajnath Singh/ Defence
Minister. The contents of the letter is reproduced here for the benefit of the viewers of www.indianpsu.com –
To
Shri.Rajnath Singh Ji,
Hon'ble Defence Minister
Government of India,
New Delhi.
Subject    : Intervention of the Hon'ble RM requested for Bulk production clearance (BPC) for manufacturing P-7 Heavy Drop Parachute system at OPF Kanpur.
Respected Sir,
Your immediate and kind attention is invited to the above subject matter.  The Ordnance Parachute Factory Kanpur under OFB and DRDO has designed and developed P-7 Heavy Drop Parachute System for dropping payload up to 7 tonne and Prototypes have already been manufactured at OPF Kanpur.  For Bulk Production Clearance sufficient trails have been conducted with OPF made Parachute Systems in 2017, 2019 & 2020. During the 1st two trials sufficient improvements have been introduced by the
designer and OPF Kanpur to ensure re-usability  of the systems up to 5 times and latest trial conducted in 2020 were found fully satisfactory. 
User/Trial  Unit  50(I) Para Brigade Agra in its Trial report has declared the Parachute System performance satisfactory and recommended grant of BPC to OPF/OFB. Infantry-7 also initially during August & Sept. 2020 intimated OPF/OFB regarding satisfactory trial report and recommendation of BPC by Trial Team. Not withstanding the above, the Infantry-7 suddenly changed their stands in Jan. 2021 and intimated OPF to supply two fresh Parachute system for re-trial for BPC, failing which indent closure will be processed. The basis of re-trial was quoted that the two parachute system trial in 2020 were not up to the mark and it could not invoke user confidence, despite successful and satisfactory  trial report by Trial Team of 50(I) PB Agra. 
The designer DRDO  has categorically stated in collegiate meeting with Infantry-7 that minor wear and tear in such Parachute System is very normal and found even in imported Parachute System also and OPF supplied Parachutes are fit for grant of BPC without going for fresh sample preparation, because no change envisaged.  Designer/DRDO has reiterated their analysis and view point in the meeting held in the Office of Secretary(DP) also.  As such Infantry-7 insistences for fresh trial and not granting BPC on the basis of satisfactory trial report is not understood.  In this situation all the efforts taken by DRDO and OPF is becoming futile.
Under the above mentioned circumstances, we are left with no other option than to knock your door with a request for your kind intervention and direction to the Infantry-7 to give BPC to  OPF/OFB, so that under the Government's "Make in India" policy, this important Parachute can be manufactured at Ordnance Parachute Factory Kanpur".