All India Defence Employees Federation calls for Militant Protest on September 23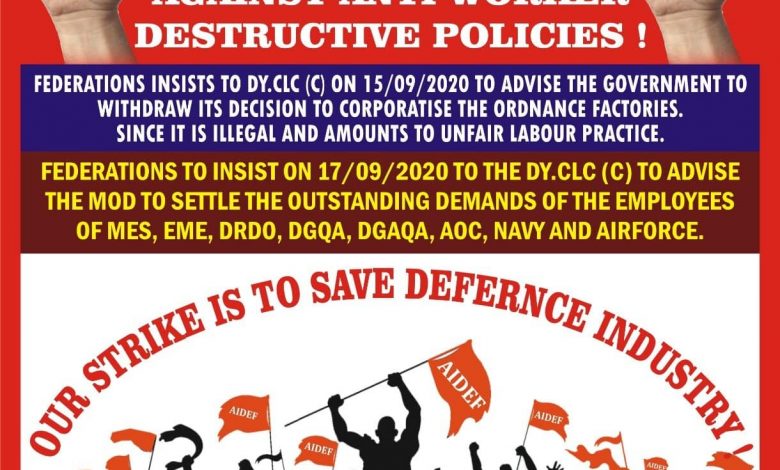 Dear comrades,
We are forwarding herewith *AIDEF Special Circular no. 221 dated 16th of September, 2020* on the following subject :-
1)    Nationwide Militant protest on 23/09/2020 against anti worker destructive policies !
•    Federations insists to dy.Clc© on 15/09/2020 to advise the government to withdraw its decision to corporatise the ordnance factories. Since it is illegal and amount to unfair labour practice.
•    federation to insist on 17/09/2020 to the dy.Clc© to advise the mod to settle the outstanding demands of the employees of MES, EME, DRDO, DGGA, DGAQA, Navy and Airforce.
•    our strike is to save Defence industry !
•    wont allow monopoly of corporates in Defence sector !
2)    forwarding of joint circular no.57, dated 16/09/2020
3)    decision taken in the joint meeting of the AIDEF, INDWF, BPMS & CDRA held on 15/09/2020 through vc at 18.00 hrs.
With greetings,
Yours comradely,
(C.Srikumar)
General secretary