Arunachal Pradesh Government, Sir Ganga Ram Hospital And Religare Enterprises Sign MoU To Support State's Healthcare Services
The initiative is a part of Religare's CSR commitments under its banner of Religare Care Foundation (RCF)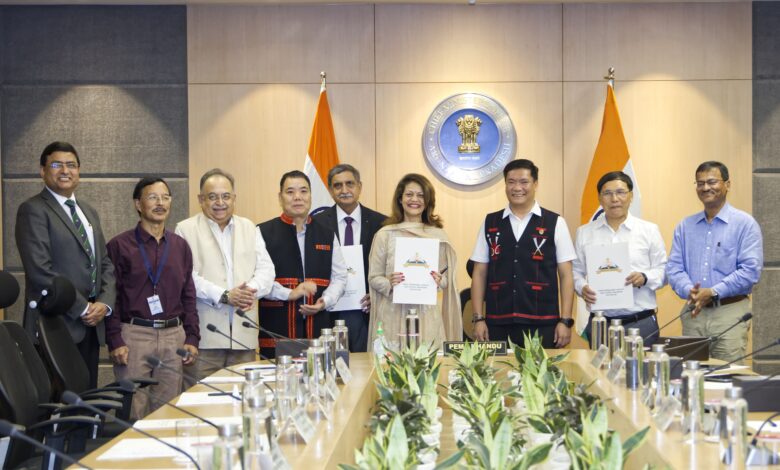 Signalling its commitment to improve the state's healthcare services and address the skills gap in the healthcare sector, the Government of Arunachal Pradesh (GoAP) signed a Memorandum of Understanding (MoU) with Sir Ganga Ram Hospital and Religare Group's
CSR arm Religare Care Foundation (RCF) in Itanagar today.
In the presence of Honourable Chief Minister of Arunachal Pradesh, Shri Pema Khandu, Honourable Minister of Health, Government of Arunachal Pradesh Shri Alo Libang, Chief Secretary, GoAP, Shri Dharmendra, Secretary (Health & FW), GoAP, Shri Liyon Borang, Dr Satendra Katoch, Director – Medical, Sir Ganga Ram Hospital, and Dr Rashmi Saluja, Executive Chairperson, Religare Enterprises
Ltd, signed the MoU.
Leading healthcare professionals and senior officials, including Shri Vivek HP Special Secretary (Health & FW), Dr Moji Jini, Director TRIHMS, Dr H Jauhari, Chairman – Department of Renal Transplant Surgery, Sir Ganga Ram Hospital and Mr Rakesh Asthana, Group Head – Corporate Affairs and Business Advisor, Religare Enterprises Ltd were also present at the occasion.
Under the MoU, Sir Ganga Ram Hospital and its partner Religare Care Foundation (RCF) will offer technical assistance to GoAP to strengthen the hill state's tertiary healthcare systems and infrastructure.

The government and the advisory team have already chosen their initial project for collaboration. They will establish a Centre of Excellence for Renal Sciences at the Tomo Riba Institute of Health & Medical Sciences (TRIHMS).

Arunachal Pradesh Government under the leadership of the Honourable Chief Minister has demonstrated a strong commitment to promoting various development initiatives related to healthcare, education and sports in the state.

Expressing happiness at the association, Shri Pema Khandu, Honourable Chief Minister of Arunachal Pradesh said, "The Memorandum of Understanding (MoU) is a step forward to fulfil the vision of providing affordable, accessible and equitable Health care services to the people of Arunachal Pradesh. It is an endeavour of the Government to bring the best of the tertiary health care services near to home thereby reducing the cost and also the psychological trauma the family has to go through for seeking such medical cares. By joining hands with Sir Ganga Ram Hospital and Religare group, we look forward for bringing about changes that positively impacts the lives of the people and also the entire Health care landscape of the State."

Shri Alo Libang, Minister of Health, Government of Arunachal Pradesh said, "I congratulate Sir Ganga Ram Hospital and Religare Group, Religare Care Foundation on this association. In the first phase of the partnership, the Group will assist us in establishing a state-of-the-art healthcare facility dedicated to renal sciences and related research. This facility will ensure that patients requiring dialysis or kidney transplants receive the same level of care as those in other parts of the country.
Moreover, healthcare professionals in the state will receive appropriate training to enhance their skills and bring them in line with their counterparts in leading states with superior healthcare facilities."

Commenting on the occasion, Dr Rashmi Saluja, Executive Chairperson, Religare Enterprises Ltd said, "We are grateful for our partnership with the Government of Arunachal Pradesh. We would like to express our gratitude to Honourable Chief Minister Shri Pema Khandu Ji for giving us this opportunity. This collaboration will greatly enhance the state's healthcare infrastructure and
contribute to the professional development of healthcare practitioners. We believe that this partnership will give us a unique opportunity to serve the people of Arunachal Pradesh and make the state the healthcare services hub in the North East."
The state government has been working towards improving the healthcare services and addressing the skills gap in the state. The state has been able to address the skills gap in the healthcare sector with the significant reduction from 34 percent to 6 percent in the last five years.

The state also boasts a workforce of over 8,000 healthcare professionals, including doctors, paramedics, pharmacists, nurses, and more. These skilled individuals work in over 500 government health centres across the state.

Additionally, the state benefits from various central government Schemes such as Ayushman Bharat and the North East Special Infrastructure Development Scheme (NESIDS). Through Ayushman Bharat, the state has seen the establishment of health and wellness centres and dispensaries, which have greatly enhanced healthcare services.

Dr Ajay Swaroop, Chairman – Board of Management, Sir Ganga Ram Hospital said, "We are committed to improving the healthcare ecosystem in the state. It is our firm belief that working along with the state's healthcare professionals, we will be able to bring a qualitative difference to the healthcare services in the region."