Bank Of Baroda Celebrates 4th Edition Of 'Baroda Kisan Pakhwada'
The PSB unveils pan-India initiative to encourage farmers to get connected with the services offered by the Government and the Bank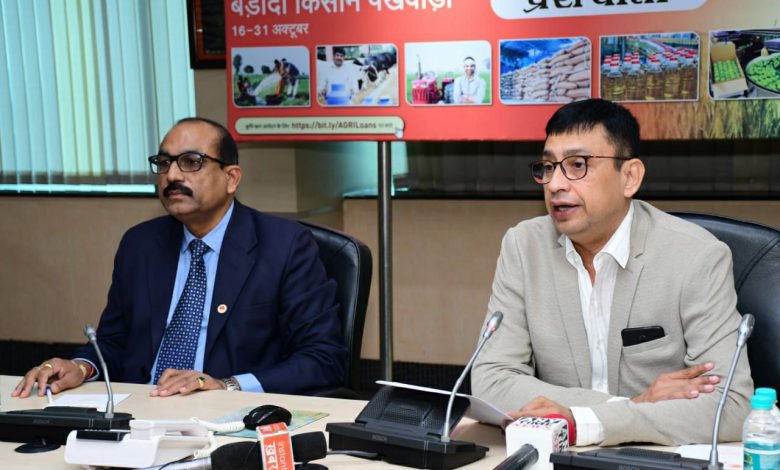 India's premium public sector bank, Bank of Baroda, is celebrating the 4th edition of 'Baroda Kisan Pakhwada' which is being organised from 16th October to 31st October, 2021. This event is earmarked to appreciate the spirit and vigour of the farming community for their contribution towards sustaining the economy during the pandemic and for the development of the country.
'Baroda Kisan Pakhwada' is a pan-India initiative to encourage farmers to get connected with the services offered by the Government and the Bank. Last year over 6,11,779 farmers were benefitted by various outreach programmes conducted by the Bank. This year the Bank has focused on organizing similar programmes in virtual / physical mode for the benefit of farmers at large. This year, the Bank will also include promotion of new schemes under Aatmanirbhar Bharat Abhiyan.
The Bank also launched "Centre for Agriculture Marketing and Processing (CAMP), its new centralized agri-loans processing units across 16 Zonal Offices. The CAMP is a dedicated credit delivery model with a focus on financing non-traditional agricultural products and handling agri-marketing activities. The CAMP consists of trained manpower with understanding and exposure to handle high value credit accounts. Bank will also promote collaborations with local organisations for sourcing quality business.
Speaking on the occasion, Shri Brajesh Kumar Singh , Zonal Head, said, "Bank of Baroda has been organizing Baroda Kisan Pakhwada since 2018 to reach out and lend support to the farmers of our country, in recognition of their immense contribution to India's economic progress through the decades. Another key objective of this initiative is to enhance the financial literacy among the farmers and encourage them to adopt modern technology & best practices, for better productivity. The Bank is keen to provide financial services to the farming community, through various schemes, and to make them aware of the opportunities available in the agriculture sector. We are aligned with the Government's goal of doubling the income of farmers expeditiously and initiatives like Baroda Kisan Pakhwada would go a long way in achieving this goal.
In this 4th edition of Baroda Kisan Pakhwada, we shall also specially focus on the schemes under Aatmanirbhar Bharat package. However, in view of the COVID-19 pandemic, the outreach programmes would majorly be on virtual mode, and all safety norms prescribed by concerned authorites shall be followed strictly. I am sure that this fortnight-long event would prove to be very beneficial for the farming community."
The Bank's outreach programmes will be held with strict adherence to the COVID-19 norms laid down by the Government and the local administration at various places and complying with social distancing norms.
While focusing on all agriculture related schemes during this fortnight, the Bank will give special emphasis on promoting following schemes recently announced by the Government :
a) Scheme for financing under Agriculture Infrastructure Fund
b) Scheme for financing under Animal Husbandry Infrastructure Fund
c) Scheme for financing facility under PM Formalization of Micro Food Processing Enterprises
d) These schemes are available to all customers of the Bank and farmers at less margin along with Interest subvention provided by the Government