Bank Of Baroda Inaugurates 5th Edition Of 'Baroda Kisan Pakhwada' – An Annual Outreach Programme For Indian Farmers
The PSB aims to reach out to 4.5 lakh farmers during the Baroda Kisan Pakhwada programme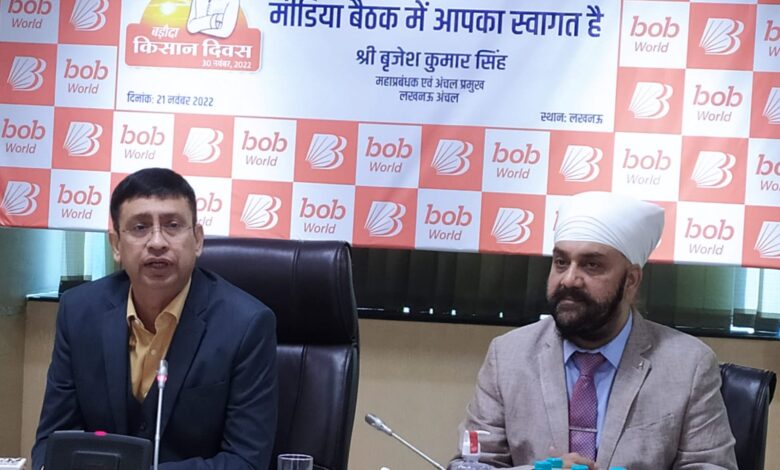 Bank of Baroda (Bank), one of India's leading public sector banks, today announced the launch of the 5th Edition of the Baroda Kisan Pakhwada. The annual farmer engagement programme commences on November 15, 2022, and concludes on November 30, 2022, with the Baroda Kisan Diwas celebrations. During the 2-week agri festival, the Bank will connect with 4.5 lakh farmers through a number of outreach events. The Bank's network of ~5,000 semi-urban and rural branches across the country that predominantly serve the agri customer segment will actively participate in 'Baroda Kisan Pakhwada'.

'Baroda Kisan Pakhwada' has been designed to help the Bank boost engagement with the farming community and create awareness about various agri products, schemes & delivery channels offered by Bank of Baroda and initiatives taken by the Government for the benefit of farmers.
Through outreach programmes such as farmer meetings, choupals, kisan melas etc, the Bank will provide detailed information about various agricultural lending products like the Baroda Kisan Credit Card, tractor loan, gold loan, financing to Self Help Groups (SHGs)/ Joint Liability Groups (JLGs), credit for agriculture allied activities etc and offers available to farmers. The Bank has also introduced digital banking services specifically for the agri segment to enable them to conveniently apply for agriculture loans.
The event will also promote various Government agri initiatives such as lending schemes under the Atmanirbhar Bharat Package viz. Agriculture Infrastructure Fund (AIF), Animal Husbandry Infrastructure Development Fund (AHIDF), Pradhan Mantri Matsya Sampada Yojana (PMMSY), PM Formalisation of Micro Food Processing Enterprises Scheme (PM-FME), etc.
Speaking on the occasion, Shri Brajesh Kumar Singh, Geral Manager & Zonal Head Bank of Baroda, Lucknow Zone said, "As a leading public sector bank, Bank of Baroda has a strong legacy and deep roots with the Indian farming community. We connect rural and semi-urban India to mainstream banking, enabling them to scale up their agri operations with a range of lending products and banking services. 'Baroda Kisan Pakhwada' is a unique and truly one-of-its-kind initiative in the banking industry, an opportunity to strengthen our relationship with our agri customers and acknowledge their contribution to the nation."
Shri Brajesh Kumar SIngh, Zonal Head – Lucknow, said, "In Lucknow Zone, Bank of Baroda has a strong farmer-customer base with long-standing relationships that go back many years. The Bank plays a key role in meeting the banking and financing needs of the local agriculture sector. In this year's 'Baroda Kisan Pakhwada', over 605 Rural and Same Urban branches from Lucknow Zone will be involved and will conduct a number of programmes such as 3000 farmer meets, choupals, 28 Credit Camp, 28 soil testing camps, cattle health checkup camps etc to engage with and reach the maximum number of customers."
In the series of these programs, on 19.11.2022, the "Mega Kisan Mela" has been organized in Ayodhya under the chairmanship of Shri Jaideep Datta Roy, Executive Director, Bank of Baroda. In which total 4829 Agricultural loans amounting Rs.152 Cr. were disbursed to a farmers and 12 farmers of the state were felicitated for their excellent and innovative work done in the field of agriculture. On this occasion, the Executive Director inaugurated the "bob World Kisan" app for all the farmers associated with the bank, on which, apart from various banking services, other information related to agriculture, such as weather forecast / information, updated information on the market price of crops, soil moisture, advice of scientists to protect crops from pests and various diseases, as well as the facility to buy Agri inputs are also available. The benefit of which the farmers associated with the bank are currently availing through the URL https://kisan.bankofbaroda.com .
On this occasion, the Executive Director also unveiling "Agri Lending Booklet" for the officers and employees of the bank, in which brief information about all the Agricultural loan schemes of the bank is available, so that all the staff members are benefited, and able to fulfil all banking needs of farmers and 25 Gold Loan Shoppes were also inaugurated by Shri Jaideep Datta Roy, Executive Director, Bank of Baroda.
The earlier four editions of the Pakhwada received an enthusiastic response from customers and were appreciated at various levels. In 2018, the inaugural edition of the Baroda Kisan Pakhwada was acknowledged by the "Limca Book of Records" as the largest farmer engagement programme of this nature in the country.
This year, the Bank is aiming to increase the reach of the event and bring more farmers into the banking fold by offering a range of products including Baroda Kisan Credit Card (BKCC), Tractor Loan, Gold Loan, Financing to SHGs/JLGs, agriculture allied activities, Farmer Producer Organisations/ Company (FPO/FPCs), Food & Agro Processing Units etc.
Bank of Baroda's lending to the agriculture sector stands at Rs 1,14,964 crore as on September 30, 2022, recording a 14.1% year-on-year growth.