Bid Rigging And Cartelization In Indian Drone Industry ? One Company Bags 12 Tenders, Rest All Watch As Fence Sitters !
CEO of Gem, acknowledges the complaint, replies he has asked his team would look into this matter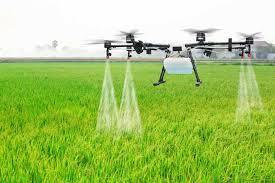 Mystery deepens into the Indian Drone System, a dreamchild of Hon'ble Prime Minister Shri Narendra Modi, envisaged for use of modern technology to upgrade the farming system of the country and benefit the farmers of the country as well as other sectors.
www.indianpsu.com is in receipt of a complaint sent by at least four firms viz. M/s. Central Scientific Supplies Company Limited, Chennai ; M/s. Kathir Agri Clinic, Kumbakonam ; M/s. SAAG Enterprises, Coimbatore, M/s. Krishna Biotech, Amritsar, apart from several individuals (copies of all complaints available with www.indianpsu.com), which has been sent to Shri Jyotiraditya Scindia – Union Minister of Civil Aviation, the Directorate General Civil Aviation (DGCA), Secretary and Joint Secretary of Ministry of Civil Aviation (MoCA), Union Minister for Agriculture & Farmers Welfare, Secretary – Ministry for Agriculture & Farmers Welfare, CEO of GeM, etc.
Here we quote one of the complaint titled as "Subject: Requesting Official Inquiry by GEM Portal against IOTECHWORLD avigation pvt Ltd for Bid Rigging, Tender Cartelization & supplying illegal Drones & spares which are not DGCA approved on GEM portal tenders & Requesting Blacklisting of IOTECHWORLD avigation from GEM Portal for defrauding Senior Scientists in ICAR & poor Farmers".
Excerpts of one of such complaint, which runs into five-pages, are given here for the benefit of the viewers of www.indianpsu.com – "These violations have created significant unrest in the entire drone industry & immense confusion for all government procurement bodies who are floating tenders. Despite the Clauses of strict adherence to freeze the Specifications as mentioned in the design document & clear instructions on tampering not to be done mentioned in the Type Certificate issued by DGCA, the Agribot Drone manufactured by IOTECHWORLD Avigation has clearly violated the instructions Point 3, 6 & 10 as issued in DGCA Type Certificate".
"We have taken the liberty to provide a Summary of Violations & Fraudulent Activities that has been
committed by IOTECHWORLD Avigation in collusion with Drone Federation India & the same has been
elaborated in detail in the 137 page document that exposes the Scam along with sufficient proof &
evidence from the manufactures own Self attestation in Tender submissions".
"The Technical specifications "Recommended" to the department by a particular "Drone Federation of
India" has been only Small Category Drones (Under 25KG) with 10 litre Payload which basically rules out 6 out of the 7 Agri Drone Manufactures from bidding or technically qualifying in most of these tenders barring a few which have allowed Medium Category Drones to participate but insist on a 10-litre payload as per Tender Transparency Laws & norms, the procuring department must have 3 or more bids (preferably different Manufacturers to give Government a choice & best possible price as these are L1 basis tenders) to evaluate on a technical aspect before financial evaluation. Since the time of 1st ever TC which was issued to a Drone Manufacturer (Under Small Category) in June 2022 to when the 2nd Agri Drone under the small category was issued which was in December 23rd 2022, there were over 12 tenders which were floated where the technical specifications for Agri Drone Procurement tenders remained strictly Small Category Drones. When these 12 tenders were evaluated, it was found that they were all awarded to the same manufacturer. While it is quite surprising why the department chose to go ahead with floating these tenders despite there being only 1 DGCA Type Certified Drone during that time frame or how did the department get 3 bidders to participate in these tenders as a Tender usually requires a minimum of 3 participants, it was even more surprising when the investigation team went through the shocking Similarities between L1, L2 & L3 bidders. For all those 12 tenders, L1, L2 & L3 were the exact same entities & another massive revelation were L1 L2 & L3 bidders quoted the exact same price in all those tenders with the same result being observed every single time in those 12 tenders. The odds of such a result happening to the event 2-3 times are extremely unlikely, but 12 times suggests clear bid Rigging & Tender cartelization".
"Even through DGCA had clearly instructed as per Point 2 & 3, no changes or additions to Model such as Adding Obstacle Avoidance Sensors or terrain following radars & Different Nozzles can be incorporated in the current TC Model, the IoTechWorld Avigation had supplied a Drone with tampering with the Drone as some of the Tenders floated by the Procurement departments had such Extra technical features embedded. In actuality, as per the Tender Specifications of such a tended the IoTechWorld Avigation, L2 bidder & L3 bidder must have been technically disqualified because all 3 bidders submitted the DGCA TC of the IoTechWorld Avigation Drone which clearly shows the absence of obstacle Avoidance Sensor & Terrain following radar sensors. All other bidders expect IOTECHWORLD avigation drone were disqualified on technical grounds despite the fact that IOTECHWORLD avigation Drones don't have the required sensors as per tender documents& the batteries which is clearly mentioned in their DGCA Type Certificate is 16000 MAH. While the reason for disqualifying Marut drones was that ICAR Kozhikode requested 21000 MAH & 500 cycles, IOTECHWORLD avigation also doesn't have the required approved technical specifications but were still qualified under mysterious circumstances".
The complaints by these firms end with the prayer of "Our humble request is to initiate an official Probe & a fair inquiry by the GEM portal Vigilance & Anti-Corruption team. We have already intimated the Ministry of Agriculture & Farmers welfare, ICAR, Vigilance & Anti-Corruption department & Grievance cell to kindly take this issue up with utmost integrity & seriousness. The entire Drone Industry is shocked & in disbelief that such a massive violation of the tender transparency act & DGCA Type Certification Scheme has been committed. It's also very worrisome that the accused are yet to face any repercussions by GEM Portal which is usually very swift in taking action & Ministry for Agriculture & Farmers welfare even after 6 months of tender cartelization & swindling several crores while supplying Non Type Certified & Illegal Drones".
Moreover, www.indianpsu.com is also in possession of the complaint from M/s. Central Scientific Supplies Company Limited, Chennai, sent to Shri P.K. Singh, CEO, Government e Marketplace, who took cognisance of the complaint and replied to the complainant " Thanks for your feedback. I have asked by team to look into this".
Recent disqualification of some companies –
Tender 1: (Name) GEM/2023/B/3068869
India, ICAR-IINRG, Namkum, Ranchi, JHARKHAND, Arjun Gope, RANCHI, 0651-2260202, Buycon266.Icari.Jh@Gembuyer.In, 834010
Notings of the concerned department –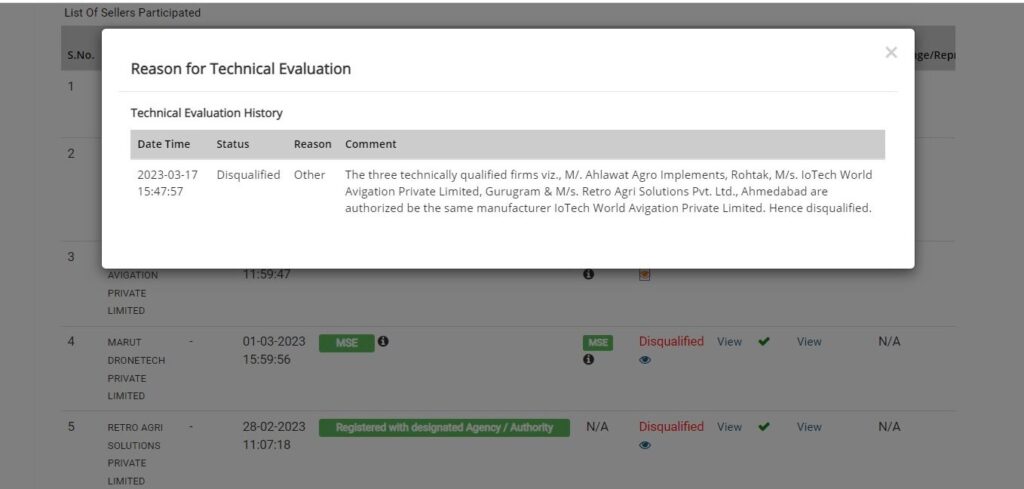 Meanwhile, IoTechWorld Avigation responded to the allegation levelled against them by their competitors by responding to the queries of www.indianpsu.com – "We wish to submit that the title of your story itself smacks of a malafide propaganda war against the entire drone ecosystem. The intention behind this article is clearly aimed to malign not only our reputation but also the government authorities. The allegations are completely false and baseless. IoTechWorld Avigation is a law-abiding organisation and follows utmost transparency in all its practices. The goal and endeavour of our company is to make India "Atma Nirbhar" in the agricultural drone segment and also help in enhancing the income of farmers. Having our own R&D unit, we develop the drones indigenously making them cost effective complemented by our PAN India network for after sales service. The government is providing a lot of impetus and emphasis for the growth of the sector under the Make-in-India initiative. But unfortunately, some players having vested interests are conspiring against the sector and are harming the interest of the Drone industry. The campaign is completely baseless and false with malafide intention of encouraging Chinese drones and their components in the Indian market. Such a malicious campaign will not only hurt the interest of the industry but will also hinder the Make-in-India initiative of the Government.The industry needs to remain vigilant and united so as to defeat anti-India forces."forces."
Mr. Smit Shah, President of Drone Federation of India (DFI) , vehemently denied all these allegations and told www.indianpsu.com – "The Drone Federation of India since its inception, as a non-profit Section 8 company, has been working hard to bring startups and young entrepreneurs across the country under a unified forum while providing them with an enabling environment for contributing towards policy reforms, skill development initiatives and promoting the widespread adoption of indigenous drone technologies. We believe that these allegations are being made by certain motivated individuals to stifle the astounding growth of the Indian drone industry and are aimed at tarnishing our reputation as a neutral platform and undermining the trust that our members and stakeholders have placed in us. We strongly urge everyone to disregard this falsehood in its entirety and request everyone to not circulate such unsubstantiated information and not fall prey to such scams being circulated in the form of fake news."
In the meantime, keeping in view, the gravity of the allegations, which in this case, affects the farmer and agri-sector of the country, players / competitors, who have been left high and dry in the tender processes so far, have demanded high-level enquiries from various top investigating agencies of the country, into what they term a simple case of cartelization.
To be continued ……