BPCL Refinery Unions On Hunger Strike Today Against BPCL Privatisation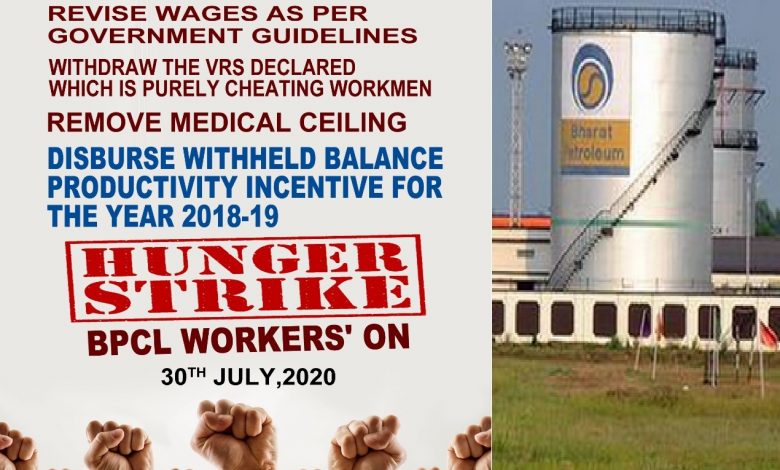 Employees of Bharat Petroleum Corporation Limited (BPCL) are on a single-day hunger strike today to protest against the Voluntary Retirement Scheme (VRS) proposed by the company management. The strike has been called by the BPCL Mumbai Refinery Unions. Members of the Kochi Refineries Workers Association (CRWA) including BMS union is also participating in the hunger strike today.
In a Joint letter written by BPCL- Kochi Refinery Workmen, which says, "Even two years after the expiry of the LTS of Kochi Refinery Workmen, the so called "Prudent Management of BPCL", continues to deny its revision without saying any justifiable reason In addition, the Management has a negative stance in all other issues that workers reasonably demand. Medical Domiciliary ceiling, Productivity Incentive Scheme (PIS) to remain pending. Even in the case of the now-declared VRS, negligence towards workers is rampant.
The Kochi Refinery Workmen register our strong protest against the BPCL Management's present stand to please the coming "Corporate Boss", and the dirty game played by superior officials to consolidate and confirm their positions, without even considering the Workmen in BPCL, when the Central Government is moving fast with the privatization process.
We hereby inform you that as a token of protest. Kochi refinery workmen are observing Hunger strike on 30 July 2020 raising the following demands.
Stop BPCL privatization process.
Withdraw anti-labour counter demands and revise LTS as per Government guidelines and at par with other oil PSUS.
Withdraw the VRS declared which is purely cheating Workmen. Remove Domiciliary ceiling in workmen medical scheme.
Disburse the withheld balance amount of Productivity Incentive Scheme (PIS) for the year 2018-19 with applicable interest at the earliest."
Aji MG, General Secretary, CRWA told www.indianpsu.com "BPCL Mumbai Refinery & Kochi Refinery workers including BMS union is participating hunger strike today. Now the managers forcing to workmen for applying VRS (Voluntary Retirement Scheme). BPCL Officers got last Wage revision on 2017. But workmen wage revision is not concluded yet due to the adamant stand of the management. The BPCL CMD & Director Refinery will be retired from Service on next August. But the Government has not decided to recruit new C&MD & Director Refinery. After August only three directors will be remaining due to this BPCL management will be unable to take a policy decision."
The management of BPCL floated a VRS for employees on July 23. While this is not the first time that a VRS is being offered in BPCL, it gains more prominence in light of an impending privatisation of the Indian PSU.
BPCL holds around 15 per cent of India's crude oil refining capacity and 22 per cent of the fuel marketing share. Employees over 45 years of age have time till till August 13 to opt for the VRS.
The All India Coordination Committee of BPCL Workers has also opposed the privatisation process.
(Indian PSU: All about Indian Public Sector Undertakings. Follow @IndianPSUs for all the News & Views on PSUs, Corporates, Markets, Bureaucracy, Public Policy)