Bring Petrol And Diesel Under GST Regime To Control Inflation, Urges Akhil Bhartiya Udyog Vyapar Mandal
Create Traders Constituency as registered traders can elect and send their MLCs to State Assemblies, demands the bodies President Sandeep Bansal
A major meeting of the national office-bearers of Akhil Bhartiya Udyog Vyapar Mandal, the most biggest organization of retail traders of the country, was held in Haryana Bhawan, New Delhi, today. Representatives of 12 states were present in the meeting, which was presided over by the National President of the organization and former Uttar Pradesh Minister Shri Sandeep Bansal. National Vice President of the organization and Haryana Vidhan Sabha Speaker Shri Gian Chand Gupta was also present as the special guest in the meeting.
Addressing the meeting, Shri Sandeep Bansal emphasised on the need to bring diesel and petrol under GST regime to help check inflation. He urged Prime Minister Modi to take this decision so that the general public of the country can get relief from inflation.
Shri Bansal also demanded constitutional changes so that registered traders of the country can get the right to elect and send Members to the Legislative Assemblies of the state. At present, apart from nominated Members of the Upper Houses of the state and those chosen by Legislative Assembly Members, there are three more categories of MLCs. While some are elected from Local Authorities, others come from Graduate and Teachers Constituencies. Akhil Bhartiya Udyog Vyapar Mandal is now demanding a Traders Constituency from where their representatives can reach the Legislative Assembly and raise the voice or problems faced by the trader community.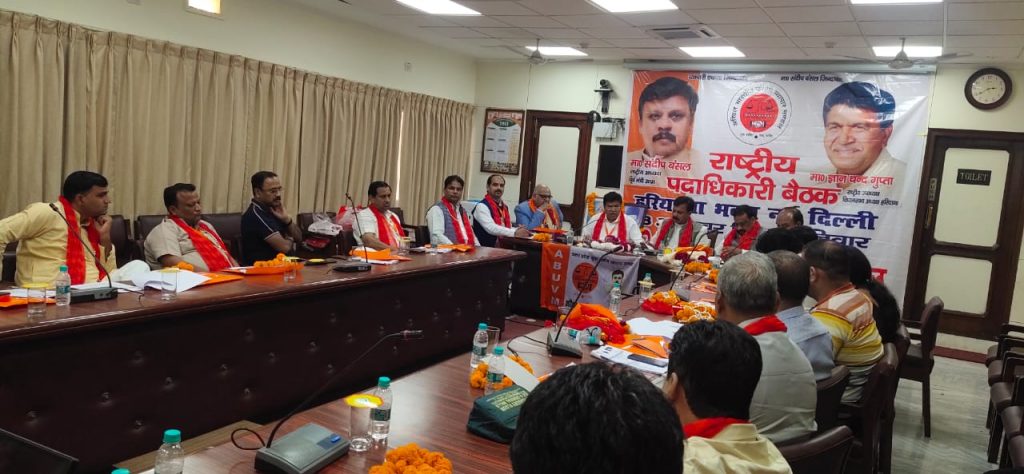 Shri Bansal, said that despite generating high revenue for the country, traders are bereft of respect and are treated as a milking cow by government officials and employees. He said that traders should now become politically active and strong so that they get the respect which they are entitled to, in this country.
Addressing the meeting, Haryana Vidhan Sabha Speaker Shri Gian Chand Gupta said that all facilities have been given to the traders in the state of Haryana. Their problems are being escalated to the level of the Home Minister and Prime Minister of the country and he is hopeful that these problems would be resolved soon.
It was decided that a general convention of traders would be organized in the capital of the country on November 21, 2021, in which traders from all over the country would raise their voices and put up their demands.