British Journalist Dom Phillips And Indigenous Rights Activist Bruno Pereira Murdered In Amazon
Both were reporting on fishing mafia and its threats to isolated indigenous people of the region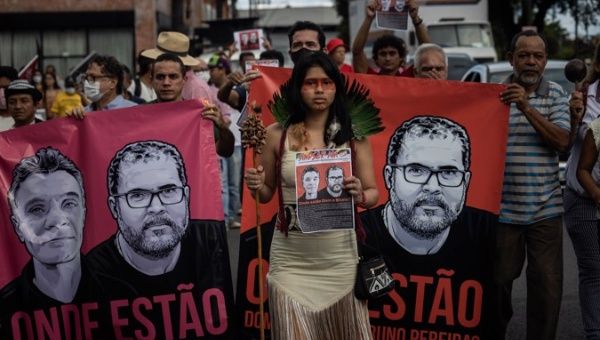 British journalist Dom Phillips and a Brazilian Indigenous expert Bruno Pereira disappeared in the Javari, one of the remotest corners of the Amazon near the border with Peru. Pereira, a long-time defender of Indigenous rights who formerly worked for Funai, (Brazil's government Indigenous rights agency) had reportedly received threats for his work monitoring illegal activities in the region.
Brazilian authorities have now confirmed that Dom Phillips and Bruno Pereira were murdered in Javari, one of the most remote and threatened regions of the Amazon. Phillips was reporting on the fishing mafia and its threats to the isolated indigenous people of the region, while Pereira was accompanying him as a member of the UNIVAJA security team.

Brazilian Federal Police confirm in a press conference that Dom Phillips and Bruno Pereira were murdered.
The Brazilian authorities claim that the two perpetrators of the crime – the brothers Oseney da Costa de Oliveira, 41, and Amarildo da Costa de Oliveira, also 41, have been identified, and one of them confessed to the killing and indicated the place where the bodies were hidden. The primary reason for the crime was the carrying out of a journalistic piece denouncing illegal fishing, according to the police. Investigations are continuing.
The official response has been criticised as woefully inadequate. The army initially said it would only launch a rescue mission once given orders from a higher command, wasting the precious hours immediately after Dom and Bruno disappeared. It took three days to deploy a helicopter to the region. Unijava, an entity that brings together representatives of each of the peoples living in voluntary isolation in the javari valley, was all along the front line of the search work.
Investigations indicate that the disappearance of the pair could be linked to the illegal fishing mafia, an activity with connections to cocaine trafficking and gold mining.
Natalia Mazotte,, president, Brazilian Association of Investigative Journalism – Abraji, said:
It is with immense sadness and outrage that we received the news of the assassination of Dom Phillips and Bruno Pereira. They fought for a Brazil in which the indigenous peoples had a voice, in which the Amazon was kept standing and environmental crimes were not ignored. This barbaric crime is not an isolated episode. 20 years after the murder of Tim Lopes we continue to see signs of the degradation of civic space in what has become one of the most dangerous countries in the world for journalists and activists.
Marcelo Beraba journalist, founder and adviser to Brazilian Association of Investigative Journalism – Abraji, said:
"It is a horror that we are living in a tragic situation like this. One more. Here are some of the Brazilians who have been abandoned – the indigenous peoples, the residents of the Amazon, our indigenists, the activists for the causes of the voiceless. And they are once again stamping the dangers that journalism has to face in this country. A horror."
The writer of this article is Dr. Seema Javed, a known Environmentalist, Journalist and Communications Expert