BSNL's Bharat Air Fibre High-speed Broadband Service inaugurates in Maharashtra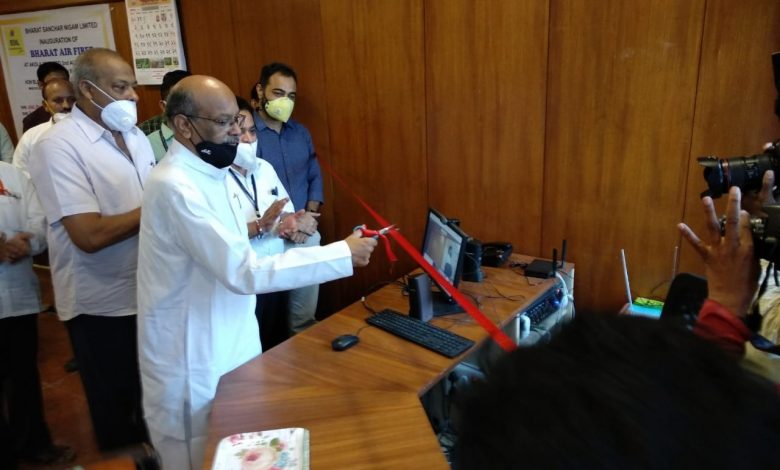 Local residents of Akola and Washim can partner with BSNL as Telecom Infrastructure Partners and become Aatma Nirbhar
BSNL appeals to all residents of Akola & Washim District to avail these quality & most affordable services
Bharat Air Fibre Services by BSNL has been inaugurated by Union Minister of State for Communications, HRD, Electronics & IT Shri Sanjay Dhotre, at Akola in Maharashtra today (August 2, 2020). With this, the internet users at Akola will get Wireless Internet connections on demand. The Bharat Air Fibre services are being introduced by BSNL as a part of the Digital India initiative by the Government of India and it aims at providing BSNL FTTH Wireless Connectivity up to range of 20 KMs from the BSNL points of presence. Thus, customers at remote locations will be benefitted as BSNL comes with cheapest services. This apart, these services are wireless and the chances of interruption in services locally are very low. These services are special and different from other operators as BSNL is providing unlimited free voice calling. BSNL appeals to all residents of Akola & Washim District to avail these quality & most affordable services.
Bharat Air Fibre Service provides high speed broadband to subscribers of remote areas by bridging the gap of last mile connectivity through radio waves. A vast network of Optical Fibre has been laid by BSNL up to nearest Telephone Exchange or Mobile Tower and from there the connectivity is provided to subscribers over wireless. This apart, BSNL is providing this high-speed broadband service by tie-up with local entrepreneurs/unemployed youth from Akola and Washim Districts on revenue sharing basis thereby generating employment in rural areas. They will earn regular monthly income of about one lakh per month thereby becoming self-reliant under 'Aatma Nirbhar Bharat' initiative of the Centre. This model is being scaled PAN India.
BSNL has specially started this Wireless Bharat Air Fibre services from Akola as in recent past, Akola and Washim have faced some issues in getting uninterrupted BSNL internet connectivity from wired services due to road widening activities all around the Akola and Washim city and connecting roads. BSNL Akola has 435 Base Transceiver Stations (BTS) in Akola and Washim districts, out of which 193 are 4G BTS covering major parts of these districts. Union MoS Shri Dhotre has instructed to cover the left-out 28 villages also and shortly both the districts will have umbrella mobile coverage. BSNL has planned more BTS to have complete coverage, apart from other special works for providing best quality services to customers in these two districts.
The BSNL Bharat Air Fibre connectivity speed is 50 Mbps speed. BSNL is offering attractive Broadband plans in Wireline & Wireless segments. There is a huge demand of high-speed broadband service in present situation as there is migration of people from metro cities to rural areas. The service is becoming popular due to Work from Home (WFH), e-learning, online shopping, gaming and entertainment, etc. amidst lockdown.
This service could be a game changer for rural areas as with a little integration of Internet of things and Sensors the moisture content of soil can be known on a real-time basis, so that irrigation can be planned, resulting in saving of water and thereby increasing the productivity. Also, sensors can be tied to the neck of Milch cattle, enabling continuous recording of body temperature so as to know the exact time when milk output is best.
Notably, BSNL has provided about 14,500 FTTH connections in Maharashtra Circle in the month of July, 2020. BSNL has also provided and is maintaining round the clock high speed internet connections to COVID control rooms, District Covid Hospitals, Helpline and Call Centres pan India.
The dignitaries who participated in the function through Web meeting included Shri P.K. Purwar, CMD BSNL; Shri Vivek Banzal, Director CFABSNL; Shri Manoj Kumar Mishra, CGM Maharashtra Circle and other senior officers. Shri Anil Bhandari, MD Mahabeej Akola was also present on the occasion.
(Indian PSU: All about Indian Public Sector Undertakings. Follow @IndianPSUs for all the News & Views on PSUs, Corporates, Markets, Bureaucracy, Public Policy)