Budget 2022-2023 : Another Bonanza For Corporates As Common citizens Left To Survive On Their Own, Says AITUC
Another pipe dream budget of Modi Government & other exercise of meaningless phrase mongering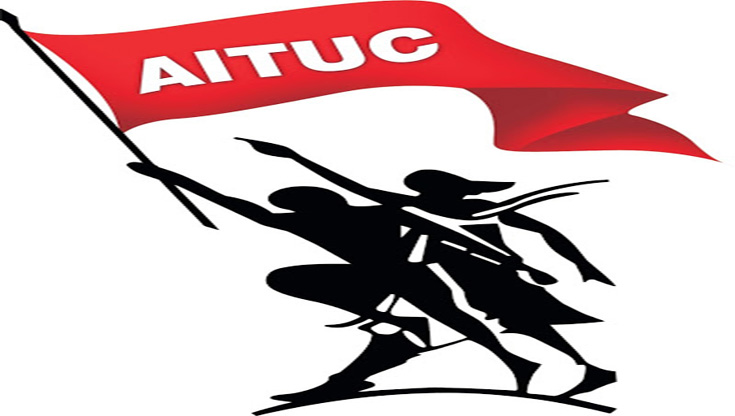 The Finance Minister failed to give account of what happened to all the tall claims and targets set up for employment, smart cities, skill India, double income of farmers, relief to poor and middle income groups, improvement in health infrastructure etc. There was no mention in her speech from where the income would be generated and how the expenditure would be distributed in various heads. Everything was left for members of parliament, the political parties, analysts and the public to keep them busy, looking through the full text, so that the govt. launched its media exercise to create a favourable narrative out of this anti-people budget.
The exercise of budget has been devalued year after year by this Govt.
The tax concessions to corporates from 18% to 15 %, tax waiver extension to start up projects on the one side and increase of 2% cess on unblended oil (Petrol, Diesel) is another exercise to facilitate the flow of money from the common man to the Corporates. This would further help accumulation of wealth in the hands of billionaires to continue the trends shown in the Inequality Report presented in Davos agenda summit by Oxfam. For the MSMEs, it is only more loans.
The budget is not for giving something to ordinary people, but is actually taking away from them. It would give boost to price rise in essential commodities, the unemployment, job loss, wage reduction, expensive civil services.
The privatisation agenda has been further strengthened and a new slogan of "seven engine gatishakti" has been coined, which is nothing but sale of assets and promoting the National Monetisation Pipeline project (NMP). The Govt. claimed a "new PSU policy" which listed Air India, Neelachal Ispat Nigam Ltd. and LIC IPO as shining examples of privatisation. In most of the announcements for investment, the FM mentioned PPP mode without specifying who and how much would be invested. Elite should be happy to have more Vande Bharat trains, while the public railway facility improvement for common citizens does not find any place in the budget.
The budget fails the farmers on their needs and rather talks of change in syllabus of agricultural universities. It claimed 16.3 m farmers benefited through MSP last year whereas FCI put this figure at 12.4 m.
The MSP budget has been reduced from 2.43 lakh Cr last year to 2.37 lakh Cr. The Farmers observed 31st January as a day of Betrayal, anticipating this move.
On health, while talking of setting up Mental Health University, the budget provision has actually been reduced from Rs.37130 Cr last year to Rs.34947 Cr, while the Scheme Workers await that their demands would be resolved.
Similarly on education, day dreaming that the children of poor who do not have pucca house or electricity or Television would get education on TV and mobile etc. Nothing about school infrastructure, teachers etc.
The budget adds to the gloom of the middle classes, no tax concession to them, as they are suffering from price rise in all essential services and commodities. It needs to be emphasized that the demands raised by Central Trade Unions during the pre-budget consultations with the FM find absolutely no place in the budget. The press release of the AITUC is given below for the benefit of the viewers of www.indianpsu.com –