Budget 2023-24 Is Focused On Building A Green India
India is making efforts for integrated green energy solutions for creation of demand of clean energy, say experts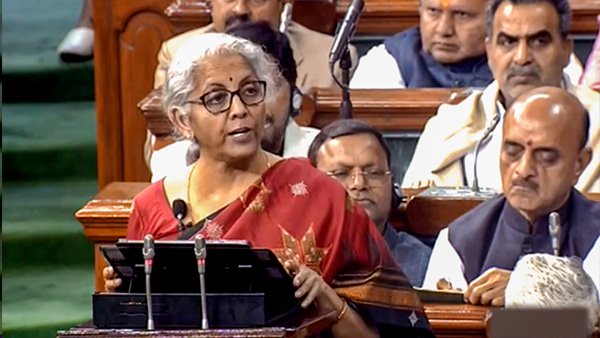 The current budget is aimed to accelerate an environment conducive to promoting green growth. The budget provisions are aimed at generating more clean and sustainable energy jobs and catalysing climate action. The budget has designated green growth as one of the seven themes of the union budget 2023-2024.Through this budget, India is making efforts for integrated green energy solutions that support supply-side interventions while also driving demand creation for clean energy.
According to Anjal Prakash, Research Director, Bharti Institute of Public Policy, Indian School of Business ,"India's GDP calculation does not factor in the costs of environmental issues or climate disasters. GDP is typically calculated by measuring the value of all goods and services produced during the reporting quarter of the year. Climate disasters, such as floods, cyclones and droughts, have significantly impacted the Indian economy for the past couple of years, but their costs are not typically included in GDP calculations. It is laudable that the green growth framework used by the honourable finance minister will guide investments in renewable energy, energy efficiency, and sustainable transportation. However, we need to identify the areas of environmental degradation and areas of the economy where environmental degradation has the greatest impact and take steps to address them. The economic survey 2023, unfortunately, didn't have enough analysis on this front
that could have informed the green budget."
The Viability Gap Funding (VGF) support for the 4 GWh battery energy storage system announced in the Union Budget and greater thrust on pumped hydro are critical to help India move towards meeting the Energy Storage Obligation targets. In 2022, the Ministry of Power released energy storage targets for state electricity utilities, with a vision to help integrating high renewable energy during its peak production hours. The financial support for energy storage, through this VGF announcement, helps scale up energy storage and support India's NDC of 50% non-fossil installed capacity by 2030.
Distributed Renewable Energy (DRE) was envisioned as a significant component in India's 2022 targets and will remain critical to India's energy transition. Central allocations to build transmission systems for evacuation of 13 GW RE from Ladakh and provide viability gap funding for 4 GWh (or 1 GW capacity) battery storage will give an impetus to stagnated RE deployment pace in India.
Also pledged INR 35,000 crore in support for net zero and energy transition objectives, from petroleum ministry budget, an equivalent support of INR 30,000 crore as capital support for oil-marketing companies (OMCs) and INR 5,000 crore for strategic petroleum reserves.
According to Mr.Martand Shardul, Policy Director, Global Wind Energy Council (GWEC), "The push for green hydrogen as part of the union budget must translate into a sharp growth in utility-scale power generation capacities from solar, wind, and hybrid projects. Renewable energy constitutes over 50% of the green hydrogen cost and a further decline in clean power shall prove beneficial for the emerging green hydrogen economy. The co-location of renewable energy generation and green hydrogen production could further bring down costs. The union budget priorities for an accelerated clean energy transition and growth of the MSME sector must also benefit the several thousands of wind sector MSMEs and foster their scale-up."
Prof. Saon Ray, Visiting Professor, Indian Council for Research on International Economic Relations, says
"Continuing the trend of the last budget, this budget has listed green growth as one of the seven priorities. The speech by the FM lists many programmes undertaken for ushering in green growth and reducing the carbon intensity of the economy. In particular, the recently launched Green Hydrogen Mission has been mentioned, for which the target is to reach 5 MMT by 20230. Also, LIFE, or Lifestyle for Environment is aimed at nudging behavioral changes. In this regard, the Green Credit Programme which will be notified under the EPA is to incentivise sustainable action by companies and individuals by mobilizing resources for the same. For encouraging green mobility, excise duty on GST-paid compressed biogas contained in blended natural gas will be exempted. Also, exemptions on customs duty on the import of capital goods and machinery for the manufacture of Lithium-ion cells for batteries in electric vehicles are being extended. Funds have been allocated for scrapping old and polluting vehicles of the central government and state governments will also be supported in this regard."
Mr.Harsh Verma, Business development team, Verde Mobility while commenting on the budget said ''Union Ministry's proposed budget for 2023-24 includes a 0% import duty for lithium ion batteries, which will encourage EV manufacturers and battery manufacturers with the relaxation of imports and manufacturing, which will result in a reduction in the price of electric vehicles. It will also lead to an increase in EV adoption, which in turn will increase demand for EV chargers. Manufacturers of chargers will greatly benefit from the reduction of basic customs duty on automotive equipment and this will help with manufacturing.''
Dr. Aman Srivastava, Fellow at Centre For Policy Research (CPR) said, "The budget provides 35,000 cr for priority capital investments towards energy transition, net-zero objective, and energy security. While this appears to be a significant allocation, almost all of it seems to go to MoPNG to meet India's energy security objectives through 5000 cr. of new allocation towards strategic petroleum reserves and 30,000 cr. of capital support for oil marketing companies. Although investment in a strategic petroleum reserve enhances energy security, it is unclear what the huge allocation for oil marketing companies means. For example, if a majority of this allocation would go towards gas exploration, then it signals a bet on 'gas' as the bridge fuel to India's energy transition."
He further added "The outlay of INR 19700 crore for the Green Hydrogen Mission (with an initial allocation of INR 297 Cr) aims to support annual production of 5 MMT by 2030. This public expenditure – which could cover investments, subsidies, and other avenues – is equivalent to about INR 40/kg. In contrast, the US Inflation Reduction Act provides subsidies of up to INR 250/kg to produce green hydrogen. Although the two are not strictly comparable because one is for multiple purposes and the other just for subsidies, it is important to clarify how these outlays will be used to improve the competitiveness of domestic hydrogen."
The writer of this article is Dr. Seema Javed, a known Environmentalist, Journalist and Communications Expert