Conflict Of Interest : UAE Hosting COP28
A major fossil fuel producing country to host a climate summit, could be perceived as a conflict of interest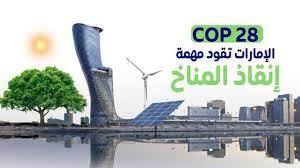 This year (2023) UAE has the challenging task of hosting the UN Climate Summit (COP28). As a major fossil fuel (oil) producing country to host a climate summit, could be perceived as a conflict of interest. UAE climate change special Envoy Dr. Sultan Al Jabeer is charged with meeting this task in 2023. He is expected to be announced as COP28 President at Abu Dhabi Sustainability this Week . Dr. Sultan Al Jabeer is also CEO of Abu Dhabi Oil Corporation. Some may argue that a country that is heavily dependent on fossil fuels may have a vested interest in maintaining the status quo and may be less inclined to support strong action on climate change.
Al Jaber is on record arguing for a rise in annual fossil fuel investments of US $600bn until 2030: "we must make progress with pragmatism" he told delegates at the 2021 ADIPEC summit. This will make Limiting emissions to safe levels almost not possible.
The UAE's 2050 energy targets include 12% 'clean coal' and 38% gas, matched with 44% renewables and 6% nuclear. In the shorter term it's targeting producing 5 billion barrels of oil & gas a year by 2030, signalling its intent at the end of 2022 by joining the GECF gas exporting countries lobby group. The country's envoys also blocked efforts to accelerate cuts to shipping emissions at UN talks in London last month. Overall, Climate Action Tracker rates its efforts "Highly Insufficient".
Despite the warning of climate change the planet is warming up continuously with extreme weather events increasing in frequency and intensity. Last year about 33 million people were displaced by floods in Pakistan alone .The IPCC 1.5C report was clear: that emissions need to be cut roughly 50% by 2030 to avoid dangerous levels of warming. The UN's 2022 assessment of climate pledges reckons emissions will rise 10% by 2030.
2023 is also a 'Global Stocktake' year – a report card on global emission cuts, finance, adaptation, technology. It's supposed to be a core element of the Paris Agreement, By gathering information and data on implementation of the Paris Agreement, it evaluates progress on the world's efforts to: cut greenhouse gas emissions enough to limit global temperature rise to well below 2 degrees C (3.6 degrees F) and ideally 1.5 degrees C (2.7 degrees F); build resilience to climate impacts; and align financial support with the scale and scope needed to tackle the climate crisis.
Even though Average temperatures in 2023 are likely to be 1.08-1.32C higher than pre-industrial levels according to the UK Met Office, the tenth consecutive year at 1C or above. Current govt policies are tracking at 2.7C, according to Climate Action Tracker. 10 extreme weather impacts through 2022 incurred damages of +$3bn each, says the campaign group Christian Aid.
Three key elements that we need to build this bridge are mobilizing climate finance, education for the energy transition, and accelerating the decarbonization of industry. Three topics that sat at the top of the International Renewable Energy Agency's agenda in Egypt in COP27. Climate finance (or the lack of it) will be a dominant feature of 2023 – a fact noted by US climate envoy John Kerry in a December interview. A rough plan for a new long term finance goal (above and beyond the $100bn) is slated to land in March with a post-2025 figure expected at COP28. A UN-mandated report by LSE presented at COP27 says developing countries need to collectively spend $2.4trn a year by 2030, with half generated from domestic sources. The World Bank's new-found zeal for climate may help, but its latest plan is light on detail.
Europe's skiers are looking at green slopes as winter heat records sent the snow packing – and the weird weather appears to be resonating with the public. Ipsos polled 24,000 people in 36 countries and 65% (up from 60% in 2022) reckon there will be more extreme weather events in their country this year.
The writer of this article is Dr. Seema Javed, a known Environmentalist, Journalist and Communications Expert