Decrease imports, increase exports is a India's strategy: Anurag Thakur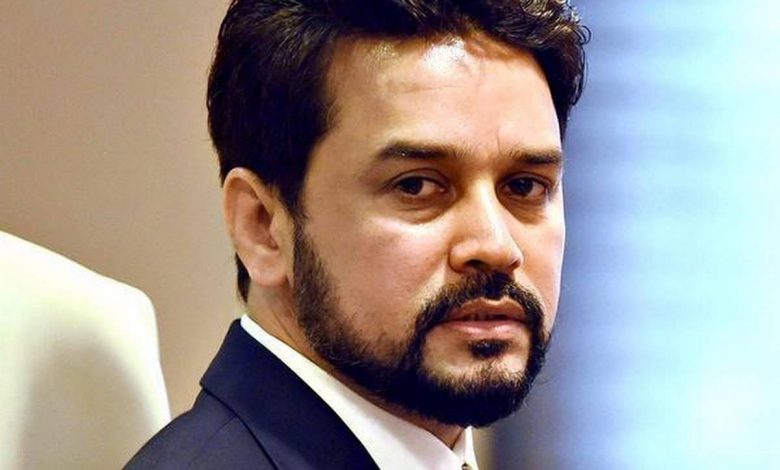 Speaking at the Digital Conference & Exhibition on AatmaNirbhar Bharat – Renewable Energy Manufacturing on 16 July organized by Confederation of Indian Industry (CII), Shri Anurag Thakur, Hon'ble Minister of State for Finance and Corporate Affairs, Government of India said, "PM Modi has given us a clarion call when he gave us the vision of Aatmanirbhar Bharat. It does not mean closing down the economy, rather it means strengthening our manufacturing and strengthening manufacturing-based exports."
He added that geopolitical issues make the cost of fossil fuels unstable and India needs to hedge these costs while staying committed to the global climate change commitments. He expressed his concern that crude oil imports alone account for 20% of the India merchandise imports.
"India's fiscal deficit is huge. Strengthening domestic manufacturing and shift to renewable energy is a fiscal necessity." In 2019, India was ranked as the 4th most attractive market in terms of renewable energy. The Government is taking several steps in this direction that has established India as the 3rd largest solar market in India.
He also recognized that manufacturing of RE components is in its nascent stage. India currently imports close to 80% of solar cells and modules from China. Installing large capacities in India, will require indigenous manufacturing to be boosted. Financial support is being given by MNRE for setting up solar power plants. FDI inflow has increased to USD 42 billion, almost five times of what it used to be in 2014. USD 5.85 billion has been invested for RE evacuation.
The sector has seen strong participation from the private sector which has supported this growth. Government of India is committed to provide handholding and security to Indian manufacturing companies – providing long term policies for investment security. GOI plans to impose 20% Basic Customs Duty on solar components to be able to provide a springboard to the domestic manufacturing sector in renewable energy.
Speaking at the session, Mr Saurabh Bhai Patel, Energy Minister, Government of Gujarat spoke of Gujarat's emphatic, strategic leadership and direction in adopting a solar policy very early. Gujarat is where Asia's first solar park came up that is still operational. "We follow a bidding route," said that Minister, "Over 3000 MW have already been bid out in parks. In non-park areas, 1850 MW have been given to successful bidders. Another important policy of the Gujarat Government is the Small Scale Distributed Solar Projects a key strategy and policy in Gujarat, where any farmer or individual can connect an 11kVA feeder without participating in tendering process. He also spoke of the State's innovative support on cost reduction of generation, as well as promotion of MSMEs which will play a pivotal role in growing the RE landscape.
Mr Sumant Sinha, Chairman, CII Renewable Energy Council and Chairman and Managing Director, ReNew Power, on this occasion, announced that ReNew Power will be setting up a 2000 MW of solar module and component manufacturing in the next few years. He said grandfathering of manufacturing projects for two years when BCD and other duties are imposed, streamlining land acquisition, policy security for 5-7 years are key to promote indigenous manufacturing and attracting new investments.
"In the next decade, 100 GW of wind energy is needed for India to achieve its large RE target of 450 GW by 2030," said Mr Clive Turton, Group President & Chief Executive Officer, Vestas Power Solutions. "Vestas is looking to transforming India into a manufacturing hub with end-to-end capacities, introducing suppliers to the Indian market so that the entire supply chain can be shifted to India-based one". He spoke of an ability to generate 4 times as many jobs, while staying focused on safety standards in manufacturing, while the Government needs to strive to streamline the land-acquisition complexity.
Mr Vineet Mittal, Co-Chairman, CII Task Force on Make in India -Renewable Energy and Chairman, AVAADA lauded the Government stating, "With rising power demand & talented scientists & engineers, there is no reason for India to hold back our ambition for AatmaNirbhar Bharat. As Hon'ble PM Shi Narendra Modi said it was the 1st time Renewable Energy developers spoke in GW rather than MW." He said that the need was also to bring self-reliance to the DISCOMs.
Mr Tulsi Tanti, Founder, Chairman and Managing Director, Suzlon, addressing the Session, said "RE sector will remain the catalyst for all other sectors." Citing Brazil as an example, he said that the need of the hour is an integrated systems solution, while providing captive power to MSME which will help them to hedge power costs for 25 years.
The CII Conference & Exhibition brings together over 50 speakers with 15 international speakers, 37 exhibitors, and an audience of over 1500 delegates on a digital platforming a bid to strengthen India's anvil for boosting RE manufacturing while increasing exports and jobs.
(Indian PSU: A 360-degree web platform for Public Sector Undertakings of the country. Follow @IndianPSUs for all the News & Views on PSUs, Corporates, Markets, Bureaucracy, Public Policy)