Department Of Public Enterprises With SCOPE, Organised 'Workshop On Procurement By CPSus From MSEs'
The interactive workshop also threw light on Public Procurement Policy Order, 2012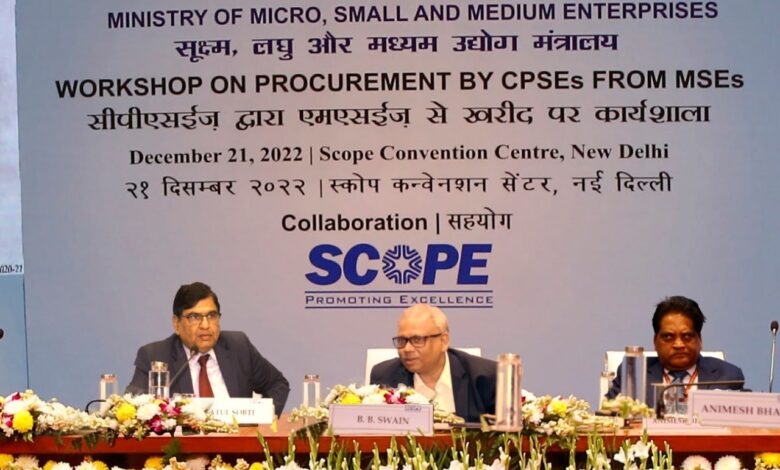 Department of Public Enterprises (DPE), in association with Standing Conference of Public Enterprises (SCOPE), organised a 'Workshop on Procurement by CPSEs from Micro and Small enterprises (MSEs)' on 21st December, 2022 at SCOPE Auditorium, New Delhi. Shri B.B. Swain, IAS, Secretary, Ministry of Micro, Small & Medium Enterprises; Shri Animesh Bharti, Economic Adviser, DPE and Shri Atul Sobti, Director General, SCOPE addressed the inaugural session of the workshop, which saw a large participation of senior officials from various CPSEs, MSEs and Industry associations from across the country.
Shri B.B. Swain, in his keynote address, commended DPE and SCOPE for conducting the workshop to deliberate on the practical aspects and operational issues faced by CPSEs in procurement. He appreciated the contribution of CPSEs by continuously increasing procurement from MSEs, and reaching the highest ever 36% share during the ongoing financial year.

Shri Atul Sobti, welcomed the huge gathering of the around 250 participants from 77 CPSEs and five industry associations, said that cost effective and quality procurement is an imperative for business, impacting an organisation's commercial prudence and performance. Reiterating the role of CPSEs in the national economy, he emphasised on the need to further increase CPSEs' procurement from MSEs, and encouraged MSEs to upskill themselves to be globally competitive.
Shri Animesh Bharti, guiding the way forward, said the workshop was planned to help participants from CPSEs and associations of MSEs with regard to procurement and the deliberations would also help the Government in proposing a proper policy direction and way ahead.
The interactive workshop also threw light on Public Procurement Policy Order, 2012; new announcements regarding MSEs, MSME-Sambandh and MSME-Samadhaan portals; GeM and TReDS Platform etc. with regard to CPSEs. The workshop also provided platform to representatives of Industry Associations to raise their issues and concerns before policy makers to have a constructive and inclusive procurement process for the benefit of all stakeholders involved.