Director (Commercial) RINL Inaugurates 2-day Vendor Development Programme Cum Buyer-Seller Interaction Meet & Industrial Exhibition
Around 52 exhibitors have displayed their exhibits at Autonagar Visakhapatnam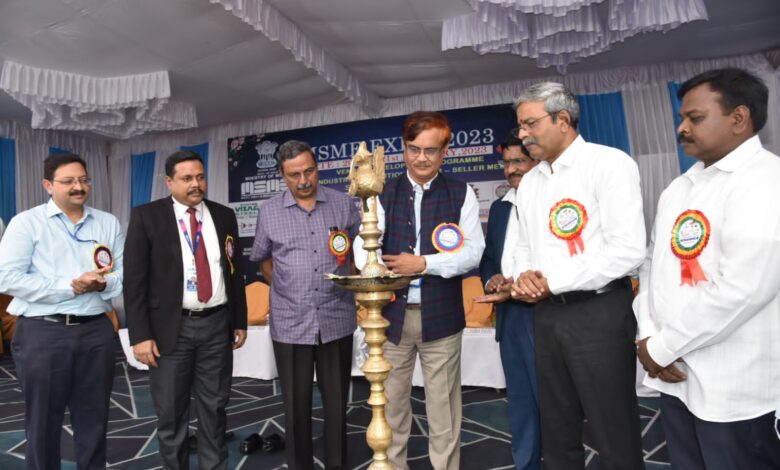 Micro, Small & Medium Enterprises Development Institute, Govt. of India, Visakhapatnam in Association with Visakha Autonagar Small Scale Industrialists Welfare Association (VASSIWA), is Organising a 2-day Vendor Development Programme-cum-Buyer-Seller Interaction Meet and Industrial Exhibition at, Autonagar Visakhapatnam on 20 & 21″ January,2023.
The Chief Guest for the Inaugural Program Shri DK Mohanty, Director (Commercial) RINL inaugurated the Vendor Development Programme cum Buyer-Seller Interaction Meet and Industrial Exhibition at Autonagar Visakhapatnam, today.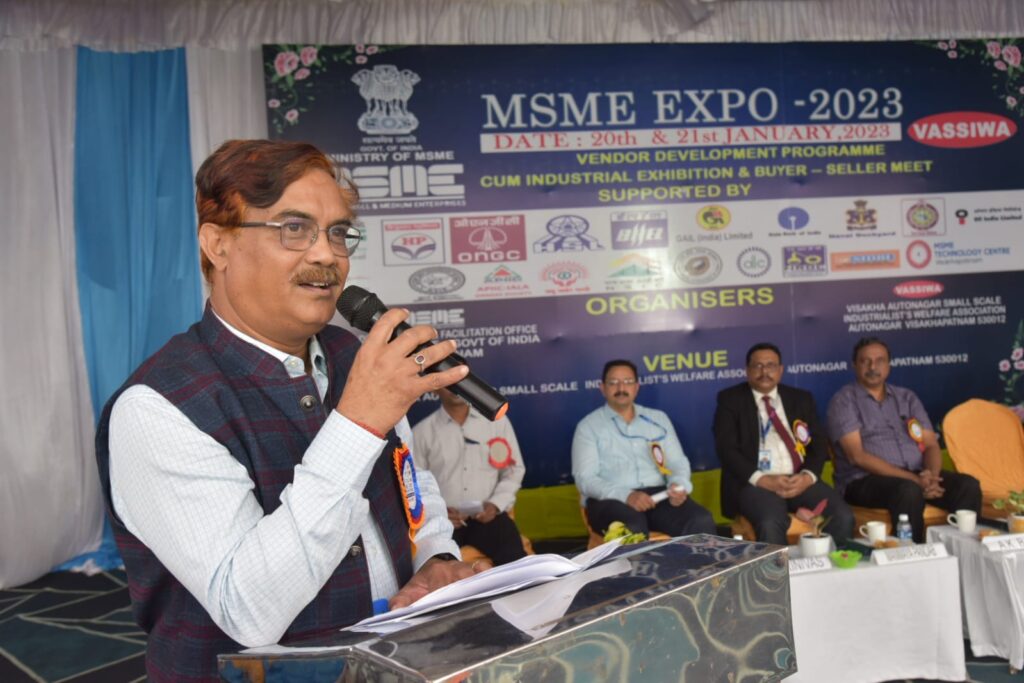 Addressing the vendors and entrepreneurs, Shri DK Mohanty advised the Local MSEs to establish themselves as sources of supply for materials such as Thermocouple Tips , Lollypop Samplers , Probes , Fasteners, Ferro Alloys, Refractories, chemicals etc. Shri DK Mohanty requested local MSEs to quote reasonable prices and delivery schedules to foster long term business relationships with RINL. Shri Mohanty reiterated that RINL's endeavour is to support and encourage the local MSEs.
Highlighting Significant efforts by RINL to extend support to of micro and small enterprises (MSEs), Shri Mohanty said that In Financial Year 2021-22, Total procurement where there is a presence of MSMEs is 3246 cr, out of this 60 cr procurement is from Local MSEs. For the current financial year 2022-23, RINL has set the target procurement from MSEs as 31.80% of total procurement. Till Dec'22, RINL MSE procurement is 40.42% of total procurement and RINL MSE procurement is expected to be above 40% for FY 22-23. Further, Rs.51.26 Cr worth of material was procured by Material management department of RINL, Visakhapatnam steel plant in the current financial year from Local MSEs. "In order to meet prescribed target procurement from Women and SC/ST MSEs, a special vendor registration drive was conducted by RINL for SC, ST and women vendors from 15.11.2022 to 15.12.2022 for enhancing SC, ST and Women Vendor base. 16 Vendor Registration applications pertaining to Women MSEs & 8 Vendor Registration applications pertaining to SC/ST MSEs are under Process for registration", Shri Mohanty said. It is expected that more SC/ST and Women Entrepreneurs get registered with VSP and help from MSME-DFO in this regard is solicited. For the year 2022, 3 Online Vendor Development Programmes and 5 Online Interactive sessions/Training Sessions on Govt e-Market Place (GeM) are organized by RINL for the benefit of MSEs, especially Local ones. Shri DK Mohanty informed the gathering that a National Vendor Interaction program with the registered vendors of RINL is scheduled to be held at RINL on 28.01.2023 and he requested the local registered vendors are requested to utilise this opportunity.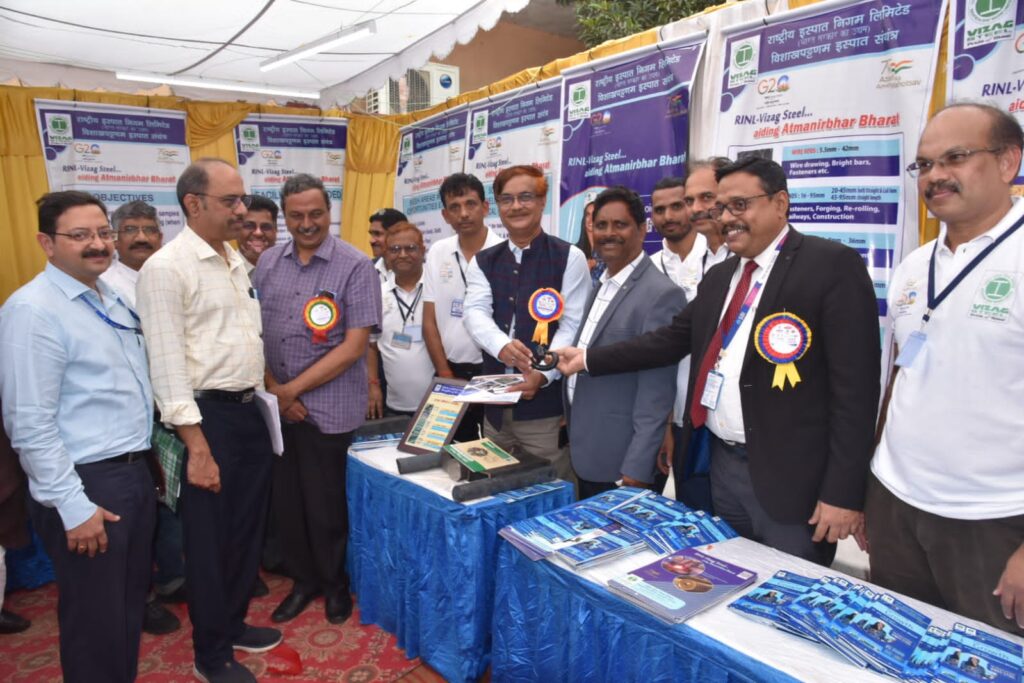 The prime objective of the programme is to facilitate interaction between the Central Public Sector Undertakings, Large Pvt. Industries, Govt. departments, Promotional Agencies and MSEs by bringing them together as Buyers and Sellers on a common platform for forging business tie-ups for mutual benefit, to understand each other's capabilities, capacities and technical competency level by way of displaying products and interaction and to showcase the technology levels and the quality aspects of products, to identify prospective vendors and thus help CPSUS to achieve the stipulated target to procure minimum 25% of their requirement from MSES and further a minimum 4% from SC/ST Enterprises and 3% from Women Entrepreneurs as envisaged under New Public Procurement Policy,2018 for MSEs and to develop typical components and import substitutes under Make in India, Vibrant India and Initiative.
In his address, Shri G.V.R Naidu, IEDS, Asst. Director In-charge, MSME- DFO (Development & facilitation office) lauded RINL for its support to local MSEs.
Shri Manmaya Pandab, DGM & Zonal Manager, SBI, AO, Visakhapatnam, shri P.Srinivas General Manager (Material), Visakha Refinery, HPCL, Shri. A.K Balaji, President, VASSIWA, Shri G.Sambhasiva Rao,Past President AP Chamber, Shri D.Vinod, Secretary, VASSIWA also spoke on the occasion.
Around 52 exhibitors have displayed their exhibits.
Several senior officials from the Central CPSUs like RINL, GAIL, HPCL, BDL. BHEL, East Coast Railway, Hindustan Ship Vard Ltd, and Oil India Ltd, from Financial Institutions and Banks like: SBI and SIDBI. Govt. Officials from different Promotional Organizations like, MSME- DFO,DIC,NSIC,MSME TC, Coir Board were also present at the inaugural session along with existing and prospective Entrepreneurs.
The VDP program would continue starting with this inaugural Function followed by Detailed Presentation by CPSUs on their Vendor perspective, Policy, scope for Vendor enlistment and indigenization under Make India Initiative. The Program also envisages for a one-to-one Interaction with Participating SMEs for resolving pending issues/grievances if any.
Similarly, there would be a detailed Scheme presentation from Central and State Promotional Organization and Bankers on MSME Schemes and Finances. The Valedictory function of the VDP is scheduled for 4.30 pm on 21″ January.