Federations of Defence Employees approach Officers for support against Corporatisation of OFB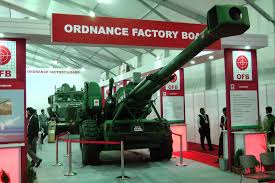 The countdown has started. Next Monday i.e. on October 12, the Machines of Ordnance Factories will come to a grinding halt. The Unions are spearheading their preparations. As a last ditch effort to avert the strike, the Centre has called the three main unions of the Ordnance Factory Board (OFB) for a meeting with the defence ministry. The 80,000 plus staff of 41 Ordinance Factories across the country are bracing themselves for the strike against privatization.
The Chief Labour Commissioner has called for a second round of conciliation with the MOD Officials and AIDEF,INDWF & BPMS on October 9. The Federations have now reached to the Group A officers who will be more affected than the Workers.Many of them have come through Civil Service Examination and Engineering Service Examination conducted UPSC.
They will lose their IOFS status.They have also opposed the decision of the Govt. The Govt is not listening to the voice of 80,000 employees and their families about their future according to the Unions.The Federations have now jointly made an appeal to the Group A and B Officers to support this cause.
The INDEF, AIDEF and the BPMS, three major trade unions affiliated to the Congress, Left parties and the RSS respectively, had issued a call for an unprecedented nation-wide strike beginning on October 12 this year. The three unions collectively represent a bulk of over 80,000 ordnance factory employees working in 41 factories across the country.
www.indianpsu.com is in possession of the letter written jointly by the three unions – AIDEF, INDWF and BPMS titled "Appeal to the Chargemen, JWMs, Group-B Officers & IOFS Officers to save the 219 years old Indian Ordinance Factories from liquidation and sale!"
The strike call comes amidst of news of tensions rise on the border with both Pakistan and China. A stand-off between the Indian Army — the OFB's largest customer — and the PLA in eastern Ladakh has entered its sixth month with no signs of a resolution. The army needs cold weather tents and high altitude clothing made by the ordnance factories to clothe and protect its troops from the approaching winter in Ladakh. Pakistan has resorted to heavy unprovoked shelling along the Line of Control in Jammu and Kashmir, the most recent instance being in the Nowshera sector on October 5.