FICCI & Business Council Of Canada Announce Partnership To Connect Business Leaders
The total bilateral trade between India and Canada amounted to US$ 6.8 bn for FY 2021-22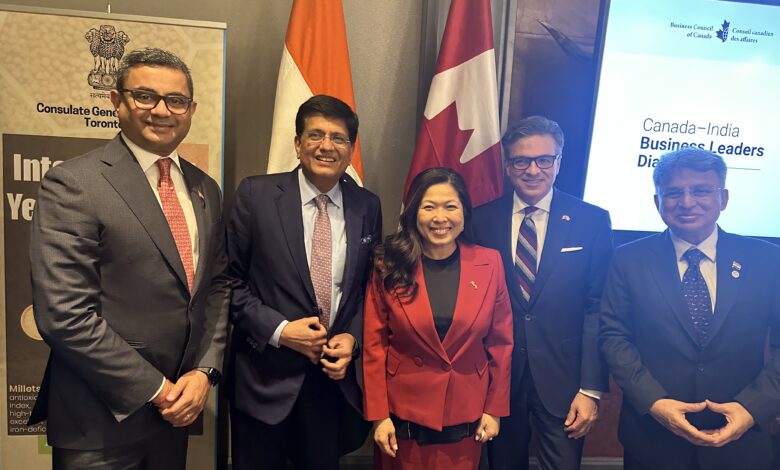 The Federation of Indian Chambers of Commerce & Industry (FICCI) and the Business Council of Canada (BCC) today announced a new partnership to connect business leaders from both countries, promote bilateral economic ties, and enhance co-operation as partners in the Indo-Pacific region. The announcement was made at the conclusion of an India-Canada business leaders' dialogue that was held with Canadian Trade Minister Ms Mary Ng and Indian Commerce & Industry, Consumer Affairs & Food & Public Distribution and Textiles, Minister Mr Piyush Goyal.
"India's bilateral relationship with Canada holds great potential especially in areas like energy, science, biotechnology, pharmaceuticals, and infrastructure development," said FICCI President Mr Subhrakant Panda. "I am confident that our partnership will not only bolster business-to-business ties between the two countries but also lift the trajectory of bilateral trade," he added.
The two organizations used the occasion to call on both governments to continue to work on an Early Progress Trade Agreement with the goal of successfully concluding negotiations by the end of the year. In addition, they announced that a Canadian delegation of CEOs will travel to New Delhi for meetings with Indian business leaders.
"At a time of global volatility, it is crucial for democracies to work together to create jobs, secure supply chains and drive economic growth that sustains our quality of life and benefits all people," said BCC President & CEO Mr Goldy Hyder. "A trade agreement would not only send the right signal to businesses in both countries to increase trade and investment, but it would mark an important milestone in Canada's recently released Indo-Pacific Strategy."
The total bilateral trade between India and Canada amounted to US$ 6.8 bn for FY 2021-22. Canada exported US$ 3.1 bn worth of products to India and imported US$ 3.7 bn worth of products from India. In addition, Canadian portfolio and institutional investment into India is currently valued at CA$ 70 billion (US$51.7 billion).