For Over Three Years Now, Mining Nightmare Continues In Goa!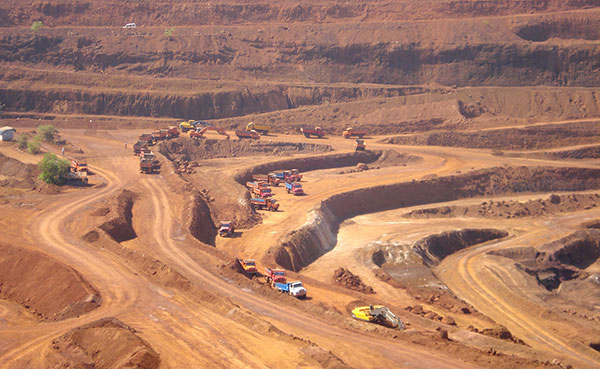 It was on February 7, 2018, when the Supreme Court of India passed an order, canceling 88 mining leases in the state that were renewed by the government in 2014-2015 and the very next month, all mining activity in the state of Goa, came to a grinding halt.
Financial Losses to Goa
Mining contributed 25 percent taxes to the state economy and with Covid-19, hitting the country hard, the economy of the state has further slumped down as tourism, another major contributor to the revenue of the state, has been hit equally hard.
Goa still has large deposits of about 1 billion tons of the ore buried in hills in the east of the state that also include wildlife reserves along the border with neighboring Karnataka. The state provided as much as half of India's exports of the steel making raw material. Since mining was cent percent export oriented, forex losses are also significant. This amounts to US$ 10 billion for all mining ban periods together for Goa.
Rs. 60,000 crore of "fresh money" was being injected every month in the economy of the state through export of iron ore and this has completely dried up now. There is an estimated loss of Rs. 3,500 crore per annum to the state coffers of Goa ever since mining has come to a complete halt.
These shutdowns have had a serious impact on the state's finances. According to government statistics Goa's public debt has more than doubled since 2013, to about 180 billion rupees. To cope up with this revenue losses, Goa Chief Minister Pramod Sawant raised tax on alcohol and also on sale/purchase of land. But this hardly made any impact on the heavy losses, otherwise incurred due to stoppage of mining and end of the road for tourism due to Covid-19.

Impact on Livelihood
As a result of ban on mining, livelihood of more than 30 percent of the population of Goa has been adversely impacted. This includes 70,000 direct employment closure and two lakh plus persons who were indirectly dependent on mining. Not only this, the family members of all these direct and indirect dependents on mining, have also been actual sufferers for over three years now.
The Multiplier Effect
The state has more than 22,000 trucks including 16,000 6-wheeler tippers which cannot be used elsewhere. 105 barges and an ancillary units have been rendered worthless. Barge owners' industry in Goa has suffered a loss of over Rs. 500 crore in the last 32 months of mining stoppage. Outstanding loans are amounting to Rs. 160 crores. To add salt to injury, owners of trucks and mining equipment are being hounded by agents of banks for recovery of loans.
Take of Stakeholders and Union Leaders
Ambar A. Timblo, President of Goa Mineral Ore Exporters' Association (GMOEA) told www.indianpsu.com over the phone "What is required most at this juncture is empathy! Continuous suspension of mining in the state of Goa has left the biggest industry crippled despite having the potential to do so much more than just augment revenues to the State Government at these desperate times where lives are being lost & livelihoods impacted far more than ever. In Goa, the rightful of tenure (as extended to every other State but Goa) under Section 8A MMDR 2015 to permit operations for 50 years since grant under MMDR act….i.e. for Goa, tenure from 1987 to 2037 would be a step in right direction without further delays.The matter has also been raised at the Hon'ble SC since last 16 months to been adjourned till now for the same number of times and such legislation requirement had been the consistent demand by the State Government to the Centre too".
Timblo added "Despite the hardships faced, the industry had last year suggested utilization of GIOPF be judiciously used towards welfare measures to improve Health infrastructure during this onslaught of Covid-19 apart from outlay from DMF. These funds would have grown were mining operational. Lastly, both Mining & Tourism are biggest industries in Goa. Both are severely affected due to Covid-19. While presently, tourism involves risks which can augment positivity rates Resumption of Mining (which is fairly mechanised & more safe) is most immediate which will benefit all stakeholders including State Government. The need for resumption, hence, can no longer delay to result in a total collapse."
Comrade Christopher Fonseca, General Secretary of AITUC, Goa State, when contacted by www.indianpsu.com – said "The state government immediately should take over all the mines, initiate and form a Goa Mining Development Corporation and the government should run the mines and mining operations keeping in mind the ecological requirements and concerns of the people of the state".
Puti Gaonkar, President of the Goa Mining People's Front (GMPF) told www.indianpsu.com "The Goa, Daman and Diu Mining Concessions (Abolition and Declaration of Mining Leases Act was enacted in 1987, which declared erstwhile mining concessions to be deemed to be mining leases since 1961, is not appropriate as any law should be in prospective and not in retrospective and hence, mining should be allowed for 50 years from 1987 which amounts to the year 2037".
But here, Gaonkar differs with Comrade Fonseca's view and adds "our demand is simple, as per law allow mining till 2037 which will automatically resolve the issue and that making a corporation would not help as the present lease holders would challenge the same in court of law and mining would come to a standstill for another ten to twenty years till the matter remains sub judice."
He here adds "Presently over three lakh mining dependents are under economical death , the financial institutions are behind them for recovery of loans taken for trucks. Machinery barges with collateral surety of own house .and financial institutions are behind them for auction of living house . Thus they will become homeless
if mining is not started immediately. Several dependents have lost life due to heart attacks on loan and family surviving tension"
What came first – chicken or egg? But here the answer is amply clear!
First came the ban on mining activity and followed by Covid-19, the next big financial hit on the state and people of Goa. Lack of tourists coupled with frequent lock downs related to the pandemic, a state whose economy used to thrive on these two factors, is indeed in doldrums raising a pertinent question – Is a cash-strapped State of Goa in urgent need of a financial ventilator? And if yes, when would the essentials for it to survive be provided by the state government? Each passing day seems to be rubbing more salt to the wounds of the people of Goa.
No one knows when the pandemic will be over and god forbid if we have to face a third wave of Covid-19. But one thing is for sure that even if there is no third wave, the fear psychosis will loom large on the minds of Indians. For sure, tourism is not going to pickup in Goa in the months to come. Giving permission of mining in state seems to be the only solution which could take Goa, the paradise of South Asia, out of financial doldrums. Well, the big debate continues….