Ganga Flows In Kashi's Tent City Of Religion, Culture, Spirituality And Art
Consumption of non-vegetarian food and alcohol is completely banned in the tent city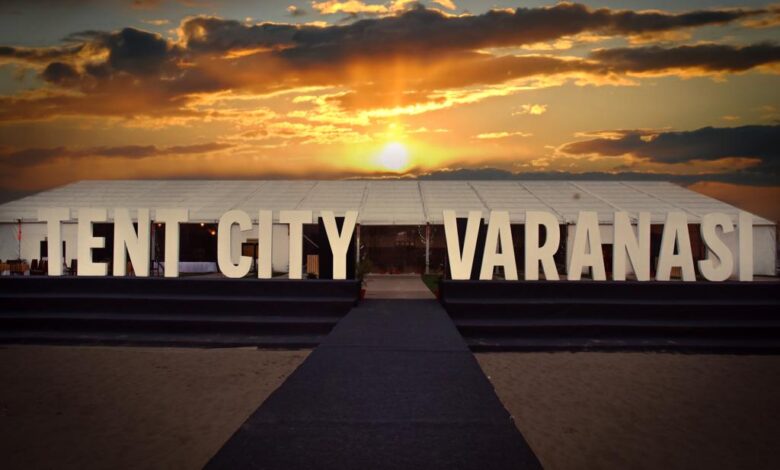 By Ratnesh Rai
Uttar Pradesh Chief Minister Yogi Adityanath has written a new chapter of tourism in the state, which began on January 13 on the banks of Uttar Vahini Ganga in Kashi. A tent city is ready on the sand across the ghats of Kashi. Tent City will work to take the tourism industry of Purvanchal to its peak, which will provide employment to the local people in large numbers. Along with this, a new market will be available for the products of Purvanchal. The tent city was virtually inaugurated on January 13 by Prime Minister Narendra Modi.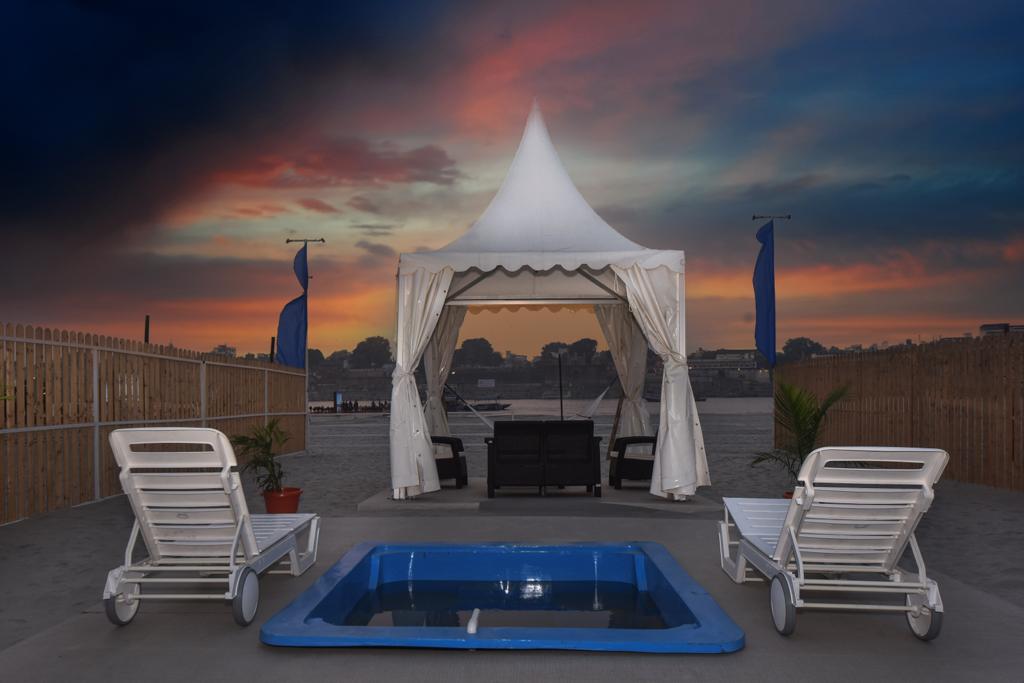 Facilities available
With the rising sun, a city of tents started up on the sand across the Ganges on the east bank of Kashi. Where the Ganges of religion, culture, spirituality and art is on a free flow. Vice President of Varanasi Development Authority Abhishek Goyal said that the number of tents to be set up per 10 hectare cluster is 200. 03 Clusters of Tents Type of Tents to be set up Villa 900 sq.ft 10%, Super Deluxe 480-580 sq.ft 50%, Deluxe 250-400 sq.ft 40%. Swiss Cottage, Reception Area, Gaming Zone, Restaurant, Dining Area, Conference Venue, Spa & Yoga Center, Library & Art Gallery, Water Sports, Camel, Horse Riding etc. And there will be other cultural and sports activities.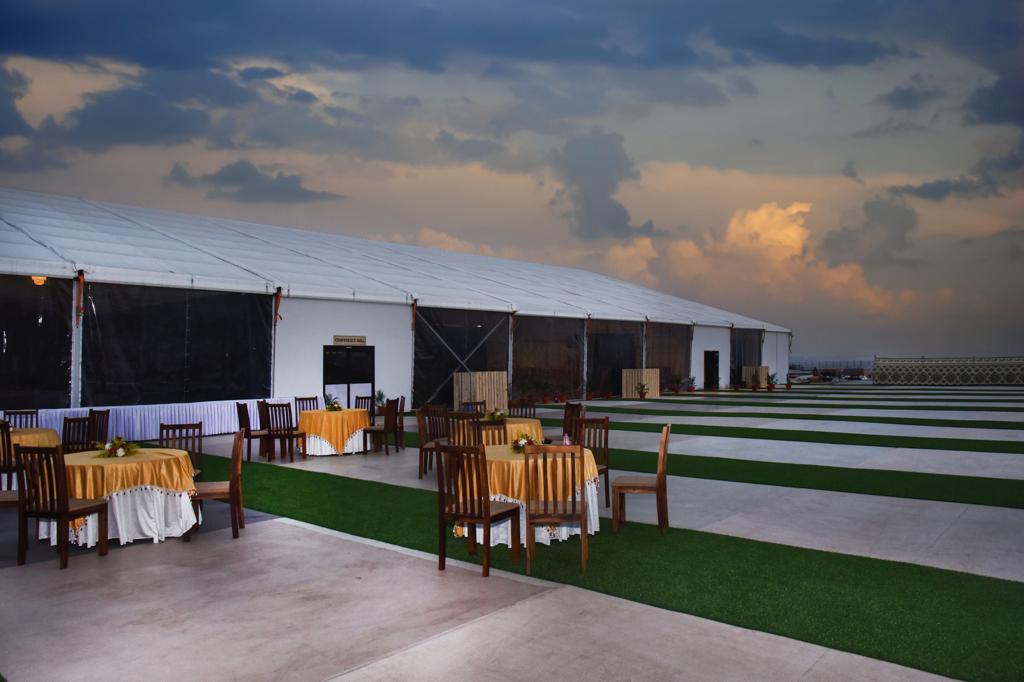 Consumption of non-vegetarian food and alcohol is completely prohibited
The Vice President of the Development Authority said that the consumption of meat and alcohol is completely banned in the tent city. The government has got boring done for water, electric wires have been delivered. Sewer line has been laid. The sewer coming out of the tent city will be pumped and taken directly to the Ramnagar Sewage Treatment Plant. People of Municipal Corporation have been deployed for cleanliness. He informed that there will be a temporary police outpost for the security of the tent city. The tent city will be removed from here for a few months during floods.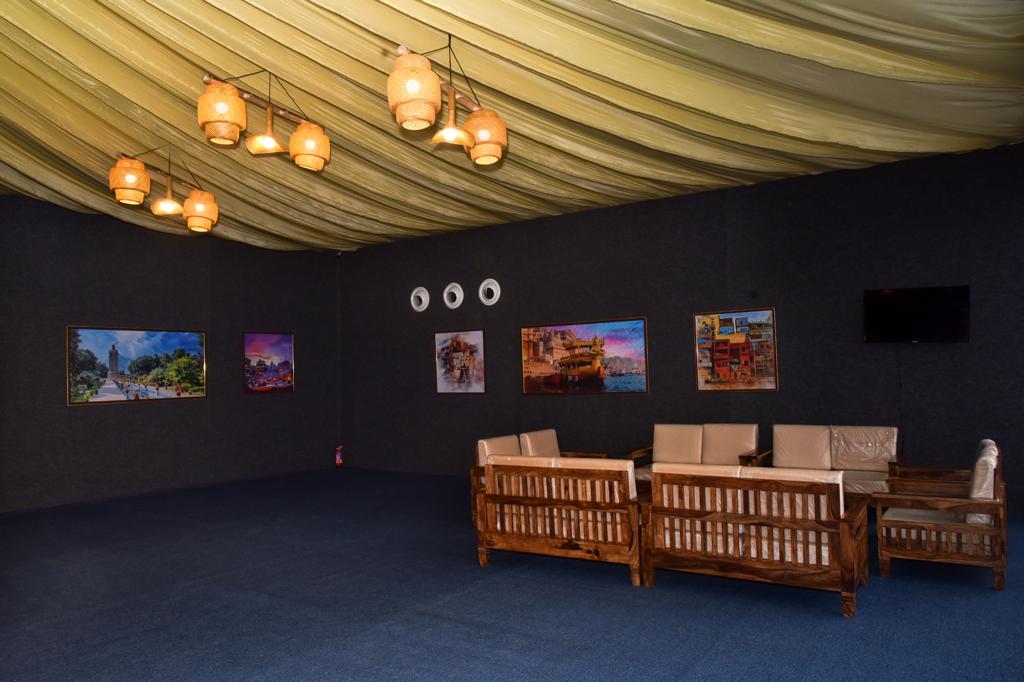 Luxurious tent with special attraction is Ganga Darshan Villa
Prolina Barara, Executive Director of M/s Praveg Communications (India) Limited said that they have made 140 tents. Almost all the facilities that are available in a good luxurious hotel will be available in the tent city. Their special attraction is the luxurious tents Ganga Darshan Villa with a private beach. Apart from this, there are also other tent cottages. There will be special Banarasi food. Apart from this, there will be lighting and decoration on a special theme. A 32 feet high stainless steel Ganga Watch Tower will be built to give a view of the historical Ghats, Ganga and the entire tent city. From where tourists will be able to see the aerial view of Ghats and Ganga. Tourists will also be able to perform Aarti along with Ganga Aarti. There will be a large dining hall and a large and well-equipped conference hall, where 800 delegates can come together.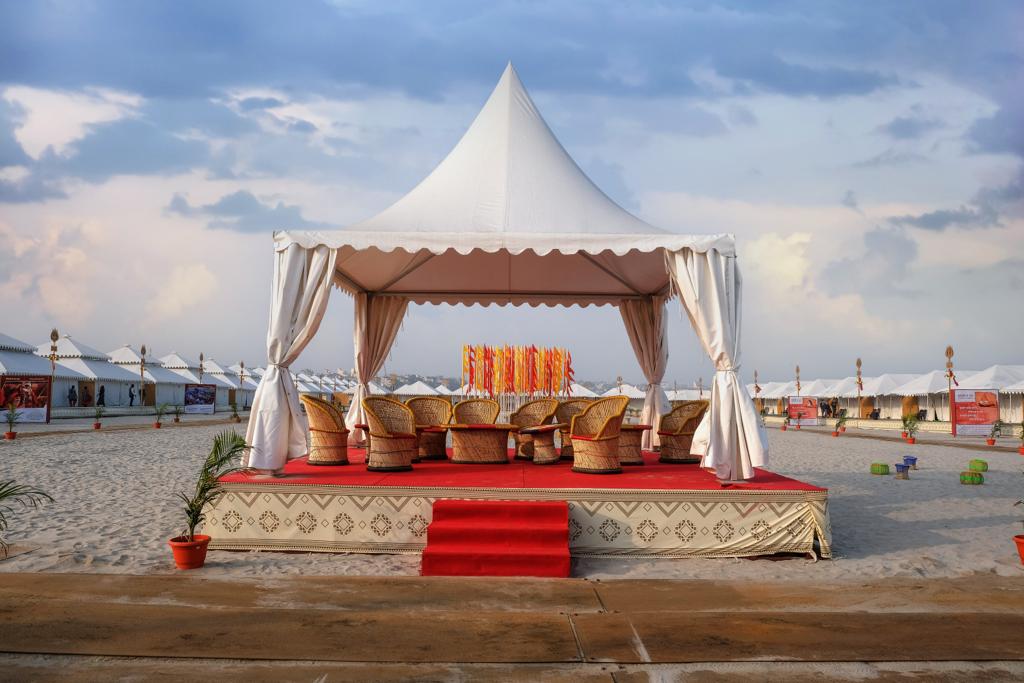 Security and ambulance arrangements made
Himanshu Aggarwal, partner of Lalluji & Sons, said that all living the 125 tents of his cluster will have darshan of Ganga as soon as they come out. To give a feel of Kashi in the entire tent city, special care has been taken for songs, music, cultural programs and food of Banaras. There are also arrangements for indoor and outdoor games. Both the clusters will have a bathing pool on the floating jetty. There will be art and craft shops which will provide a new market to the local products. Apart from private guards for security, CCTV will be monitored. First aid facility will be available in the tent city itself. There will also be a facility to send an ambulance to the hospital if needed.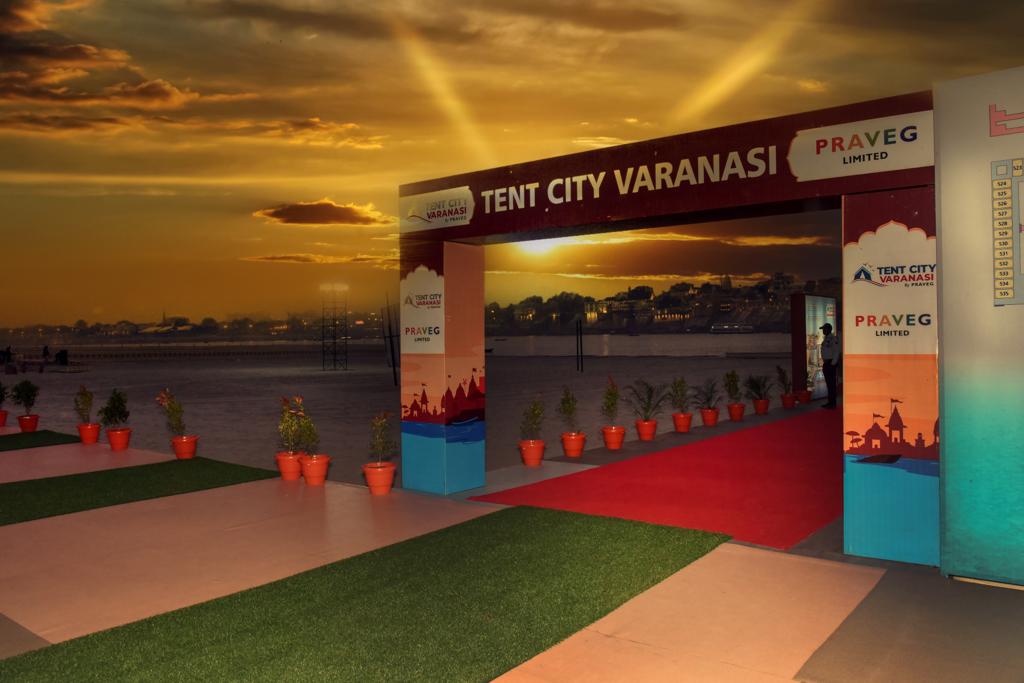 The tent city took shape after the Turtle Sanctuary was removed
Earlier, the governments had not made any concrete plans regarding the tourism industry in Banaras. Earlier NGT order was coming in the way of any kind of event in Ganga Par Reti due to Turtle Sanctuary, but after the shift of Tortoise Century due to the efforts of BJP government, this problem has also been solved and the sand spread across Ganga has been developed for tourism. Preparations have started to build a new center.