Glittering National Ability Awards Ceremony In New Delhi
Function organized jointly by Blade-BRAINS Group®, Global and KBS Marcom Private Limited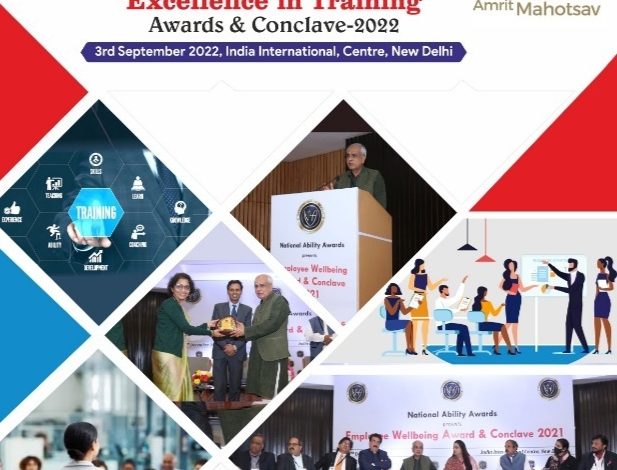 The National Ability Awards were organized in the joint effort of by Blade-BRAINS Group®, Global and KBS Marcom Private Limited at India International Center, Lodhi Road, New Delhi. This is an annual global rewards and recognition function which aims towards recognizing the efforts of individuals and enterprises as contributors to the overall development of the corporate world and social ecosystem.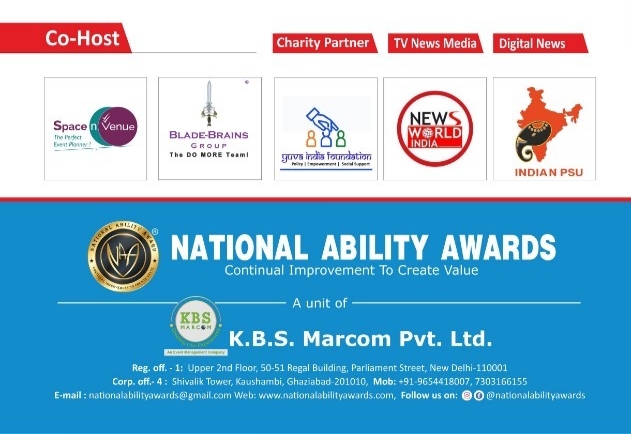 • This years' theme was "Excellence in Training." The Awards and Conclave 2022 included rewards and
recognition along with a panel discussion on "Role of Corporate Training in HRD." The Panel included
eminent HR personalities from industries across business sectors. The panel was moderated by Prof.
Dr. Rakesh Khandal – Former UPTU VC & President India, Glycosys Ltd and Co-Moderator – Sh.
P S Rathore – CEO, Any Time Classes. The Other members were –
• Sh. Col. Rajpal Singh – D.G-CSRI
• Ms. Karuna Ahuja – Director HR and Communications, Argenbright Holdings
• Sh. Chandan Sengupta – Owner-Sun HR Solutions
• Sh. Ashwani Kumar, Pro VC Delhi Technical University of Women
• Sh. Alop Mittal – Advisor FICCI and Former DG FICCI
The Awards Conclave was attended by leading professionals & organizations across a plethora of Industries including Sports, Banking, Power Distribution, Legal, Training Consulting, Content Solutions, Information Technology, Manufacturing, Textiles, Education Sectors, Pharma etc.
The Founder of National Ability Awards Sh. Gaurav Swami and Co-Organiser Shri Vaibhav Aggarwal, Group CEO Blade-BRAINS Group®, Global & Chairman, Yuva India Foundation stated that the awardees have been selected carefully after consideration of various matrices and deliberations carried out on their contributions to the overall Human Resources Development. These awards will recognize and reward the determination, ambition and excellence shown by the country's finest Organizations & Individuals in the field of Training & People Development.
Mr. Gaurav Swami and Mr Vaibhav Aggarwal, a Public Personality, Said : "We at NATIONAL ABILITY AWARDS are committed to creating awareness of best practices adopted by the organization in the field of Training & overall corporate development, through various award events, panel discussions & training programmes online & offline and that is why this theme was chosen.
The Awardees included leading organisations such as :
Leader and Best Content Solutions: Ms. Indu Ahuja, CEO IACA, Global
Best Information Technology Solutions : 7Digital Solutions®
Best CHRO Award : BSES Yamuna Power Limited
Best Training Development : ICICI Bank Limited
Best Employee Welfare and Development through Learning : Apollo Tyers
Best Director in the Education Institution Sector, Sh. Sanjeev Sharma, Director RD Engineering College
Best International Real Estate Startup : First Royal Gate, UAE
Amongst others.
This event was supported by Noida International University and CMAI, a leading association of Education
Institutes.
The Event was concluded with a Vote of Thanks by Sh. Rakesh Swami, Director KBS Marcom Pvt. Ltd. And
followed by High Tea and offered an open networking opportunity for the guests.