Gulal Made From Vegetables And Flowers By Sisters Of Kashi Spread Special Colors On Holi
Yogi government is providing startup fund of Rs. 75 thousand and government is also providing market to Gulal made by women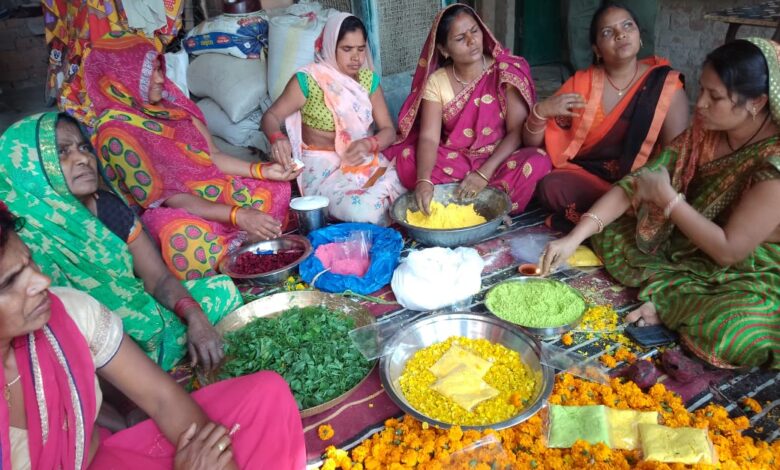 By Ratnesh Rai
Gulal made by the hands of the sisters of Kashi is spreading special colors in Holi. Women of the organization are making abir and gulal from vegetables and flowers so that your skin does not get spoiled in Holi. It will have the special fragrance of Holi. Mahila Gram Sangathan is making women self-reliant with Yogi government's startup fund of Rs 75,000.
The government is also helping in selling the gulal made by the women of the self-help groups. The government has provided stalls to the women. Where Didiya of Panchrao village of Chiraigaon block is spreading the happiness of Holi in her family by selling Herbal Gulal of Mahila Gram Sangathan.
The Yogi government is running various schemes in the state to make women self-reliant. In this, women associated with self-help groups are becoming self-reliant with earning. One such group of women is making special gulal for Holi, which is completely herbal gulal.
This gulal made of flowers, vegetables and arrowroot will not harm your skin at all. Organization president Suman Bhardwaj told that there are 15 Didiyas in the organization. Along with making gulal, she is doing the work of packaging and selling. She earns around 500 to 600 rupees per day. Deputy Commissioner Self-Employment Dilip Sonkar told that the startup fund of 75 thousand has been given by the government to the village organization group. Women of the group have been given places at Vikas Bhawan and Chiraigaon block to sell gulal.
Green gulal is made from spinach, pink gulal from beetroot and carrot and yellow gulal is made from marigold flowers. Arrowroot is also used in this. Special fragrance is added to the gulal for fragrance. This year more than one quintal herbal gulal has been made and launched in the market. Suman told that apart from Holi, the team can also make gulal for the wholesale market for other occasions.