Hardeep Singh Puri Addresses 11th Edition Of CII Bio-Energy Summit
Increased the ethanol blending in petrol from 1.53% in 2013-14 to 10.17% in July 2022, said the minister
The Minister of Petroleum and Natural Gas & Housing and Urban Affairs, Shri Hardeep S. Puri said that India has increased the ethanol blending in petrol from 1.53% in 2013-14 to 10.17% in July 2022. He was addressing the 11th edition of CII Bio-Energy Summit, on Thursday.
Shri Puri said that setting up 2G refineries to make ethanol from Parali (Panipat) and Bamboo (Numaligarh) with the twin objective of reducing pollution along with achieving energy security goals is another milestone in this direction.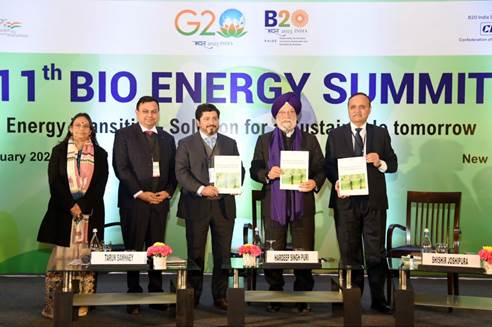 Shri Puri said that we have enacted Green Hydrogen Policy with a production target of 5 million tonnes by 2030. He further said that India's Green Hydrogen policy announced in February this year is a revolutionary shift which is set to make India a global hub for green hydrogen and green ammonia production and India aims to produce 4 MT Green Hydrogen annually & accrue Rs. 1 lakh crore of cumulative fossil fuel import savings by 2030. Working with companies in countries like UK and Germany for the domestic manufacture of electrolysers to make deployment of Hydrogen as an energy source, affordable, he added.
The Minister said that India is undertaking an ambitious journey of energy transition to achieve net carbon zero by 2070 and this transition has to be stable and ensure that it remains consistent. Our OMCs have come out with their respective net zero targets – IOCL by 2046, BPCL and HPCL by 2040 which also means that OMCs are gearing up for the change in energy source and use, going forward, he added.