Hon'ble Lt. Governor Of Ladakh Inaugurates SCOPE's National Meet On RTI Act
Shri Radha Krishna Mathur emphasised the need for a more conscientious understanding of the RTI Act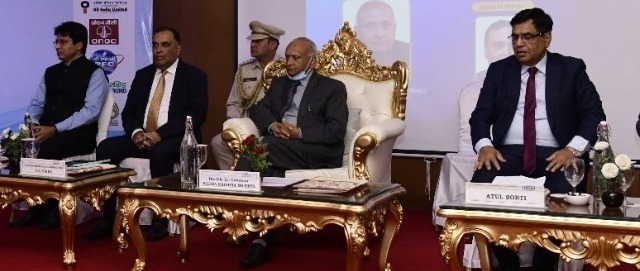 Standing Conference of Public Enterprises (SCOPE) organised a 'National Meet on RTI Act,' in Leh, Ladakh which was inaugurated by Shri Radha Krishna Mathur, Hon'ble Lt. Governor of Ladakh, in the presence of Shri Y.K. Sinha, Chief Information Commissioner. Shri Atul Sobti, DG, SCOPE and Shri Pradip Kumar Das, CMD, IREDA also addressed the inaugural session of the two-day program. Senior officials of Ladakh Government and Public Sector Enterprises (PSEs) were also present. The meet is being attended by over 75 senior officials from 35 PSEs.
Calling RTI, the legal responsibility of every single Public Sector Enterprise (PSE), Shri Radha Krishna Mathur in his address, emphasised the need for a more conscientious understanding of the RTI Act. Stating that the primary role of SCOPE is to steer PSEs in the right direction, he complimented them for hosting the National Meet in Ladakh and building the capacities of officials. Shri Mathur launched the webpage of 'Disclosure of Information under RTI Act Section 4(2)' for Ladakh during the meet. SCOPE's film on 'PSEs in pursuit of Aatma Nirbhar Bharat' was also released by Lt. Governor, Ladakh during the event.

Addressing the session, Shri Y.K. Sinha said that we need to look at how to implement the RTI Act more effectively and not merely as a grievance redressal mechanism and called for inculcating an innovative approach towards addressing RTI issues.
Shri Atul Sobti in his address said that it is SCOPE's prime endeavour to provide a platform for PSEs to deliberate on the most pertinent topics, like this National Meet on RTI being organised to simplify and demystify the provisions of the Act. He added that, SCOPE remains committed towards creating a conducive environment of constant learning and development in PSUs across the country.
Shri Pradip Kumar Das in his Vote of Thanks encouraged participants to imbibe the most important aspects of RTI from the workshop and follow the same in their organisations.