HUDCO Celebrates 52nd Formation Day
HUDCO must become even more innovative, said Union Minister for Housing and Urban Affairs Hardeep Singh Puri
The Minister for Housing and Urban Affairs & Petroleum and Natural Gas, Shri Hardeep S. Puri today said that HUDCO's mission to provide technical and financial support for housing and urban infrastructure, especially for the poor and the vulnerable sections of the society, is the noble objective and is an aligned core development requirement of the country. He was addressing the gathering at the 52nd Formation Day of Housing and Urban Development Corporation Ltd. (HUDCO), here today.
The Minister said that on this day in 1970, the establishment of HUDCO signified the foundation of a formal housing finance system in India. The urban landscape took a fundamental shift in 2014 with the Prime Minister's clarion call, 'Har Haath Ko Kaam, Har Gareeb Ko Makan' and the guiding philosophy of 'Sab Ka Saath Sab Ka Vikas, Sab Ka Vishvas, Sab Ka Prayas'.Shri Puri said that land is a state subject, but since we live in a cooperative federal structure, it is possible for the Centre to conceptualise a scheme which will involve Centre giving some incentives and the States implementing the same along with the Centre. He further said that a target of one crore has been set for the Pradhan Mantri Awas Yojana (Urban) announced in June 2015 which has already been achieved. HUDCO's role was commendable in completing the Prime Minister's dream of every Indian having a pucca house with a proper gas connection, toilet and the title of the house in the name of the lady of the house, he added. Shri Puri said that with the change in the ambience, HUDCO should adopt innovative means to deal with the competition, and get into infrastructure financing.
The Minister of State for Housing and Urban Affairs, Shri Kaushal Kishore said that HUDCO has been instrumental in providing shelter to 1.90 crore urban as well as rural poor to get houses. He further said that HUDCO's role was commendable in providing housing for the vulnerable sections of the society and it has performed well in this sector. HUDCO provides financial assistance to the Governmental agencies in the field of infrastructure development of States. With this, HUDCO is helping the poor getting benefitted as well as generating employment opportunities also, he added.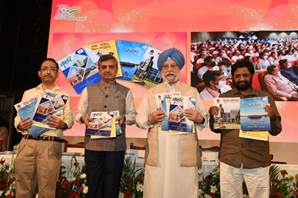 Saying urbanisation is fast growing in our country and it may reach nearly 35% by 2030, the MoS said that it is our responsibility to provide shelter to the growing public through PMAY Urban and Rural and fulfil the vision the Prime Minister. HUDCO's role is important in fulfilling that vision, he added.
HUDCO has traversed a long journey during these 52 years with a Pan-India network of 21 regional offices and 11 development offices, to emerge as a unique player and market leader in techno-financing of housing and core urban infrastructure projects in our country with the motto of 'Profitability with Social Justice'.
Cumulatively, at end of March 2022, HUDCO has sanctioned a total of 17,326 housing and urban infrastructure projects with a total loan component of Rs. 2,31,465 crore and disbursement of Rs. 1,93,574 crores (including HUDCO Niwas) to various housing and urban development agencies, facilitating construction of nearly 19.70 million housing units, 6.70 million sanitation units, and over 0.65 million residential plots in different parts of the country, in addition to core urban infrastructure facilities, which were otherwise not catered to by the private sector such as water supply, sanitation and sewerage, solid waste management. The social orientation of HUDCO is reflected in the fact that out of the total housing units sanctioned, over 92 per cent of these dwelling units have benefited the economically weaker sections and low-income groups of the society. This is the single largest contribution of any institution across the world.
In addition to its own business operations, HUDCO has also been playing a catalytic role in formulation and implementation of the various National Housing and Habitat Policies and has become a powerful vehicle for carrying out the mandate of the Government of India flagship programmes and Missions across the length and breadth of the country.
HUDCO is celebrating 52 years of dedicated service to the nation, championing the cause of sustainable housing and urban development in India. Despite two waves of the Covid19 pandemic, HUDCO is committed to its goal of providing housing and infrastructure with a focus on the EWS & LIG categories and has demonstrated yet another financial year of excellent performance in FY 2021-22 despite economic slowdowns and other adversities such as: a total loan sanction of Rs. 20,663 crores, with is almost 2.25 times of previous year' sanction of Rs. 9,202 crores; a total disbursement of Rs. 8,887 crores, surpassing the previous year release of Rs. 8323 crores; and sanction of 88,523 dwelling (almost all for EWS/LIG category), which is 7 times more than that of previous year's sanction of 12,488 dwelling units previous year. As part of capacity building, HUDCO's HSMI has conducted 21 Online training programs during the year, imparting training to 1450 professionals.
The Minister felicitated HUDCO's partners, the best-performing agencies, officials, and regional offices of HUDCO for their performances and helping in achieving the operational targets.
The Secretary, MoHUA, Shri Manoj Joshi, the Additional Secretary, MoHUA and CMD, HUDCO, Shri Kamran Rizvi, and other senior officials from MoHUA and HUDCO were present on the occasion.
Shri Puri also released HUDCO publications, namely, HUDCO Design Awards – 2022, HUDCO Darpan, SHELTER, and several other magazines to promote the official language on this occasion.