India And Australia Reach Critical Minerals Investment Partnership
The Partnership has identified five target projects - two lithium and three cobalt
India and Australia have reached a major milestone in working towards investment in critical minerals projects to develop supply chains between the two countries.
The Union Minister for Coal, Mines and Parliamentary Affairs, Shri Pralhad Joshi and Minister for Resources and Northern Australia Madeleine King held bilateral talks on Friday and announced the Partnership has identified five target projects (two lithium and three cobalt) on which to undertake detailed due diligence.
Ministers from the two countries have also agreed to deepen cooperation and extend their existing commitments to the India- Australia Critical Minerals Investment Partnership.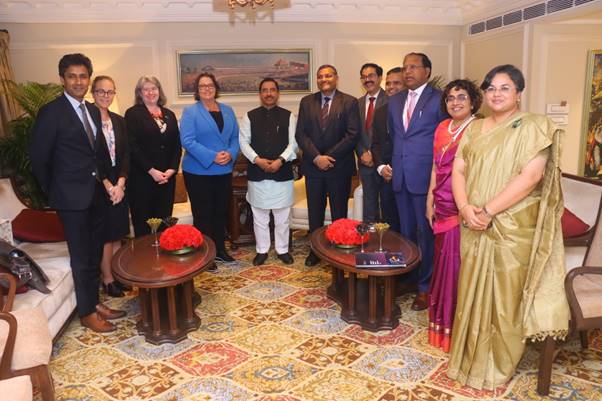 Investments under the Partnership will seek to build new supply chains underpinned by critical minerals processed in Australia, that will help India's plans to lower emissions from its electricity network and become a global manufacturing hub, including for electric vehicles.
"The partnership between India's KABIL and CMO Australia has reached the first mile stone in a short span of one year from signing of the MoU in March 2022 between both the organisations' observed Minister Joshi.
Minister King said "India's goals to lower carbon emissions and boost electric vehicle production presents great opportunities and prospects for Australia's critical minerals sector, for renewable exports and for building stronger supply chains."Working together, both the nations are committed to reduce emissions, guarantee energy security and diversify global markets for critical minerals and clean technologies" added the Minister.
Australia produces almost half of the world's lithium, is the second-largest producer of cobalt and the fourth-largest producer of rare earths. With the expected increase in global demand for low-emissions technologies over the next three decades, this partnership will go a long way towards securing mutually beneficial critical mineral supply chains.
The Minister Shri Joshi visited Western Australia in 2022 and toured Tianqi Lithium Energy's Kwinana Lithium Hydroxide Refinery. The partnership on critical minerals has taken further momentum after the visit of Minister Joshi to Western Australia.