Indian Oil Launches Gorakhpur First Women Powered Petrol Pump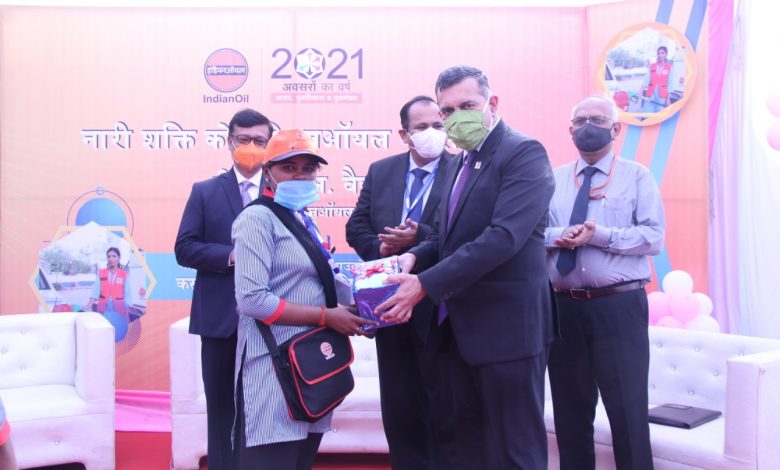 In an effort to increase the footsteps of the women empowerment of the country, Srikant Madhav Vaidya, CMD of Indian Oil Corporation Limited (IOCL), today in Gorakhpur launched the first All Women Petrol Pump owned by  M/s Gupta Automobiles. Now, various services will be conducted entirely by Stree-Shakti for the customers coming to this petrol-pump, which will also be a strong message from the Indian Oil to the entire society.
Addressing the gathering, Vaidya said that during the Corona-pandemic, Indian Oil has stood by the country and none of its petrol pumps went dry. Our women staff have kept the country stable on the path of progress by joining shoulder to shoulder with men. In fact, increasing the participation of women helps the country as a whole because women hold the key to positive social change, which ultimately signifies the real development of any country. He said that if we have to increase the active participation of women in the interest of the country, we will have to come forward and make new efforts. In this direction, Indian Oil has made efforts from time to time to fulfill its responsibility and even today the introduction of women-centric initiative on this petrol-pump is a matter of joy and pride. He hoped that this petrol-pump operated by women would also present a vibrant picture of women empowerment in future. On this occasion, 14 women-employees working on the pump were also honored by Vaidya.
Under this, Indian Oil has also installed an automatic sanitary napkin vending machine on its petrol-pump, which is another step towards women empowerment. CNG is also available with this facility.
With the launch of this campaign, Vaidya also launched the facility of Qiloc-Quick Lube Oil Change (QLOC) on this petrol pump. Under this technology, the old engine-oil of two-wheelers will be replaced in just 10 minutes, which will be available free of cost. Normally for this facility, customers have to pay 250-300 rupees to a service center or local mechanic, which will now be available free of cost at this petrol pump.
On this occasion, Umakant Prasad Singh, Executive Director (Human Resources), Head Office, Subrata Kar, Chief General Manager (Retail Sales), Uttar Pradesh State Office-1, S.H. Riaz, Chief General Manager (Institutional Business), Uttar Pradesh State Office-1, Abhyudaya Kumar Shahi, CDRSM, Gorakhpur DO, and other officers and Indian Oil dealer brothers of Gorakhpur were also present.