India's First-Ever Carbon-Neutral Drone Unveiled By Garuda Aerospace At WEF 2023
Former Indian cricket captain Mahendra Singh Dhoni is the brand ambassador of Garuda Aerospace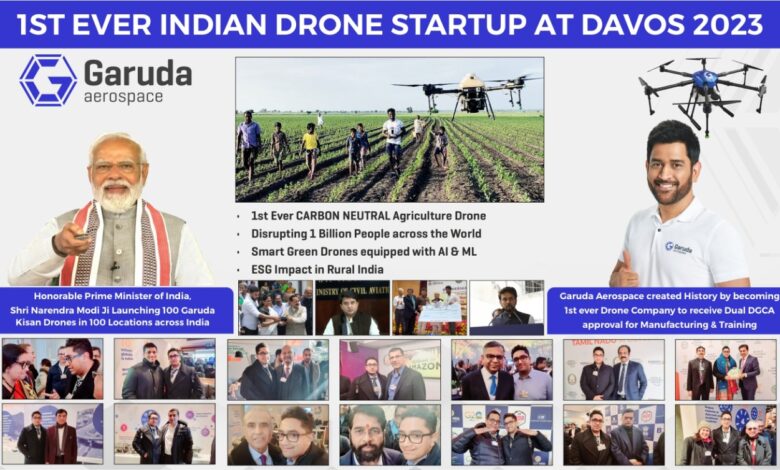 India has actively participated in the World Economic Forum (WEF) 2023, which was being held from January 16 to 20 in Davos, Switzerland. India's drone startup company, Garuda Aerospace, unveiled the first-ever carbon-neutral drone at the Indian Sustainability Lounge of the World Economic Forum.
"It's such a privilege to present Garuda Aerospace's DGCA approved Made in India Carbon Neutral Drones and the ESG goal of impacting 1 billion Indians positively through drone technology at Davos 2023," said CEO of Garuda Aerospace, Agnishwar Jayaprakash. He added that it's an immense honour to share his experience with industry stalwarts, global political leaders, and policymakers.
Among other agendas of the WEF, start-ups and investments are the key ones. The launch of a sustainable drone which is carbon-neutral is also in line with WEF's climate action goals. He spoke at an impactful panel discussion and highlighted progressive government policies and how the startup community is transforming India into a 'Global Drone Hub' by 2030.
The CEO discussed ESG and carbon neutrality and how it owed a responsibility to the greater good of the world with drones, along with technology and innovation. Garuda Aerospace will manufacture over 25,000 drones in the next 15 months and revolutionise the agricultural sector. The agriculture green revolution 2.0 began after Prime Minister Narendra Modi flagged off 100 Kisan drones in 100 villages across India, and this led to the creation of job opportunities for youth across India.
Drones manufactured in India are disrupting several multibillion-dollar industries, such as agriculture, infrastructure, Industry 4.0, and defence. It is cost efficient and eco-friendly at the same time, a platform like Davos effectively showcases the technological prowess of India.