International Women's Day Celebrated On A Grand Scale At RINL
Women employees are the pride of RINL : Shri Atul Bhatt, CMD, RINL
International Women's Day was celebrated in a grand and befitting manner on 9th March at RINL under the theme DigitALL: Innovation and technology for gender equality. Shri G.Gandhi, CGM (HR)-Corporate services welcomed the gathering and the Coordinator WIPS, Smt. Smita Chandrawati presented her coordinator's report and congratulated all the prize winners on the occasion of international women's day.
The guest of honour Smt. KGV Saritha , superintendent of Police,(women protection cell) CID,Govt. of AP, graced the occasion. She shared her experiences and motivated all women employees. Smt. KGV Saritha said that crisis management, multitasking and collaborative effort are the inherent properties of a woman. She appreciated the efforts of RINL women employees and though they are small in number but are posted in critical zones and play a major role in the progress of the company.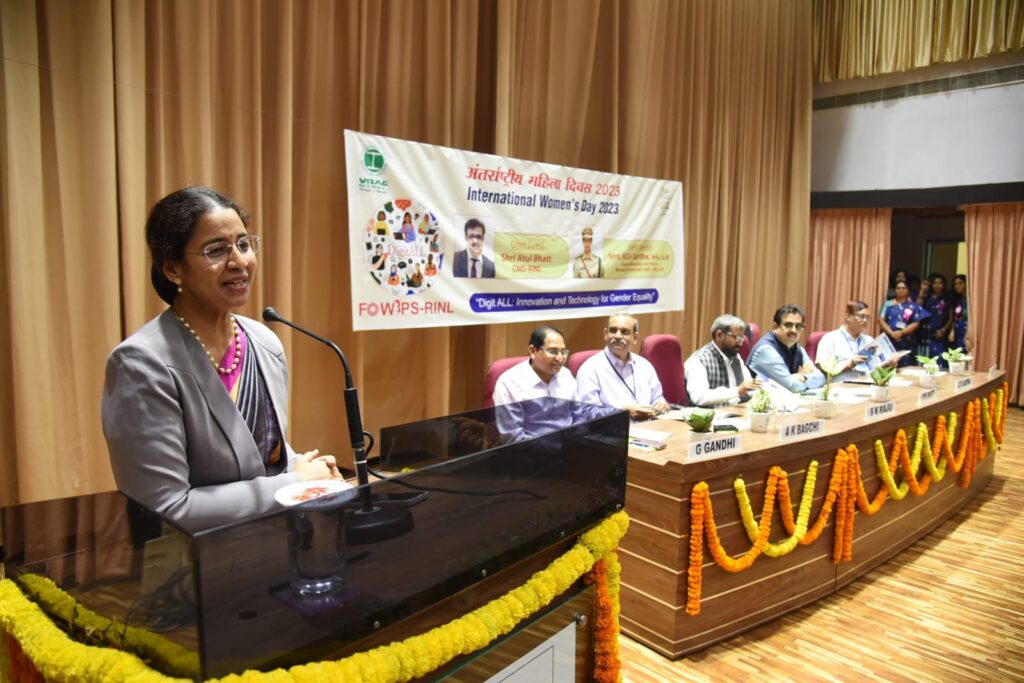 Speaking on the occasion, the chief guest Shri Atul Bhatt, CMD, RINL expressed hope that International Women's Day (IWD) 2023 will explore the impact of the digital gender gap on widening economic and social inequalities. "Let us all re-affirm our commitment on this International Women's Day to gender equality and move forward with courage and determination.", Shri Atul Bhatt said.
"At RINL, women employees are working in almost all the departments excelling in their areas of work and it is matter of pride to have many women employees at the helm of affairs in their respective areas and some are also the heads of the department at RINL", said Sri Atul Bhatt amidst thunderous applause of the audience.
Shri Atul Bhatt congratulated all the women achievers and prize winners. 19 women achievers who brought laurels to company at national and international level were felicitated on the occasion of international women's day.
Shri Atul Bhatt, CMD along with Directors, CVO, Guest of honour Smt. KGV Saritha and executive committee members of (Forum of women in public sector) WIPS-RINL released the Annual magazine DISHA depicting the achievements of RINL women employees on the occasion.
Smt. Nupur Bhatt, President, Visteel Mahila Samithi and Shri Atul Bhatt, CMD, RINL felicitated Smt. KGV Saritha on the occasion.
Various competitions like essay, poster painting, rangoli, quiz, sports etc. were organised by WIPS for women employees.
Shri D K Mohanty- Director(Commercial), sri A K Bagchi-Dir(Projects) and additional charge Dir (Operations), Shri SK Raju, IAS-Chief vigilance officer, Smt. Nupur Bhatt, President, Visteel Mahila Samithi, senior officers of RINL, a large number of women employees, representatives of trade unions, VMS, OBC, Steel executive' association, SC/ST associations also attended the event and made it a grand success.