JC Bose University Signs MoU With Innovic Energy
The partnership will offer industry internships to students and provide them opportunities to work on real-world industry products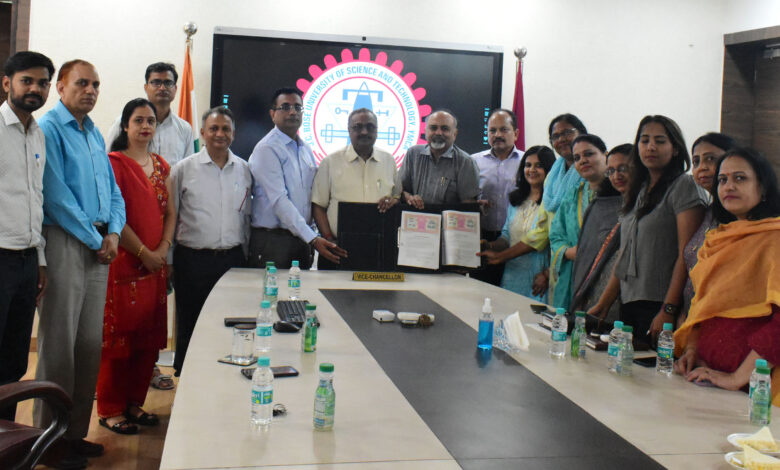 By Jag Mohan Thaken
JC Bose University of Science and Technology, YMCA, Faridabad, has taken a significant step towards empowering students with employable skills in the energy sector. Today, the University signed a Memorandum of Understanding (MoU) with Innovic Energy LLP, a renowned company specializing in the Manufacturing and Trading of Electrical Panels.
The MoU was signed by Dr. Sunil Kumar Garg, Registrar of the University, and Mr. Kumaresh Soam, Director, Innovic Energy, in the presence of the Vice-Chancellor, Prof. Sushil Kumar Tomar. Director (R&D) Prof. Naresh Chauhan, Chairperson of Electrical Engineering Prof. Anju Gupta, Training and Placement Officer Prof. Rajesh Ahuja, and faculty members of Electrical Engineering Department were also present on this occasion.
The collaboration between JC Bose University and Innovic Energy aims to provide students with practical training, seminars, competitions, and technical courses, enabling them to acquire the necessary skills and prepare for a career in the industry. Also, the partnership will offer valuable industry internships to students and provide them opportunities to work on real-world industry products.
Expressing his delight over this industrial cooperation for the skill development of students, Vice-Chancellor Prof. Sushil Kumar Tomar emphasized the need to align this collaboration with research-oriented goals. He highlighted the untapped potential of many students who opt for lucrative job opportunities instead of pursuing research careers, stating that research is a pivotal aspect of a country's progress. Prof. Tomar also emphasized the immense potential for sustainable development in emerging areas of energy and encouraged young minds to actively engage in research and contribute to society.
Mr. Kumaresh Soam, Director of Innovic Energy, emphasized the need for innovation and adaptation in the energy sector, particularly with the growing prominence of new and renewable energy sources. He explained that traditional electrical panels have become outdated in light of these transformations. Innovic Energy is committed to the development of equipment that supports green energy initiatives. Mr. Soam assured that the company would actively support such students who choose to pursue research in this field.
The partnership between JC Bose University of Science and Technology, YMCA, Faridabad, and Innovic Energy LLP holds great promise for bridging the gap between academia and industry, equipping students with practical skills, and fostering innovation in the energy sector. This collaboration aligns with the university's vision of providing holistic education and ensuring that graduates are well-prepared to meet the challenges of the modern workforce.