Localised Solutions & Support Crucial For Implementation Of Clean Air Plan For Lucknow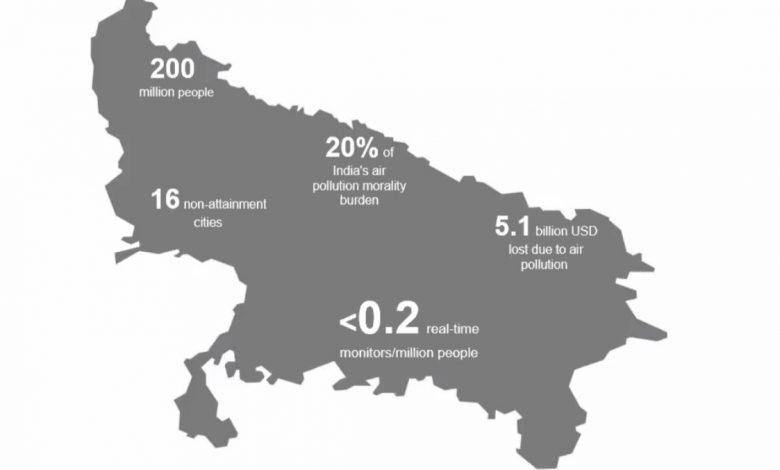 The civil society organisations and citizens in Lucknow have called for immediate and time-bound interventions on implementation of the clean air action plan to manage the air quality in the city following a discussion organised by Centre for Environment and Energy Development (CEED) that sought to strategise pragmatic and localised solutions. The key objective of the webinar was to forge a deeper understanding on air quality data and increase public access to clean air action plan of Lucknow. In the webinar, various experts from diverse fields such as industry, clean fuel & sustainable energy, solid waste management discussed possible preventive and mitigation actions for reducing pollution emissions and they attempted to find effective solutions to improve the air quality in the region.
Speaking on the occasion, Ankita Jyoti, Senior Program Officer at CEED said that, "There is a greater need to ensure active representations of experts and civil society organisations in the monitoring committee of the clean air action plan. Also, there must be data transparency from the enforcement agencies on mitigation measures to reduce the air pollution." She further emphasised on the involvement of those citizens who were not engaged in the planning process but their support for the implementation strategies is crucial. This collaborative process will inform citizens about the current status of the pollution in the city and also ensure their collective support for implementation of the plan.
Drawing attention on the recent government initiatives to improve the air quality in the city, Pankaj Bhushan, Chief Environment Engineer at Lucknow Municipal Corporation said that, "The State government and city municipal body are taking consistent efforts to implement the mandates of National Clean Air Programme (NCAP). We have initiated several mitigation measures as per the spatial distribution of polluting sources and sectoral emission violations and taken efforts for sustainable solid & liquid waste management practices for cleaning the environment in the region."
It is mention-worthy to note that 16 Non-attainment cities of Uttar Pradesh fall under the National Clean Air Programme (NCAP) and accordingly clean air action plan for these cities were prepared in March, 2019 by Uttar Pradesh State Pollution Control Board (UPSPCB) and the enforcement agencies were directed for its implementation. The clean air action plan of Lucknow lists 56 measures across 17 different state departments and agencies where effective implementation is crucial.
Elaborating on the key roles of citizens in reducing air pollution, Tanushree Ganguly, Program Lead at Council on Energy, Environment and Water (CEEW) said that, "Modeling studies suggest that 20-25 per cent of PM2.5 concentration in Lucknow can be attributed to dispersed pollution sources like dust from unpaved roads, construction sites and emissions from open waste burning. Therefore, a comprehensive mapping of these sources will be critical for reducing pollution levels in the city. Citizens can play an active role in this process by reporting such sources in their vicinity, thereby helping both State Pollution Control Board and City Authorities identify and address them."
This webinar was also addressed by panel speakers Dr Richa Mishra (ACEA Consultants) and Sanjay Singh (Vigyan Foundation). This webinar is an integral part of engaging with multiple stakeholders such as civil society organisations, air quality experts, research think-tanks, industry and business associations, youth and citizens for bringing their concerns, aspirations and solutions to contribute in the government efforts for making progress towards clean air in Uttar Pradesh. CEED urged the state government to expedite the implementation of the clean air action plan through the use of local knowledge & research and active involvement of citizens and civil society organisations in the process.