L&T's Skill Trainers Academy Inaugurated By Union Minister Of Skill Development & Entrepreneurship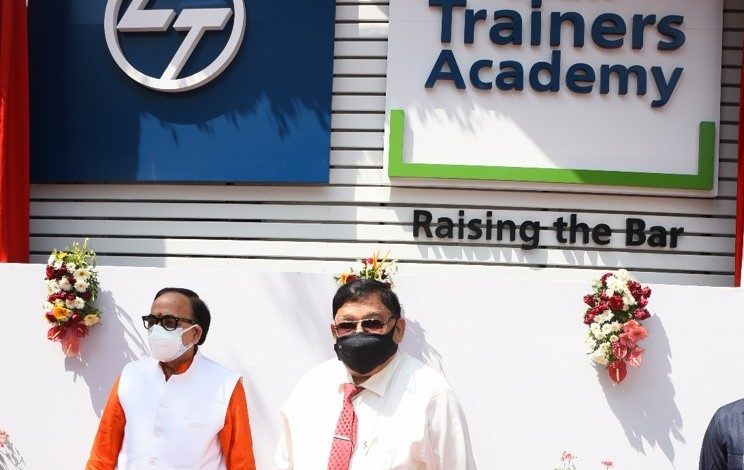 L&T's Skill Trainers Academy (STA) was inaugurated today by the Union Minister of Skill Development & Entrepreneurship, Dr. Mahendra Nath Pandey at Madh Island. The event was held in the presence of A.M. Naik, Group Chairman, L&T and Chairman National Skill Development Corporation (NSDC), who spearheaded this initiative to address the skill gap in India. Manish Kumar – MD & CEO, NSDC and Atul Tiwari-Additional Secretary – Ministry of Skill Development & Entrepreneurship were also present to grace the occasion, along with Board Members of L&T and NSDC and Sector Skill Council CEOs.
The academy aims to impart high impact training to trainers engaged in the skilling ecosystem in the country. It was inspired by the strong belief of Mr. Naik that having high caliber trainers is the key to the success of skill training in India. The academy comprises of experienced faculty with rich domain experience and a passion for training.
Set up in an existing facility of L&T, the academy with a capacity to train 1,500 trainers per year. It is equipped with state-of-the-art classrooms, workshops and hostel facilities. The program comprises a ten days classroom training followed by a 15 week "On the Job" (OJT) training. The curriculum is developed by Singapore Polytechnic as part of MoU with NSDC. While it focusses on platform skills or pedagogy the sessions also cover domain skills along with soft and life skills to provide a "holistic" development.
At the end of the 10-day program candidates go through an assessment process and those who qualify get a certificate valid for 2 years. Those who qualify after the "OJT" gets a certificate with lifelong validity.
Commenting on the occasion A.M. Naik, Group Chairman, L&T and Chairman NSDC said "The academy is a step forward in achieving our goal of developing skilled workforce that can not only meet the skill requirements of India but also cater to the global demand."
The academy kick-started its initial program on January 15, 2021 and has already successfully trained 150 trainers until now.
Commenting on the occasion, Dr. Mahendra Nath Pandey, Honorable Minister of Skill Development and Entrepreneurship said, "The 'Skill Trainers Academy' is a milestone in the direction of promoting skill development in the country. I thank Shri. A.M Naik for this important initiative."
NSDC is a public-private-partnership, working under the aegis of the Ministry of Skill Development & Entrepreneurship. It supports short-term skill training through a wide network of training providers and district nodal skill canters called Pradhan Mantri Kaushal Kendra (PMKK). L&T's Skill Training Academy is aimed at creating a holistic environment for the trainers and providing them a space to grow and learn while developing into valuable assets of the industry. L&T is preparing the youth to facilitate the delivery of their mega projects at its training centers across the country. The skilled learning garnered from the training is considered essential while designing the "Training of Trainers Program."
For decades, L&T has been involved in giving underprivileged the opportunity to learn skills that will enable them to find employment and raise their standard of living.  L&T's nine Construction Skills Training Institutes in eight states impart theoretical and hands-on training to these youth so that they can find work in the construction industry, where their skills are in high demand.  Through its CSR initiatives, L&T organizes vocational training programs for underprivileged women, enabling them to earn a living by becoming tailors, beauticians, nursing aides, food-processors, etc. Gaining earning power gives these women a better social standing and helps to drive social change by transforming attitudes towards women.