Massive Protest Against Strategic Disinvestment of RINL On Monday Morning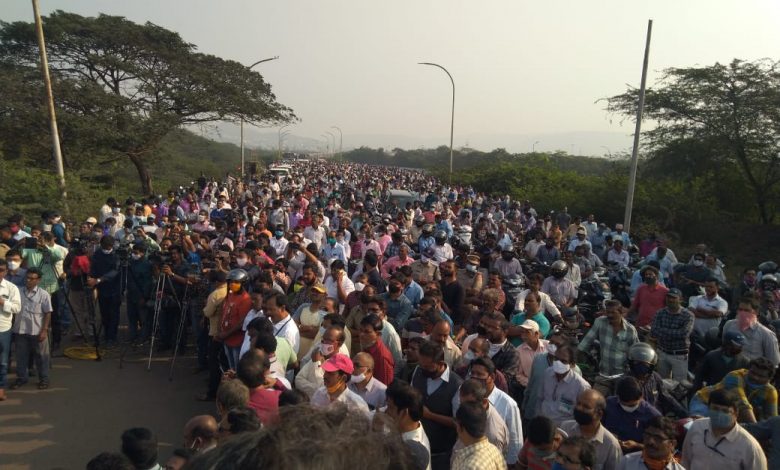 A massive protest was witnessed at the BC Entrance gate of Vizag Steel Plant on a call given by Unions and various political parties this morning (Monday).The call for the protest had been given by CITU, INTUC, AITUC, YSRTUC, and other unions. Amongst prominent personalities who addressed the protestors were Andhra Pradesh  Minister, Muttam Setti Srinivas Rao and Member of Parliament from Visakhapatnam, MVV Satyanarayana, who assured workers that the state government  will protest against the strategic sale of RINL and will do everything to protect the interests of the Vizag Steel Plant. MLA Gudivada Amarnadh. Ex-MLAs T Gurumurty Reddy and Chintalapuda Venkataramaya, also addressed the gathering.
The Government Of India's move for 100 percent strategoc disinvestment of Rashrtiya Ispat Nigam Limited (RINL), popularly known as the Vizag Steel Plant, has already witnessed political action with Andhra Pradesh Chief Minister Y.S. Jagan Mohan Reddy writing a letter to Prime Minister Narendra Modi urging the centre not to go ahead with the disinvestment of Rashtriya Ispat Nigam Limited (RINL).
Telugu Desam Party MLA Ganta Srinivasa Rao has resigned the Assembly membership as well as the TDP the party to register his protest against Centre's decision to privatise Rashtriya Ispat Nigam Limited. Furthermore, P.V. Madhav, MLC and A.P. Legislative Council BJP Floor Leader has made a fervent appeal to the Finance Minister, Nirmala Sitharaman, saying VSP/RINL has contributed about Rs. 43,099 crs to Central Govt and Rs. 8,565 Crs to State Govt exchequers till 2020, and with little support VSP / RINL, VSP/RINL and Steel giant as a whole shall be a Really Golden Goose for Government of India. Senior intellectuals and Technocrats after detailed analysis are of the opinion that selling VSP/RINL at this stage is like proverbial saying "Killing the Golden Goose", he added in the letter sent to the Finance Minister.
Katam SS Chandra Rao, Joint Secretary, Steel Executives Federation of India (SEFI) sent a Tweet to Andhra Pradesh Chief Minister Y.S. Jagan Mohan Reddy saying "Respected Sir, your letter to Hon'ble Prime Minister will help to prevent immediate actions from GOI on Strategic sale of Visakhapatnam steel plant, RINLand further immediate initiative is highly required to save the present financial crisis of Vizagsteel plant.  A resolution in Assembly like Chhattisgarh government for NMDC_Nagarnagar steel plant, Tamil Nadu for SAIL Salem, Kerala for FACT, HNP etc. is more helpful to safe guard the ingterests of our Vishakapatnam steel plant. required, Further state government should pursue or financial support for revival of Visakapatnam  steel plant, Iron ore  issue, and also for RINL merger with SAIL and NMDC. We the employees of Vizagsteel have full faith on you and hope this issue will settle with your efforts. ". 
Meanwhile, The Steel Executives Association has taken a unanimous decision to vehemently oppose the Central Government policy decision of Strategic Sale of RINL. SEA Committee has requested all executives to attend the meeting of the association to be held this evening, without fail and make it grand success.