Minister of Civil Aviation Inaugurates Flight Connecting Jaipur And Jodhpur
The flight connecting two major cities of Rajasthan will be operated by IndigGo four days a week
Union Minister of Civil Aviation and Steel, Shri Jyotiraditya M. Scindia along with Minister of State for Civil Aviation,General Dr. Vijay Kumar Singh (Rtd.) inaugurated a flight connecting Jaipur and Jodhpur virtually today.
IndiGo will operate this route under the following schedule effective from 2nd February 2023.
Flight No
To
From
Freq.
Dep. Time
Arr. Time
Aircraft
Effective from
6E-7406
Jodhpur
Jaipur
Monday, Tuesday, Thursday, Friday
09:55
10:55
ATR
2nd February 2023
6E-7131
Jaipur
Jodhpur
Monday, Tuesday, Thursday, Friday
11:15
12:15
In his inaugural address, Minister of Civil Aviation, Shri Jyotiraditya Scindia said that it is a very important occasion that two important cities of the country are being connected. He also emphasized on how this new connectivity will further strengthen the already established Golden Triangle Tourist Circuit of Delhi-Agra-Jaipur. The Minister went ahead to talk about India's emergence as the 3rd biggest aviation market in the world in terms of domestic traffic and 7th biggest in the world in terms of international and domestic traffic combined.
Talking about increased air travel infrastructure in the state of Rajasthan, Shri Scindia said that to cater to the increased air travel demand in Jodhpur, a new terminal building will be inaugurated soon. Built at a cost of Rs. 500 crore, with an area of 20,000 square meters, the airport will have the capacity to handle one thousand passengers and give a big boost to tourism and the local economy.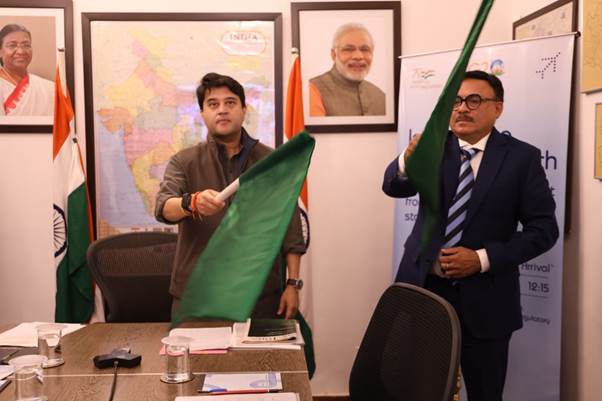 The minister added that under the leadership of Prime Minister Narendra Modi, there have been significant developments in Rajasthan's civil aviation landscape since 2014. He shared that new airports have been established in Kishangarh, Bikaner, and Jaisalmer and a new airport is also being planned for Kota. Apart from infrastructure, tremendous growth has also been seen in the no. of aircraft movements, in 2014, this number stood at 555, which has now increased by almost three times to reach the mark of 1530 aircraft movements per week.
Minister of State,General Dr. Vijay Kumar Singh (Rtd.) congratulated the stakeholders and said that this connectivity will create ease of travel for tourists and play a big role in bolstering trade and tourism in the region.
The occasion was graced by Shri Gajendra Singh Shekhawat, Minister of Jal Shakti, Government of India, and Shri Arjun Ram Meghwal, Minister of State for Parliamentary Affairs and Culture, Government of India. Shri Rajiv Bansal, Secretary, Ministry of Civil Aviation, Shri Asangba Chuba Ao, Joint Secretary, Ministry of Civil Aviation, Shri R K Singh, Principal advisor – IndiGo, and other officials from MoCA, Government of Rajasthan, and IndiGo were also present.