Monsoon Playing Hide And Seek & Delhi Battling Relentless Heatwave
We could now see a drop in the day temperatures over Delhi-NCR in the next few days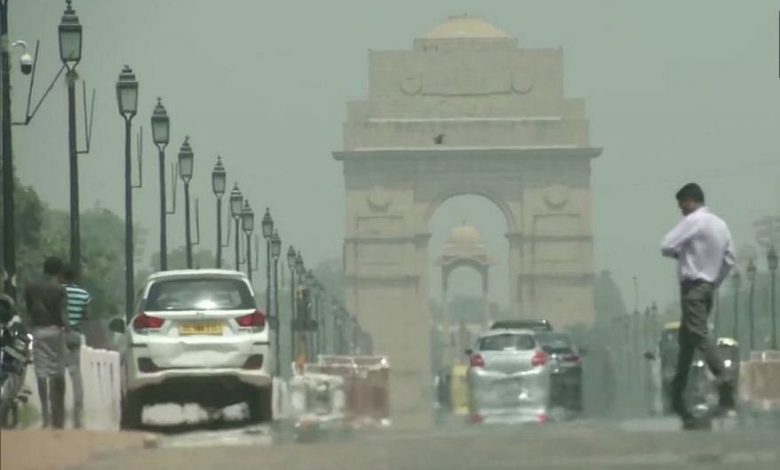 With Monsoon playing hide and seek, Delhi has been battling relentless heatwave for the past few days. The maximum temperatures hovered around 43°C for three consecutive days from June 29-July 1. In fact, it has been recorded as the hottest day of July since 2012, when day time maximum temperature was recorded at 43.5°C. Meteorologists state that such high temperatures during July are very unusual.
"It is very much obvious that this scorching heat is a result of the absence of Southwest Monsoon over the region. The Monsoon usually reaches Delhi around June 28, with an error margin of +/-2 days. Hence, Delhi continued with northwesterly winds," said Ex AVM G P Sharma, President-Meteorology and Climate Change, Skymet Weather.
In the absence of any weather system, Delhi-NCR sources its winds from the northwest direction which are coming through the much hotter region of Pakistan and West Rajasthan. The desert has been reeling with scorching heat, with temperatures across the area reaching 45-degree mark or even above. The unabated flow of these hot winds has been reaching Delhi, raising the mercury levels.
Reasons for Monsoon evading Northwest region
"The Southwest Monsoon phenomenon is known to be truant and complex in nature. Though it is the longest delay for the onset of Monsoon over Delhi in the last 15 years, still I would not say that it is something uncommon. This delay can be termed as 'intra-seasonal Monsoon variation," added G P Sharma.
For Monsoon to cover northwestern parts of the country, is the toughest phase. The geography and terrain of the region is not very helpful in pulling the Monsoon current. Monsoon needs a certain force to move forward, which has to come in the form of any Monsoon system or may be a combination of two.
G P Sharma said, "Monsoon reaching North India has always been an arduous task for more than one reason. Monsoon systems forming in the Bay of Bengal are the main drivers of monsoon current. These are also responsible for establishing monsoon troughs, another important factor and feature to carry the rains to the hinterland of North India. Monsoon systems forming in the Bay of Bengal usually take around 3-4 days to reach Northwest India. During this travel period, these systems tend to shed moisture due to long land travel and lose energy to go weak. Additional push is needed either in the form of an active monsoon trough or a strong western disturbance to infuse fresh charge and enhance their reach."
Monsoon circulations and low pressure areas are the prime drivers of the monsoon surge across the country. Now the formation of any weather system has been missing this time. So far, the country has only witnessed one Monsoon low which had formed on June 11.
Then there are other oceanic parameters which affect the performance and progress of Monsoon. A positive Indian Ocean Dipole (IOD) and Madden-Julian Oscillation (MJO) in phase two or three are likely to enhance the Monsoon rains. So far, IOD has been in a negative phase during the entire June and still continues to be in that zone.
MJO has also been making rounds far off. Phase 2 & 3 are correlated with Indian Ocean and that is when it drives weather systems.
Thirdly, we usually see lots of remnants of the system coming from the Pacific Ocean via Vietnam, Myanmar that enter the Bay of Bengal and picking up strength once again and in turn driving the Monsoon current. Even those weather systems have not approached the Indian waters this time.
Monsoon to finally make onset
Weather conditions have finally become favorable for the onset of Monsoon over northwestern plains including Delhi NCR.
"A cyclonic circulation has already formed over Gangetic West Bengal and adjoining areas. The system is likely to get more marked and travel eastwards during the next 48 hours, pulling the Monsoon current forward over the Indo-Ganetic plains by July 10-11. The system would also be encountering a cyclonic circulation over Punjab and adjoining Pakistan region. With the system in offing, wind direction has already started changing towards easterly." said G P Sharma.
In wake of this, we would now see a drop in the day temperatures over Delhi-NCR in the next few days. However, humidity levels would be much higher. Delhi could see rains commencing by the evening of July 10. The intensity would be more on July 11 and peak on July 12, bringing much needed respite from the intense heat. Meteorologists are predicting rains and thundershowers of varying intensity to drench the city from July 11-16.
Also, MJO (Madden Julian Oscillation) which is currently moving across the Western Hemisphere over the African region, is shifting along the equatorial belt. Models are indicating that it will enter the Indian Ocean anytime soon. "Though its amplitude is decreasing but will still be good enough to push the monsoon activity over the Bay of Bengal and the coastal region to start with sometime middle of next week. This may catalyse the formation of a fresh weather system around that time to revive the monsoon activity," said G P Sharma.