MoU Signed Between NHIDCL And CSIR-SERC, Chennai
MoU for sharing knowledge on innovative ideas and technologies in the field of highway engineering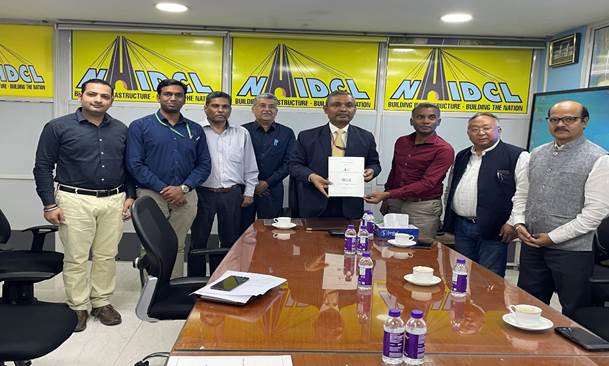 National Highways and Infrastructure Development Corporation Ltd. (NHIDCL), a CPSU under the Ministry of Road Transport & Highways, Govt. of India and CSIR-SERC (Structural Engineering Research Centre), Chennai signed a Memorandum of Understanding (MoU) on 23.03.2023 for sharing knowledge on innovative ideas and technologies in the field of highway engineering. The MoU was signed by Shri Chanchal Kumar, Managing Director, NHIDCL and Dr. N. Anandavalli, Director, CSIR-SERC, Chennai.
This MoU is to establish the basis of collaboration between both the parties such that the NHIDCL and CSIR-SERC can take up various activities of common interest such as sharing knowledge on innovative ideas and technologies in the field of highway engineering and other infrastructure works on mutually agreed terms and conditions. This collaboration will strengthen R&D activities in Road Sector and expected to provide lead in conducting, coordinating research, development and training in the area of Development of Highway Infrastructure.
Speaking on the occasion, Managing Director, NHIDCL, Shri Chanchal Kumar said that the government supports the enhancement of quality research through partnerships and mentorship programmes. This MoU sets a new benchmark of Government-Academia partnership that can enhance process of learning & open up new opportunities for development of faculty in CSIR-SERC&NHIDCL's Technical officers. This also will be useful in internal capacity building.
National Highways Infrastructure Development Corporation Limited (NHIDCL) promote survey, design, build, operate, maintains and upgrade National Highways and Strategic Roads including interconnecting roads in parts of the country and which share international boundaries with neighbouring countries.
CSIR-SERC, Chennai is a premier research centre in the country with a vision of centre of excellence in education and research, producing global leaders in science, technology and management.
Both NHIDCL and CSIR-SERC, Chennai are leading premier National organisations in their respective fields and desirous of working together as a team to achieve national objectives.