MoU Signed Between NHIDCL And IIT Guwahati
Collaboration aims to leverage expertise of IIT Guwahati to promote technological innovations in the construction of highways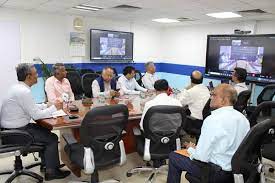 The collaboration between NHIDCL and IIT Guwahati through the Memorandum of Understanding (MoU) is a significant step in promoting research and development (R&D) in the field of civil engineering, road construction, planning, and design. This collaboration aims to leverage the expertise of IIT Guwahati, a renowned institute in these areas, to address the challenges and promote technological innovations in the construction of highways under extreme climatic and geographical conditions.
NHIDCL, as a central public sector undertaking (CPSU) under the Ministry of Road Transport & Highways in the Government of India, plays a crucial role in the development of highways and infrastructure in the country. By partnering with IIT Guwahati, which has a strong reputation for its contributions to civil engineering and related fields, NHIDCL seeks to benefit from the institute's knowledge, research capabilities, and technical expertise.
The specific objectives of this collaboration may include:
Research and Development: The MoU is likely to facilitate joint research projects between NHIDCL and IIT Guwahati. These projects may focus on developing innovative technologies, materials, and techniques for highway construction, particularly in challenging climatic and geographical conditions. The research outcomes can contribute to improved road infrastructure, durability, safety, and sustainability.
Knowledge Exchange: The collaboration may involve the exchange of knowledge, expertise, and best practices between NHIDCL and IIT Guwahati. This exchange can occur through various means, such as workshops, seminars, training programs, and joint conferences. It allows professionals from both organizations to share their experiences, learn from each other, and stay updated with the latest advancements in the field.
Testing and Validation: IIT Guwahati's advanced laboratory facilities can be utilized to test and validate new technologies, materials, and construction methodologies proposed by NHIDCL. This collaborative approach ensures that the solutions developed are reliable, effective, and meet the required standards.
Capacity Building: The partnership can focus on enhancing the skills and knowledge of professionals working in the field of highway construction. NHIDCL employees and other stakeholders can benefit from training programs and skill development initiatives organized by IIT Guwahati. This capacity building effort strengthens the overall capabilities of the workforce and promotes continuous improvement in the sector.
Overall, the MoU between NHIDCL and IIT Guwahati reflects the commitment to promoting research, innovation, and collaboration in the field of highway construction and infrastructure development. By pooling their resources and expertise, both organizations can contribute to the advancement of the sector and address the challenges posed by extreme climatic and geographical conditions.