MoU Signed For 'Riverine Based Religious Tourism Circuit' To Connect Seven Religious Places On Brahmaputra
MoU signed among IWAI, SDCL, ATDC and DIWT will be executed with an investment of Rs 45 crore
In Guwahati, Assam, a Memorandum of Understanding (MoU) was signed among the Inland Waterways Authority of India (IWAI), Sagarmala Development Corporation Limited (SDCL), Assam Tourism Development Corporation (ATDC), and Department of Inland Waterways Transport (DIWT), Government of Assam. The signing ceremony was witnessed by Chief Minister Dr Himanta Biswa Sarma and Union Minister Sarbananda Sonowal.
The MoU aims to develop a 'Riverine Based Religious Tourism Circuit' that will provide a modern ferry service on a 'Hop On Hop Off' basis, covering seven historic religious sites around Guwahati. These sites include Kamakhya, Pandunath, Ashwalknata, Doul Govinda, Umananda, Chakreshwar, and Auniati Satra. The ferry terminal will feature a modern waiting lounge to ensure a comfortable experience for passengers.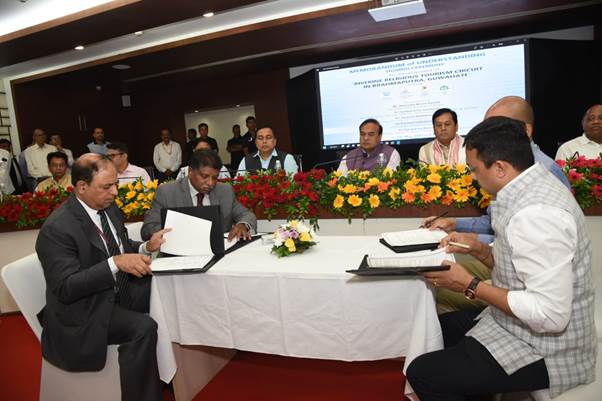 The project will be executed through a Special Purpose Vehicle (SPV) and is expected to be completed within 12 months with an investment of ₹45 crores. The circuit will start from Hanuman Ghat, Uzan Bazar, and the ferry service aims to reduce the overall travel time to less than 2 hours for completing one complete circuit. SDCL and IWAI will contribute 55% of the project cost, while the remaining funds will be provided by ATDC. DIWT has agreed to provide the usage of Ghats near the temples free of cost for the project.
Union Minister Sarbananda Sonowal expressed his satisfaction with the development of the Riverine Based Tourism Circuit, stating that it would greatly benefit the tourism sector in Assam. He emphasized the Act East policy of India and the ongoing major developmental projects in the region under the leadership of Prime Minister Narendra Modi. The Minister highlighted the potential of inland waterways and its transformative role in transportation, citing examples such as ODC and OWC cargo movement via Brahmaputra and the world's longest river cruise, Ganga Vilas. The government remains committed to developing the rich potential of inland waterways in Assam and the entire Northeast region.
Chief Minister Dr Himanta Biswa Sarma expressed his happiness and gratitude for the initiative, noting that it would open a new chapter of tourism in the state. He emphasized the boost it would provide to religious tourism, allowing tourists to experience the rich spiritual heritage of Guwahati through this riverine circuit.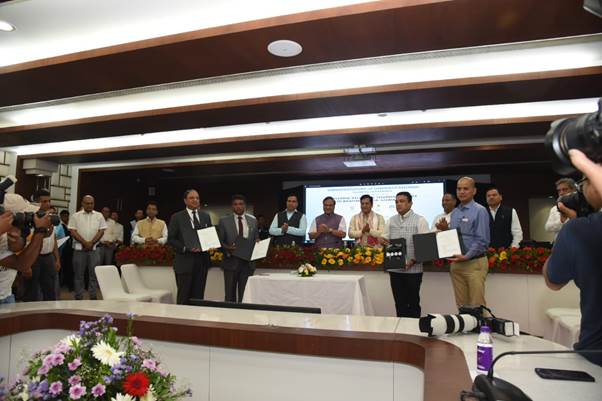 The signing ceremony was attended by officials including Transport Minister Parimal Shuklabaidya, Tourism Minister Jayanta Mall Baruah, Chairman of IWAI Sanjay Bandopadhyay, Chairman of ATDC Rituparna Baruah, Vice Chairman of ATDC Dilip Das, and Dilip Kumar Gupta, Managing Director of SDCL, among others from the state and central government. The event took place at the Assam Administrative Staff College in Guwahati.