National Portal For Rooftop Solar Eases Residential Consumer To Apply And Install Rooftop Solar
National Portal available to residential consumers across the country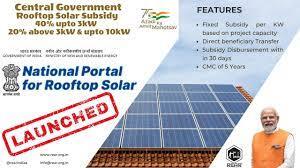 With launch of National Portal for Rooftop Solar (www.solarrooftop.gov.in) on 30.7.2022, it has become simple and easy for a residential consumer to apply and get the rooftop solar installed under Rooftop Solar Programme Ph-II providing central financial assistance.
The residential consumers from any part of the country including from Banaskantha, Gujarat; Araria, Bihar; and Jammu & Kashmir can apply on the National Portal. The consumers have the choice to select any vendor registered with the local distribution company, solar modules of quality and efficiency, solar inverter and other balance of plants and equipment.
The rate of rooftop solar plant is decided mutually by vendor and the consumer. DISCOMs role is limited to issuing technical feasibility approval, installation of net-meter and inspection of the system. After installation and inspection of the system, subsidy is released directly in the bank account of the consumer. The entire process of registration of the application to release of subsidy in the bank account of the consumer can be tracked online on the Portal.
This information was given by Shri R.K Singh, Union Minister for Power and New and Renewable Energy in a written reply in Lok Sabha yesterday.