Need For Healthcare Sector To Reduce Contribution To Climate Change & Strengthen Surveillance Of Diseases
During India's presidency focus is on climate and health and the need to leverage "One Health for All"
With the aim to align the health sector's development with the goals of the Paris Agreement and building climate-neutral and resilient health systems 2nd G20 Health Working Group Meeting titled, "Addressing the Challenges of Climate Change and Health: One Earth, One Family, One Future", was held in goa today. The co-branded event was organized by the Asian Development Bank and the Ministry of Health and Family Welfare . It was inaugurated by Union Minister of Fisheries, Animal Husbandry and Dairying, Shri Parshottam Rupala delivered the inaugural address. India's G20 Sherpa, Shri Amitabh Kant was also in attendance. The objective was to recognize the interconnectedness of human, animal, and environmental health.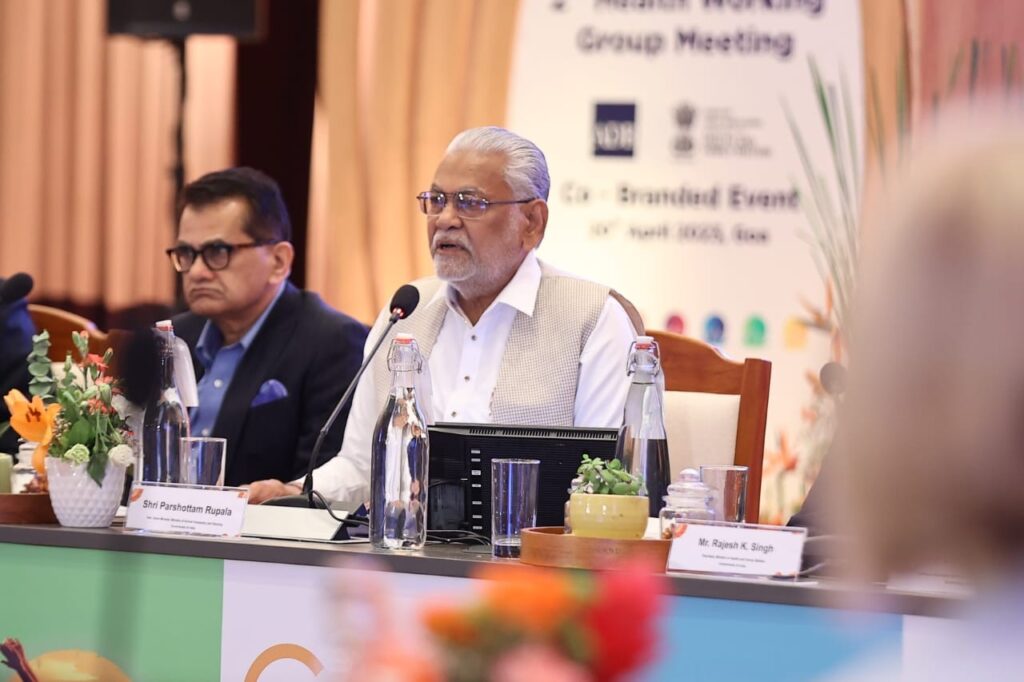 The G20 has focussed on public health since 2016 but this is the first time during India's presidency that it is focussing on climate and health and the need to leverage "One Health for All".
Shri Parshottam Rupala emphasized the importance of Prime Minister's message that despite geographical boundaries, all of humanity is part of the same cosmos and the need for the health sector, including animal health, to reduce its contribution to climate change and strengthen surveillance of animal-linked diseases to prevent health emergencies from emerging. He stressed that strengthening animal health and implementing a One Health approach can help prevent and control zoonotic diseases, which have significant impacts on animal welfare, economic productivity, and human health.
Shri Amitabh Kant, India's G20 Sherpa, highlighted the interconnectedness of various challenges such as climate change, healthcare, and poverty. He said that the COVID-19 pandemic has shown how health and climate change are deeply intertwined, with the Global South being more vulnerable due to a burden of communicable diseases and resource constraints. The G20 India Sherpa mentioned that India has made significant progress in the healthcare sector and has become the pharmacy of the world, with digital initiatives like telemedicine and teleconsultations being sustainable solutions for a climate-resilient healthcare model. "India's digital initiatives like telemedicine and teleconsultations are sustainable solutions for a climate resilient healthcare model", he said.
Shri Rajesh K Singh, Union Secretary, Ministry of Fisheries, Animal Husbandry and Dairying, highlighted the potential of India's Animal Pandemic Preparedness Initiative in ensuring timely surveillance of zoonotic diseases. Shri Lav Agarwal, Additional Secretary, Health Ministry, emphasized the need for a 'One Health' approach to mitigate the effects of climate change and holistically address the linkages between climate change and health.
Shri. Ramesh Subramaniam, Director General, Southeast Asia Department, ADB, highlighted that prioritizing the health sector can bring synergistic solutions to meet both global health and climate goals simultaneously, and institutions like the Asian Development Bank look forward to working with member countries to support this.
Health leadership from Indonesia, Brazil, UK, France, Netherland, Spain and US reiterated the urgent need for collective action to combat climate change. They emphasised the need for healthcare leadership in climate action and expressed strong support for health sector decarbonisation, which currently ranks fifth in global net greenhouse gas emissions, and resilience to be taken up by the G20.The event was attended by senior officials of the Union Government, including Mr. Takeo Konishi, Country Director, ADB India, Mr. Sungsup Ra, Chief Sector Officer, ADB, and other dignitaries.
The writer of this article is Dr. Seema Javed, a known Environmentalist, Journalist and Communications Expert