NGT says Oil India Limited (OIL) Was Illegally Drilling In Baghjan Oil Field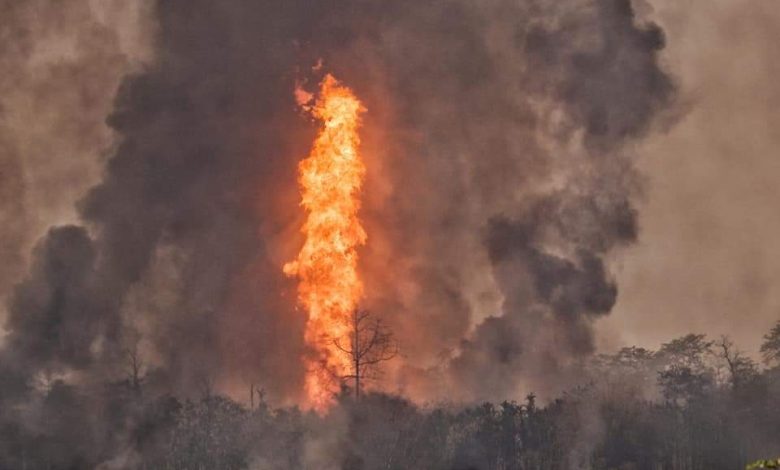 The National Green Tribunal (NGT) in an order said that the Oil India Limited (OIL) was illegally drilling and testing hydrocarbons from the Baghjan oil field in Tinsukia in Upper Assam. "It is concluded that OIL does not have, till date, the required consent to establish and/or consent to operate to either carry out drilling and testing of hydrocarbons in Well Baghjan-5 under the DSNP Area," the report of the NGT committee formed to investigate the Baghjan Oil Well fire said.
The NGT Committee headed by a former Judge of Gauhati High Court, BP Katakey was constituted after Bonani Kakkar, a Kolkata based activist and an Assam based NGO Wildlife and Environment Conservation Organisation approached the tribunal regarding the issue. "This may therefore require scrutiny of all existing projects of OIL in the State of Assam to ascertain if they meet the mandatory requirements of obtaining consent/authorization under the aforesaid Acts and Rules. It is recommended 7 that the Hon'ble NGT may also look into the activities of the PCB, Assam with regard to the grant of CTE / NOC and CTO for all the projects of OIL, presently in operation, in the State of Assam," the report added.
Further, no Biodiversity Impact Assessment study was found to have been conducted before undertaking such a large scale operation. "The OIL thereby had contravened the provisions Environment (Protection) Act, 1986 and the Environment Impact Assessment (EIA) Notification, 2006 under which it is mandatory to obtain EC for any offshore drilling projects before the commencement of activities on 20.11.2006," said the committee.
The tribunal has ordered for the following compensation to be awarded to the affected families immediately:
A. Rs 30,000 one-time compensation to the affected families who had moved to the relief camps due to the well Baghjan-5 blowout on 27th May.
B. Rs 25,000 one-time compensation to each of the affected families and individuals who were shifted to the relief camps in the wake of the explosion on 9th June.
C. An immediate health insurance policy including COVID 19 to all affected individuals and families.
The Committee has made three categories of persons entitled to interim compensation 
A. Rs 25 lakh to those  whose houses have been completely gutted by the fire;
B. Rs 10 lakh to those  whose houses have been severely damaged;
C. Rs 2.5 lakh whose houses have been moderately/partially damaged or whose standing crops and horticulture have been partially damaged.