NMDC Signs Collaborative Research Agreement With CSIR-IMMT, Bhubaneswar
NMDC operates the only mechanised diamond mine in Southeast Asia at Panna in Madhya Pradesh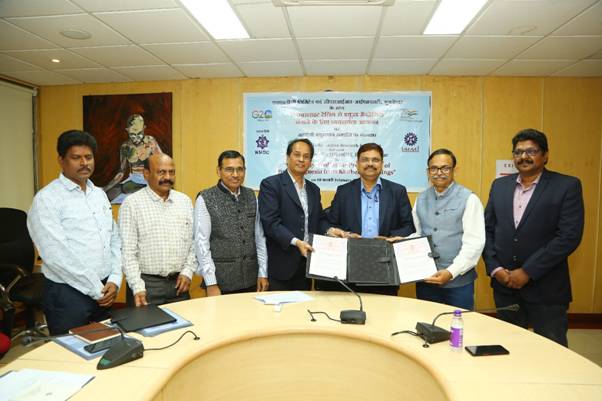 National Miner NMDC signed an Agreement for Collaborative Research with CSIR-IMMT, Bhubaneswar, on "Feasibility Studies for Preparation of Fused Magnesia from Kimberlite Tailings" today at its head office in Hyderabad.
The agreement was signed between Shri S.K. Chaurasiya, GM, R&D, from NMDC and Dr. Ashok Kumar Sahu, Chief Scientist and Head, Strategy Planning and Business Development, from CSIR-IMMT, in the presence of NMDC's Director (Production), Shri Dilip Kumar Mohanty, senior officials of NMDC and Dr. Kali Sanjay, Chief Scientist and Head, Hydro & Electrometallurgy Department, CSIR-IMMT.
NMDC operates the only mechanised diamond mine in Southeast Asia at Panna in Madhya Pradesh. This mine produces around 10 carats of diamond (2g) per 100 tonnes of kimberlite processed, which is dumped as waste after the recovery of diamonds. Kimberlite tailings are used for the development of value-added products and are also known to be a good source of caustic magnesia. Addressing this research gap for the best utilisation of kimberlite that is available and has accumulated over the years at Panna Diamond Mines, NMDC has initiated the Research Agreement to study the processing and preparation of fused MgO and TiO2.
Speaking on this project, Shri Sumit Deb, CMD of NMDC said that NMDC is tapping on the opportunity to utilise kimberlite tailings from our Panna Mines as a resource to produce high cost fused magnesia. "We are confident that our endeavours will lead to the conversion of waste into wealth and import substitution, proving to be a significant step towards Atmanirbhar Bharat," said Shri Deb.