NTPC Green Energy Limited To Collaborate With Nayara Energy For Green Hydrogen Production
NTPC is India's largest Power Utility having a total installed capacity of more than 73 GW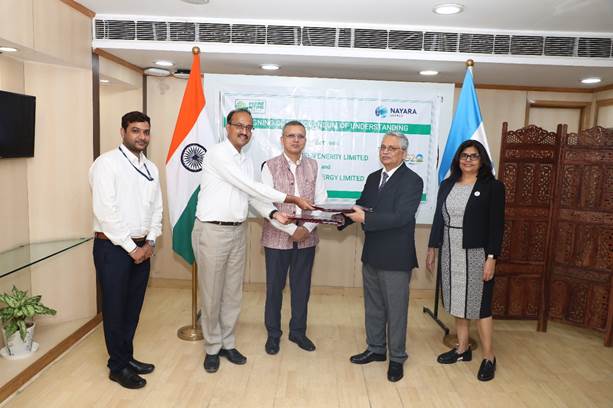 NTPC Green Energy Limited (NGEL), a wholly-owned subsidiary of India's leading integrated power producer NTPC Limited, and Nayara Energy, a new-age international downstream energy company of international scale, have entered into a Memorandum of Understanding (MoU) today to explore opportunities in the Green Hydrogen and Green Energy space.
The MoU envisages collaboration to produce Green Hydrogen for Nayara Energy's captive usage, accelerate decarbonisation and catalyse reduction in carbon footprint. The collaboration is in line with NTPC's initiatives to develop hydrogen projects in India and aligns with the vision of a self-reliant India (Atmanirbhar Bharat) as laid out by the Prime Minister.
The MoU signing ceremony was attended by CEO, NGEL, Shri Mohit Bhargava and Head-Technical, Nayara Energy, Shri Amar Kumar, along with other senior officials of NTPC, NGEL and Nayara Energy.
Congratulating the team, CEO (NGEL), Shri Mohit Bhargava said that this partnership will explore and implement cutting-edge technologies to produce Green Hydrogen. "We are happy to join hands with Nayara Energy in our shared commitment to accelerate India's transition to clean and sustainable energy sources. Green Hydrogen would be a crucial element of India's clean energy future, and with this partnership, we will explore and implement cutting-edge technologies to produce Green Hydrogen, contributing to a cleaner and more resilient energy landscape. Through NGEL, we are dedicated to expanding our Green Energy portfolio, and this collaboration exemplifies our relentless pursuit of a greener and more sustainable future for the nation."
While appreciating the efforts of NTPC for Green Hydrogen, CEO, Nayara Energy, Dr. Alois Virag has communicated that Nayara Energy being a prominent player in the energy industry, environmental sustainability is deeply ingrained in all business operations of the company. "Today, we take an important step forward by partnering with NTPC, leaders in Green Energy business, to explore the potential of Green Hydrogen. This collaboration will contribute to achieve the energy transition objectives of the country."
NTPC is India's largest Power Utility having a total installed capacity of more than 73 GW. As part of increasing its renewable energy portfolio, a wholly-owned subsidiary NGEL has been formed to take up Renewable Energy Parks and Projects including businesses in the area of Green Hydrogen, Energy Storage Technologies, and Round-the-Clock RE Power. NTPC Group has a plan of 60 GW of RE capacity by the year 2032 and is currently working on a pipeline of 20+ GW, out of which over 3 GW is operational capacity.
Nayara Energy is an integrated downstream company of international scale with strong presence across the hydrocarbon value chain from refining to retail. Nayara Energy owns India's second largest single-site refinery at Vadinar, Gujarat with a capacity of 20 MMTPA. It is one of the world's most modern and complex refineries with a complexity of 11.8, which is amongst the highest globally. The company has over 6,000 operational retail outlets spread across India.