OFB Employees In No Mood To Relent, Burn Effigies Against Government Decision To split OFB Into 7 Corporations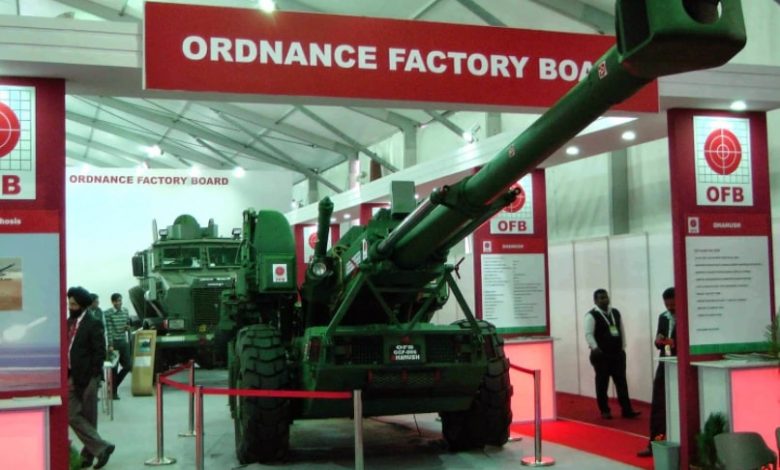 The struggle of the Defence Civilian Employees against the Modi Government decision to split the OFB in to 7 Corporations has created serious industrial relation problems in all the Ordnance Factories. The employees are agitated and are totally upset with the decision of the Government, since it takes away all the protections which they are having as a Central Government Employees. They are also equally worried about the future of 7 Corporations. The Federations are not in a mood to for any compromise on this. As a first step of their next round of agitation effigy of the Corporatisation was burnt throughout the country in front of 41 Factories. Report says that thousands of employees have participated in this effigy burning programme. After this programme the three Federations have now issued a joint statement, wherein they have called upon the employees to be prepared for an indefinite strike in the coming days. The contents of the joint statement issued by AIDEF, INDWF & BPMS is reproduced below for the benefit of viewers of www.indianpsu.com –
80,000 Defence Workers of 41 Ordnance Factories protest against the NDA Government decision to splinter the Ordnance Factory Board into 7 Corporations by burning effigy of Corporatization!
The BJP led Government of India has taken a decision which is an historical mistake and blender on 16-6-2021 to splinter the 220 years old Indian Ordnance Factories into 7 corporations. An ill advised and ill conceived decision taken by the present Government. This is going to have serious impact on the security and Defence preparedness of our country. This decision of the Government is in violation of the 20 years written agreement between the then Governments and the Federations that the Ordnance Factories would not be corporatized. Five previous Defence Ministers including late George Fernandez, Jaswant Singh, Pranab Mukherjee, Manohar Parrikar and Shri. A.K. Antony have entered into written agreements with the Federations that Ordnance Factories would not be corporatized. Last year taking advantage of the Covid pandemic when the Finance Minister announced the decision of the Government to corporatize the Ordnance Factories the All India Federations of the Defence civilian employees and the factory level Trade Unions served an indefinite strike notice to commence from 12-10-2020 against the Government decision.
However, after the intervention of The Chief Labour Commissioner(Central) a conciliation settlement was reached on 9-10-2020 and the strike was deferred. However the Government went on violating the settlement and got the approval of empowered group of ministers Chaired by Defence Minister Rajnath Singh. The Federations (AIDEF,INDWF, BPMS) lodged a complaint against the Ministry of Defence to the CLC on 31-3-2021. However the CLC without taking any action succumbed to the pressure of the Government and closed the conciliation proceedings in the absence of the 3 major Federations which served strike notice, thereby enabling the Government to decide to split Ordnance Factory Board into 7 small corporations.
Nationwide protest has spontaneously started in all the Ordnance Factories and Defence establishments and on 19-6-2021 throughout the country the effigy of corporatisation of OFB / Government decision was burned in front of the Defence Establishments. The Federations will meet on Sunday and take a decision about the various action programmes demanding the Government to withdraw its draconian decision including indefinite strike. It is pertinent to mention here that support to the struggle of the Defence Civilian Employees against the Corporatisation decision of the Government is pouring in. All the 10 Central Trade Unions including INTUC, AITUC, HMS & CITU have issued a joint statement in this regard. BMS has separately written to the Prime Minister and requested to intervene and reconsider the decision.