Petroleum Sector Is The Key For India To Be Energy Atmanirbhar By 2047 : Hardeep Singh Puri
The minister congratulated IndianOil, Air Asia, and Praj Industries for their contributions in their respective sectors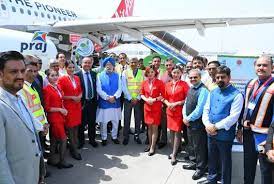 The statement by Union Minister Hardeep Singh Puri highlights the significance of sustainable aviation fuel (SAF) using indigenous feedstock and Make in India technology in the aviation sector. According to Puri, this development is a major step towards self-reliance and decarbonization of the aviation sector in India.
Puri emphasizes the need for India to become energy Atmanirbhar (self-reliant) by 2047, in line with the vision set by the Hon'ble Prime Minister. He states that the petroleum sector will play a crucial role in achieving this goal. Puri believes that the petroleum sector must contribute immensely to realize India's energy self-sufficiency.
The first commercial passenger flight in India using indigenously produced SAF blend was successfully flown from Pune to Delhi. The flight was powered by SAF blended aviation turbine fuel (ATF) supplied by Indian Oil Corporation Ltd. in partnership with Praj Industries Ltd. Puri describes this as a significant milestone in the country's efforts towards achieving net-zero emissions by 2070.
Puri expresses his satisfaction in witnessing this historic occasion and receiving the first commercial flight fueled by SAF blended ATF. He mentions that this flight was a demonstration mode with SAF blending up to 1%. Puri sets a target for India to achieve 1% SAF blending in jet fuel by 2025, which would require approximately 14 crore liters of SAF per annum. He also suggests a more ambitious target of 5% SAF blend, which would require around 70 crore liters of SAF per annum.
Puri congratulated IndianOil, Air Asia, and Praj Industries for their contributions in their respective sectors and reiterates the vision of the Hon'ble Prime Minister for an Atmanirbhar Bharat (self-reliant India). He emphasizes the importance of developing indigenous solutions to mitigate the environmental impact of aviation and promote the widespread adoption of SAF in India.
The minister highlights the need for alternative and sustainable fuel sources and states that SAF production technology has made significant progress in recent years. He explains that SAF is produced from renewable sources such as agricultural waste, municipal solid waste, and forestry residues, which have the potential to reduce greenhouse gas emissions by up to 80% compared to conventional jet fuel.
Puri states that the production of SAF using sugarcane molasses as an indigenous feedstock and technology in India is a major step towards self-reliance and decarbonization of the aviation sector. He mentions India's commitment to achieving its Nationally Determined Contributions (NDCs) and reducing emissions intensity by 45% by 2030. Puri also highlights the potential economic benefits, including boosting the rural economy and providing additional income to farmers through the supply of sugarcane as feedstock. This Atmanirbhar step can turn India into an international SAF hub and generate green jobs.
Puri concluded by providing some statistics about the civil aviation sector in India, including its consumption of ATF and greenhouse gas emissions. He mentions India's feedstock potential for SAF production and estimates the maximum requirement of SAF in India by 2030.