PM Modi's Visit Takes Indo-US Bilateral Ties To Another Level
Prime Minister's visit to the US, led to India's entry into the global alliance on critical minerals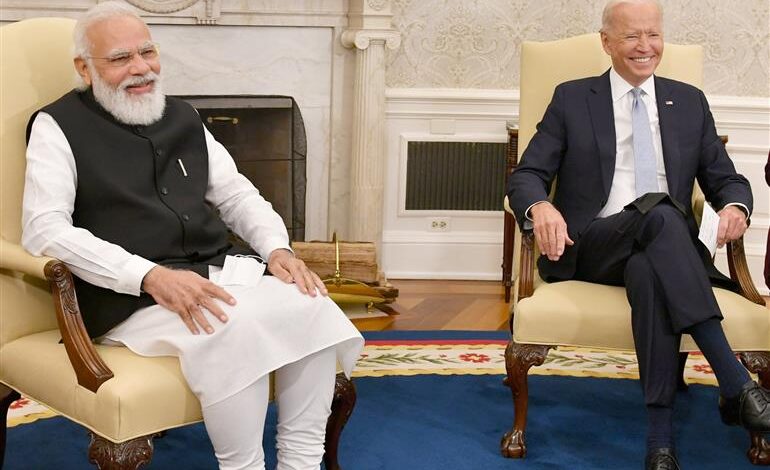 India has been inducted into the Mineral Security Partnership (MSP), a US-led collaboration of 14 countries that aims to catalyse public and private investment in critical mineral supply chains globally.
Minerals Security Partnership : The Minerals Security Partnership (MSP) is a global initiative by the US to bolster critical mineral supply chains.
The Minerals Security Partnership (MSP) was announced in June 2022 by the US to strengthen critical mineral supply chains; India was not a part of the 11-member groupat that time. It is also known as the critical minerals alliance. The focus is primarily on the supply chains of critical minerals such as cobalt, nickel, lithium and the 17 "rare earth" minerals.
It was announced by the US and other key partner countries with an aim to ensure that critical minerals are produced, processed and recycled in a way that helps countries secure a stable supply of critical minerals for their economies. It also aims to weaken China's grip on supplies of critical minerals worldwide.
Prime Minister Narendra Modi's ongoing state visit to the US from June 21-23, led to India's entry into the global alliance on critical minerals.
The India-US joint statement issued early Friday, reiterating the intention of the two governments "to work together to ensure that our respective markets are well-supplied with the essential critical minerals" and reaffirming a pledge by the two sides "to hasten bilateral collaboration to secure resilient critical minerals supply chains", welcomed India into the grouping.
"The US enthusiastically welcomes India as the newest partner in the MSP, to accelerate the development of diverse and sustainable critical energy minerals supply chains globally while agreeing to the principles of the MSP including environmental, social, and governance standards," the joint statement said.
What does it Mean : An energy system powered by clean energy technologies differs profoundly from one fuelled by traditional hydrocarbon resources. Solar photovoltaic (PV) plants, wind farms and electric vehicles (EVs) generally require more minerals to build than their fossil fuel-based counterparts. A typical electric car requires six times the mineral inputs of a conventional car and an onshore wind plant requires nine times more mineral resources than a gas-fired plant. Since 2010 the average amount of minerals needed for a new unit of power generation capacity has increased by 50% as the share of renewables in new investment has risen.
The types of mineral resources used vary by technology. Lithium, nickel, cobalt, manganese and graphite are crucial to battery performance, longevity and energy density. Rare earth elements are essential for permanent magnets that are vital for wind turbines and EV motors. Electricity networks need a huge amount of copper and aluminium, with copper being a cornerstone for all electricity-related technologies.
Clean Energy System and Minerals : The shift to a clean energy system is set to drive a huge increase in the requirements for these minerals, meaning that the energy sector is emerging as a major force in mineral markets. Until the mid-2010s, for most minerals, the energy sector represented a small part of total demand. However, as energy transitions gather pace, clean energy technologies are becoming the fastest-growing segment of demand. In a scenario that meets the Paris Agreement goals (as in the IEA Sustainable Development Scenario [SDS]), their share of total demand rises significantly over the next two decades to over 40% for copper and rare earth elements, 60-70% for nickel and cobalt, and almost 90% for lithium. EVs and battery storage have already displaced consumer electronics to become the largest consumer of lithium and are set to take over from stainless steel as the largest end user of nickel by 2040.
The MSP is learnt to have weighed the possibility of collaborative work on some 150-odd projects and shortlisted a dozen projects where members are likely to commence work, including fostering a critical minerals and metals cooperation forum for sharing of expertise, developing battery materials and jointly developing a minerals processing facility in South America. Official sources here indicated that while there was a strong interest in India joining the group, there was also a debate within sections of the government over some trade-offs involved on part of those signing up for a membership. Besides the US, the MSP includes Australia, Canada, Finland, France, Germany, Japan, the Republic of Korea, Sweden, UK, the European Commission, Italy, and now India. The grouping, industry insiders say, could focus on the supply chains of minerals such as cobalt, nickel, lithium and also the 17 "rare earth" minerals. While cobalt, nickel and lithium are required for batteries used in electric vehicles, rare earth minerals are critical, in trace amounts, in the semiconductors and high-end electronics manufacturing. China is a strong player in this space and has created processing infrastructure in rare earth minerals and has acquired mines in Africa for sourcing elements such as cobalt.
Rare earth comprises 17 elements and are classified as light RE elements (LREE) and heavy RE elements (HREE). Some REs are available in India such as lanthanum, cerium, neodymium, praseodymium and samarium, while others such as dysprosium, terbium, europium that are classified as HREE are not available in Indian deposits in extractable quantities. Currently, there is an overwhelming dependence on countries such as China for HREE, which is one of the leading producers of RE with an estimated 70 per cent of the global production.
The writer of this article is Dr. Seema Javed, an environmentalist & a communications professional in the field of climate and energy